The Bay Breeze cocktail is one of those amazing summery drinks that you think you have never tried but that tastes weirdly familiar when you finally get to taste it.
It's actually a twist on a vodka cranberry cocktail which is why it is so popular.
If you like tropical drinks with hints of pineapple then this is a drink for you. The pineapple makes it so sweet and tasty.
Not to be confused with its cousins, the Ocean Breeze or the Island Breeze, the Bay Breeze is similar to another breezy drink called a Sea Breeze.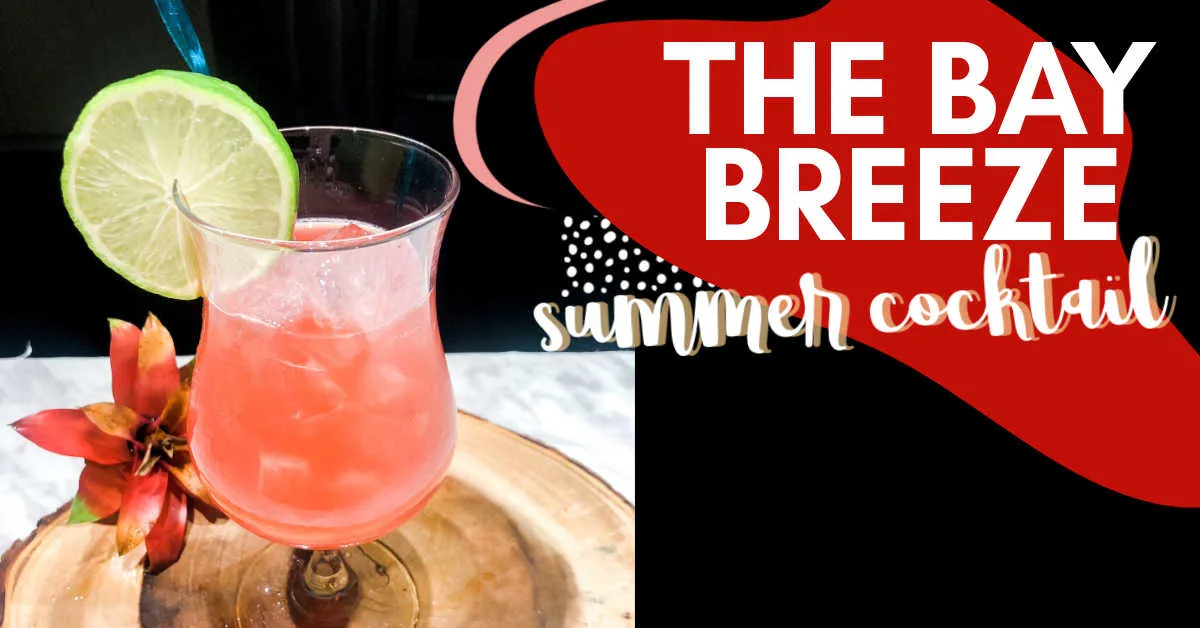 This post contains affiliate links. Please read my Disclosure for more information.
MORE SUMMER COCKTAILS
Tequila And Peach Schnapps Cocktail
The Ultimate Gin Mojito Recipe
What's the difference between a Sea Breeze and a Bay Breeze?
The Sea Breeze and the Bay Breeze are often confused for being the same drink because their ingredients are very similar.
Confusingly, the Bay Breeze is also known as the Hawaiian Sea Breeze which is not the same as the regular Sea Breeze.
I know, it's crazy!
In fact there is one key difference between the two drinks – while the Bay Breeze takes its tropical flavor from pineapple juice, the Sea Breeze gets a hint of tartness from a splash of grapefruit juice instead.
Another similar summer vodka cocktail you might know is the Sex on the beach drink. That is another great cocktail to try if you love the fruity tropical beverages.
What Is A Bay Breeze?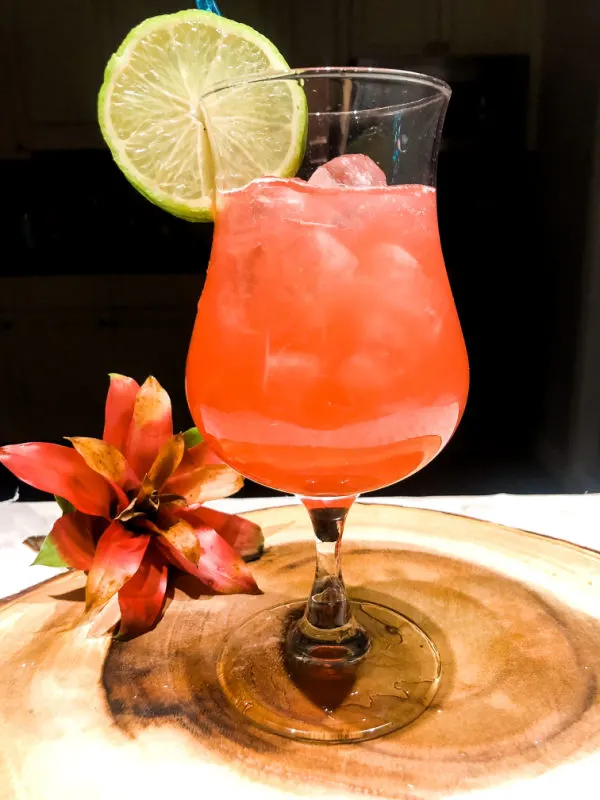 A Bay Breeze cocktail is a combination of a classic Cape Codder (vodka cranberry) drink with the tropical taste of pineapple juice.
Unlike many of the "breeze" drinks like the aforementioned Ocean Breeze Drink, the Bay Breeze is not a blue drink.
The cranberry and pineapple combine to make a light orange/red colored drink, reminiscent of a Vodka Sunrise when mixed.
What goes in a Bay Breeze?
This is a really easy cocktail to make – all you need to do is make a vodka cranberry then add 2 oz of pineapple juice and a wedge of lime for a garnish.
(If you add more pineapple juice then you will be making another tropical cocktail known as an Island Breeze).
The resulting drink is sweet and easy to drink with a summery touch.
If you want to make it a mocktail, you can omit the vodka for a nice combination of cranberry and pineapple juices.
Add a squeeze of fresh lime juice to taste.
What Kind Of Cranberry Juice Should I Use?
I prefer to use unsweetened cranberry juice in this cocktail, mainly because the pineapple juice is already really sweet and it can be a bit too much if you use sweetened cranberry juice too.
I also try to get a real cranberry juice rather than a cocktail juice. However, if you can't find the real stuff, just make sure to get an unsweetened version.
Can I Substitute The Vodka For Rum In The Bay Breeze?
You most certainly can!
Add in some coconut rum instead of the vodka and a quick splash of grenadine.
The resulting cocktail is known as a "Tropical Bay Breeze".
Yield:

1
The Ultimate Bay Breeze Cocktail Recipe
This delicious twist on the classic vodka cranberry drink will have you longing for a tropical beach and crashing waves.
It is as easy to make as it is to drink plus the non-alcoholic version tastes amazing too.
Ingredients
2 oz Cranberry Juice
2 oz Pineapple Juice
1 1/2 oz Vodka
1 Lime Wedge for Garnish
Instructions
Combine cranberry juice, vodka, and pineapple juice.
Pour the mixture over ice and garnish with a lime wedge
More Tropical Cocktails To Try