The Mexican candy drink is a spicy tequila shot that is not for the faint of heart. It is made with tequila, watermelon and tabasco sauce.
Although it is pretty strong, it is also a really nice refreshing drink for summer or for Cinco de Mayo – the watermelon juice is perfect for hot weather.
If you love tequila and are down for something hot, then this shot is one to try. It is easy to make and definitely packs a punch!
Read on for all the details and the recipe.
This post contains affiliate links. Please read my Disclosure for more information
RELATED POSTS
Why you will love the Mexican Candy Drink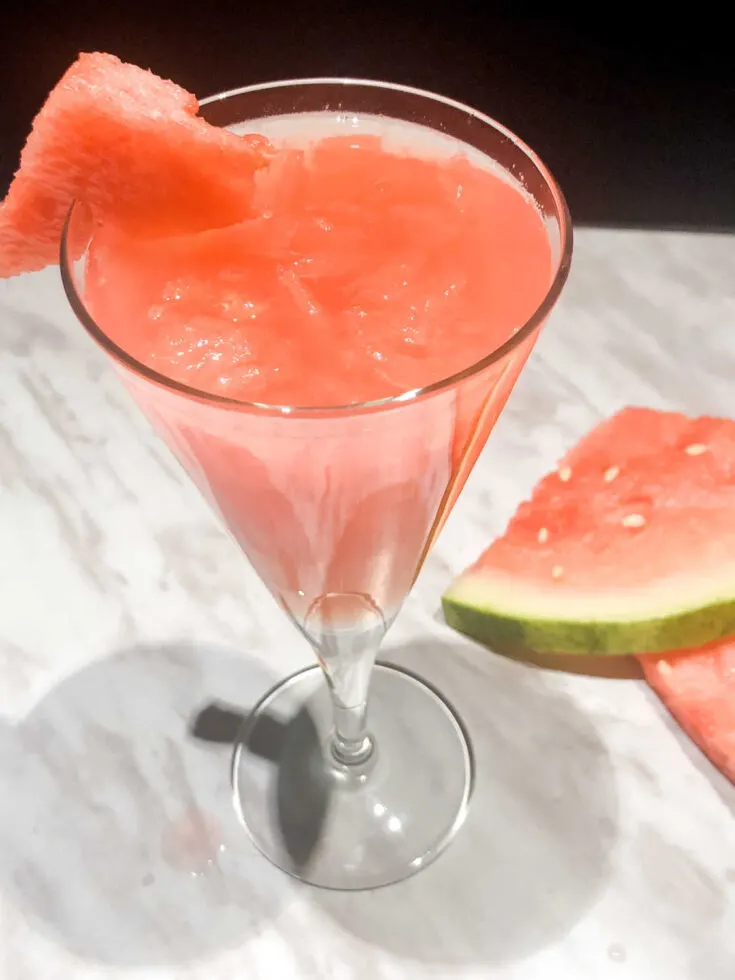 This is the second watermelon shot with tequila that I have done but this is much spicier than the first one. The first one is more of a classic Watermelon Shot Recipe made with fresh watermelon.
This Mexican candy drink was invented to recreate the taste of a Mexican candy and as you may know, Mexican like things spicy!
This Mexican Candy shot recipe is:
Delicious
Spicy hot
Refreshing
Easy to make
What's in the Mexican Candy Shot Recipe?
There are a few variations online for this recipe but here is my version:
2 oz Watermelon Juice (you can also use Watermelon Pucker schnapps for an extra kick)
1 oz tequila
Juice of 1 lime
1 teaspoon simple syrup
1 dash of Tabasco sauce
You can also substitute the Tabasco sauce for hot sauce or Chamoy to make it authentically Mexican.
If you want to rim your glass with salt, you will need salt as well as extra lime juice.
What Is Chamoy?

Chamoy is a savory sauce used in Mexican cooking. You can buy chamoy as a dried fruit, candy, and sauce to use on drinks.
It is a salted pickled sour fruit that's spiked with chiles.
What Tools Do You Need To Make The Mexican Candy Shot?
You don't need much to make this shot. All you need is a blender like my trusty Margaritaville blender.
You'll also need shot glasses of course!
How To Make the Mexican Candy Drink
Step 1: Add your watermelon
Muddle your watermelon in a bowl so it is mashed up and then add it to the bottom of your glass.
Step 2: Add your ingredients
Add in the tequila, lime juice and watermelon juice. Finish with a dash of Tabasco sauce.
Step 3: Stir and serve
Garnish with a slice of watermelon or lime.
Yield:

2
Mexican Candy Shot Recipe
The Mexican Candy shot recipe is a strong tequila shot that packs a punch! If you love watermelon and tequila then this is a spicy must!
Ingredients
2 oz Watermelon Juice
1 oz Tequila
1 teaspoon simple syrup
1 dash of Tabasco sauce
1/2 cup of watermelon chunks, mashed
Fresh watermelon slice or lime for garnish
Instructions
Mash the watermelon chunks and then place in your glass
Add in the tequila, watermelon juice, simple syrup and lime juice
Stir and garnish with a slice of watermelon.
Notes
You can use either chamoy or Tabasco sauce
Optional - rim your glass with salt
More Tequila Recipes
Watermelon Shot Recipe (Refreshing and Easy)
1800 Coconut Tequila and Pineapple Juice Cocktail
5 Fall Margaritas That Will Make Your Autumn