The Brain Hemorrhage shot recipe goes by a few different names including Brain Damage Shot and Brain Shot but whatever you call it, the crazy look and taste remains.
Drinking a cocktail that looks like brains isn't for everyone but this popular shot is always a spooky treat.
If you want a drink to really cause a stir at your next party – this is the shot for you!
Imagine the look on your friends' faces when you serve them this drink and tell them the name!
The perfect Halloween treat for those who love scary drinks with an imaginative twist.

This post may contain affiliate links. Please read my Disclosure for more information.
RELATED HALLOWEEN SHOTS
Blood Champagne Shots (Vampire Shots)
What Is The Brain Hemorrhage Shot?

The brain damage shot is the perfect shooter for any halloween party.
When I first saw this shooter, it looked like a brain with blood splattered all over.
It's been awhile since then and now it is one of my favorite Halloween drinks.
The taste is surprisingly not too bad for something that looks so macabre.. maybe because there are so many colorful flavors mixed together?
Brain Hemorrhage Shot Ingredients
The brain hemorrhage shot is one of the most popular shots at Halloween parties.
It might look gross, but if you like sweet drinks and Bailey's Irish Cream – then this shooter will be right up your alley!
The best part about it?
This cocktail is really easy to make and only contains 3 ingredients making it perfect for serving to a crowd at your next party.
Why is it known as a brain Hemorrhage shot?
The drink's name is a dead giveaway!
A photo of the finished product should make everything clear.
The Brain part of this shot happens when the Baileys Irish Cream reacts with Peach Schnapps.
If you have ever made an Irish Car Bomb shot then you are likely familiar with what happens when Baileys curdles with other alcohol.
The effect is interesting to say the least and while not very pretty, it does make for a perfect Halloween cocktail!
Why I love The Brain Damage Shot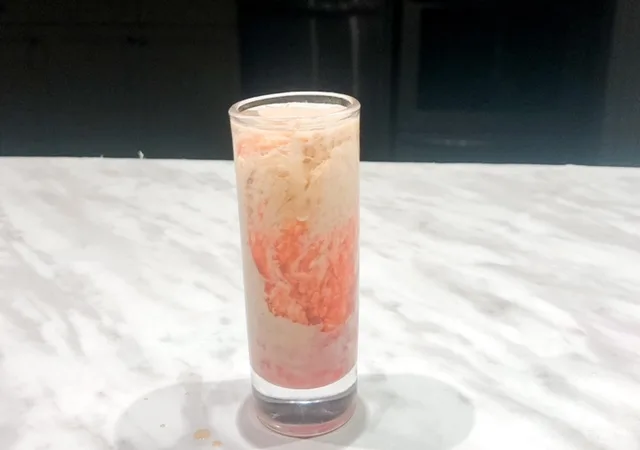 If you are looking for the perfect Halloween shot recipe, you can't go wrong with this classic.
Part of the "brain shot" family, this drink is as gruesome as it is tasty.
This shot is:
Perfect for Halloween
Simple to make
Impressive
Actually better tasting that it looks
Great for a crowd
Brain Hemorrhage Shot Recipe
This brain hemorrhage shot recipe is a must-have for any Halloween party.
The drink tastes like a mix of peach and Baileys with the slight sweetness of grenadine.
To make the Brain Damage Shot you need:
Peach Schnapps
Baileys (or similar Irish Cream)
Grenadine
The measurements for this drink are pretty fluid because the drink is all about the floating brain look.
You essentially want 1 part of each of the ingredients minus the Peach schnapps.
This means that you use an equal part of each ingredient.
I free pour this drink as a little bit extra of any ingredient will not make or break it.
You may be familiar with the other "brain hemorrhage" shot recipes such as the Alien Brain Hemorrhage Shot Recipe or Zombie Brain Hemorrhage Shot.
The classic version is a bit different because of it does not have any additional liqueurs such as Creme de Menthe or Blue Curacao.
The fact that, aside from the grenadine, this recipe is 100% alcohol will make your brain feel a bit woozy if you drink too many.
How To Make A Brain Damage Shot
As I mentioned, this is a really easy shot to make.
You don't need any special tools like a cocktail shaker or strainer.
You can use a spoon or dropper for the Baileys if you wish but I normally just pour straight from the bottle.
To make the ghoulish brain affect, pour each ingredient in very slowly and carefully so that they layer perfectly.
First add peach schnapps to your shot glass until it's about a little more than half full
Next add in your Baileys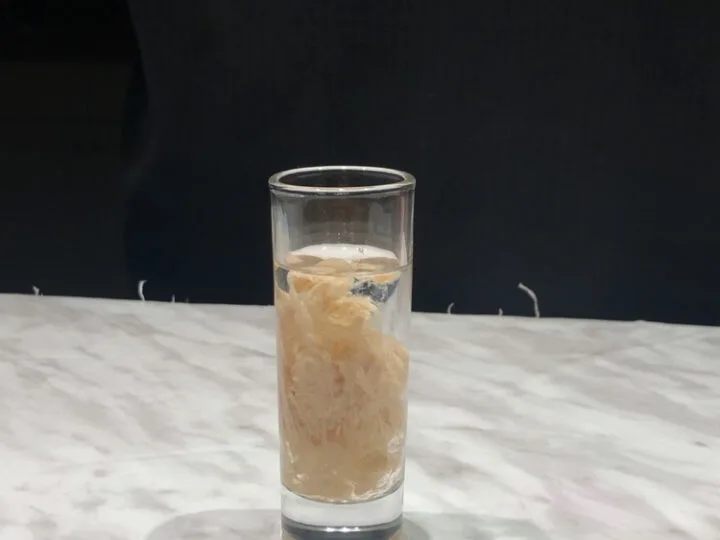 Finally finish with a few drops of grenadine until you achieve the desired blood and brains effect.
Yield:

1
Brain Damage Shot Recipe
The brain damage/hemorrhage shot is the perfect shooter for Halloween parties. Whilst it might look gruesome in its appearance, if you like sweet drinks and are looking to shock your guests fast then this cocktail surely has what your heart desires!
Ingredients
Peach Schnapps
Baileys or similar Irish Cream Liqueur
Grenadine
Instructions
Fill your shot glass about 2/3 of the way with Peach Schnapps
Add 1 part of Baileys slowly to create the brain of your drink
Finish with 3-10 drops of grenadine for the perfect blood
Love Creepy Halloween Shots?
Check out these recipes:
40 + Spooky Halloween Cocktails
Creepy Purple Cocktail Potion For Halloween