If you are looking for the perfect summer brunch cocktail, you can't go wrong with a pineapple mimosa. This wonderful twist on an orange juice mimosa is a perfectly tropical Champagne cocktail.
This post contains affiliate links. Please read my Disclosure for more information
MORE MIMOSA RECIPES
The Best Pear Mimosa: Fall Mimosa Recipe
You are probably familiar with the classic mimosa recipe, and this recipe is just the same except it substitutes pineapple juice for the orange juice that we normally use.
There are lots of variations of the classic mimosa including the Poinsettia Cocktail and even a Peppermint bark Mimosa that is really popular around Christmastime. .
The pineapple mimosa is perfect for a hot summer day when you want something refreshing for brunch. I am a huge fan of pineapple cocktails such as the Island Breeze Cocktail and as I love sparkling wine, this tropical mimosa is a no-brainer.
If you like the taste of pineapple, you will enjoy this summer mimosa.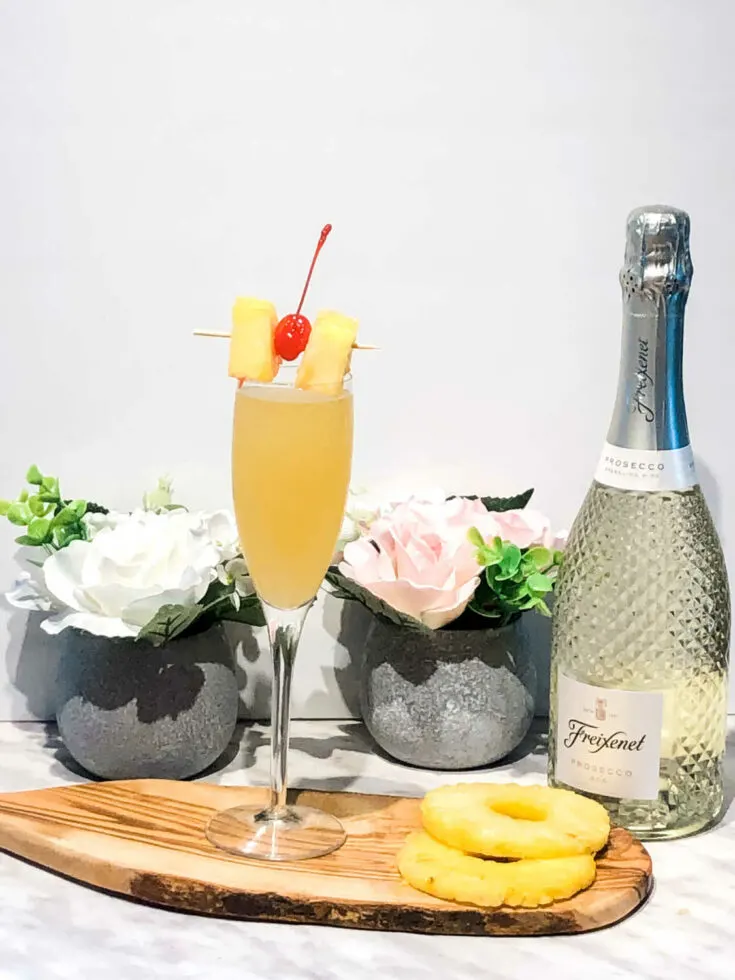 Pineapple Mimosa Recipe
You'll love this bubbly combination of pineapple juice and Champagne that makes it perfect for any celebration.
You might find this mimosa sometimes called Soleil mimosa. Soleil is the french word for sun and this cocktail is a fantastic bright yellow color that is summery and fun.
This tasty cocktail is:
Fantastic for a summer brunch
Great for summer wedding celebrations
Great for showers and daytime parties
Easy to make
What Is In A Pineapple Mimosa?
You don't need anything too complicated to make this Soleil mimosa.
This mimosa is the perfect tropical Champagne cocktail for a summer brunch or wedding. With only two ingredients, it is easy and fun!
Of course, a champagne flute or coupe is a must but other than that, you don't need any special bartending equipment.
Here's what goes in a Pineapple Mimosa Cocktail:
Sparkling Wine
Any sparkling wine works in a mimosa, you don't have to be super extravagant and use expensive Champagne if you don't want to.
I normally use either Cava or Prosecco in my mimosas. Cava is my sparkling wine of choice. It is from Spain and is very reasonably priced.
Pineapple Juice
If you can get fresh pineapple juice, that is perfect but otherwise you can get it from the grocery store.
Fresh Pineapple Slices
A slice of fresh pineapple is the perfect garnish for this Champagne cocktail. In my pictures you can see I added a maraschino cherry with a toothpick too.
Pineapple Mimosa Recipe: Directions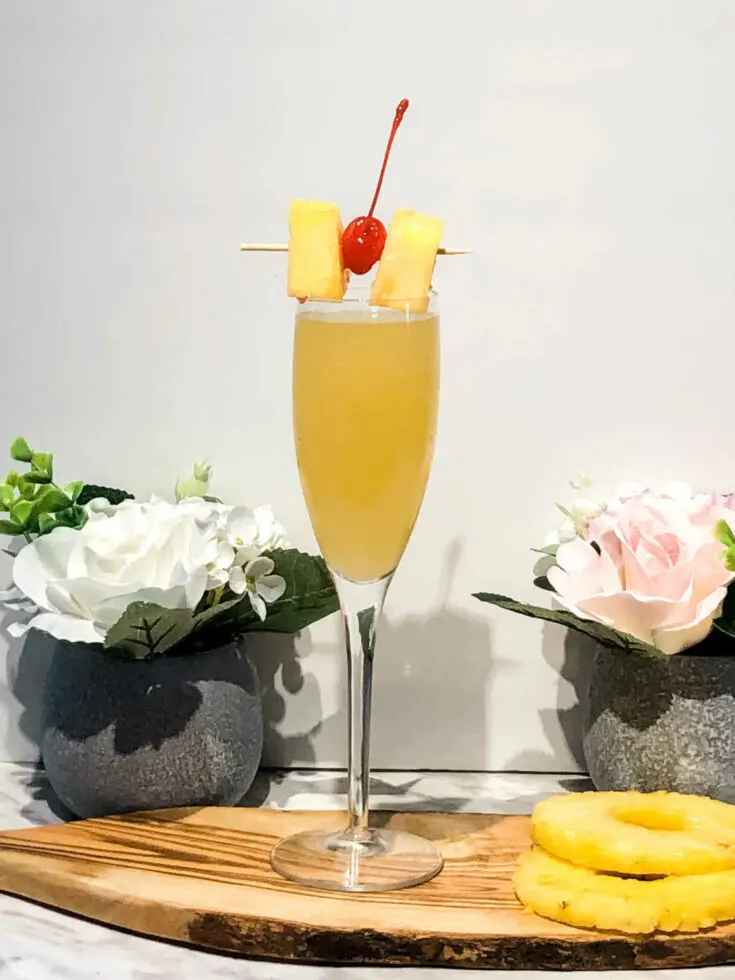 Step 1
Fill your Champagne flute about halfway with sparkling wine.
Step 2
Next top your glass with pineapple juice
Step 3
You can add a slice of fresh pineapple to your glass for a fun touch.
Virgin Pineapple Mimosa
If you want to make this drink without alcohol, you can use club soda or sparkling water instead of champagne.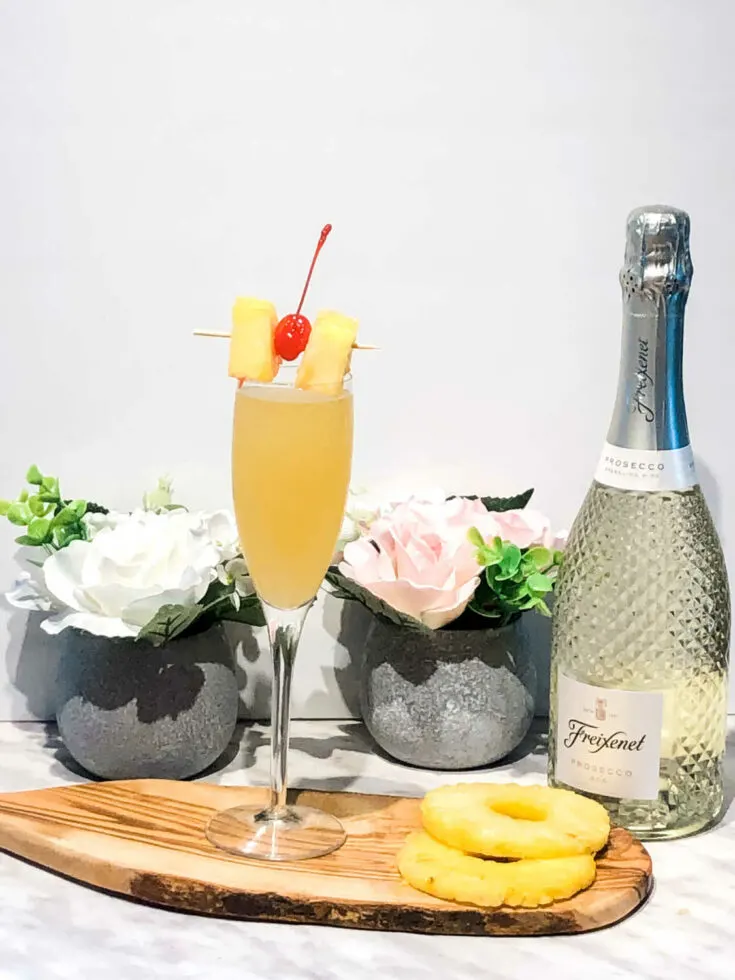 Yield:

8
Pineapple Mimosa Recipe
Enjoy a breezy summer cocktail with this pineapple mimosa.
Sometimes called a Soleil, this delicious drink mixes together bubbly champagne and pineapple juice. It's delicious and easy to make!
One standard bottle of Champagne or Prosecco should make 8 glasses of this mimosa.
Ingredients
1 Bottle Champagne or sparkling wine
2 Cups Pineapple Juice
Slices of fresh pineapple
Instructions
Fill the Champagne flute about halfway with Prosecco or another sparkling wine
Top with pineapple juice
Garnish with a slice of fresh pineapple
Notes
Non-alcoholic version - substitute the Champagne for club soda or sparkling water
You can use any sparkling wine you wish for this cocktail. My preference is Cava as it is cheaper (!) and a bit lighter.
More Fun Mimosa Recipes
Peppermint Mimosa {Peppermint Bark Cocktail)