This classic Mimosa recipe is delicious and perfect for brunch. Made simply with just two ingredients orange juice and Champagne, it's elegant and refreshing and great for a crowd.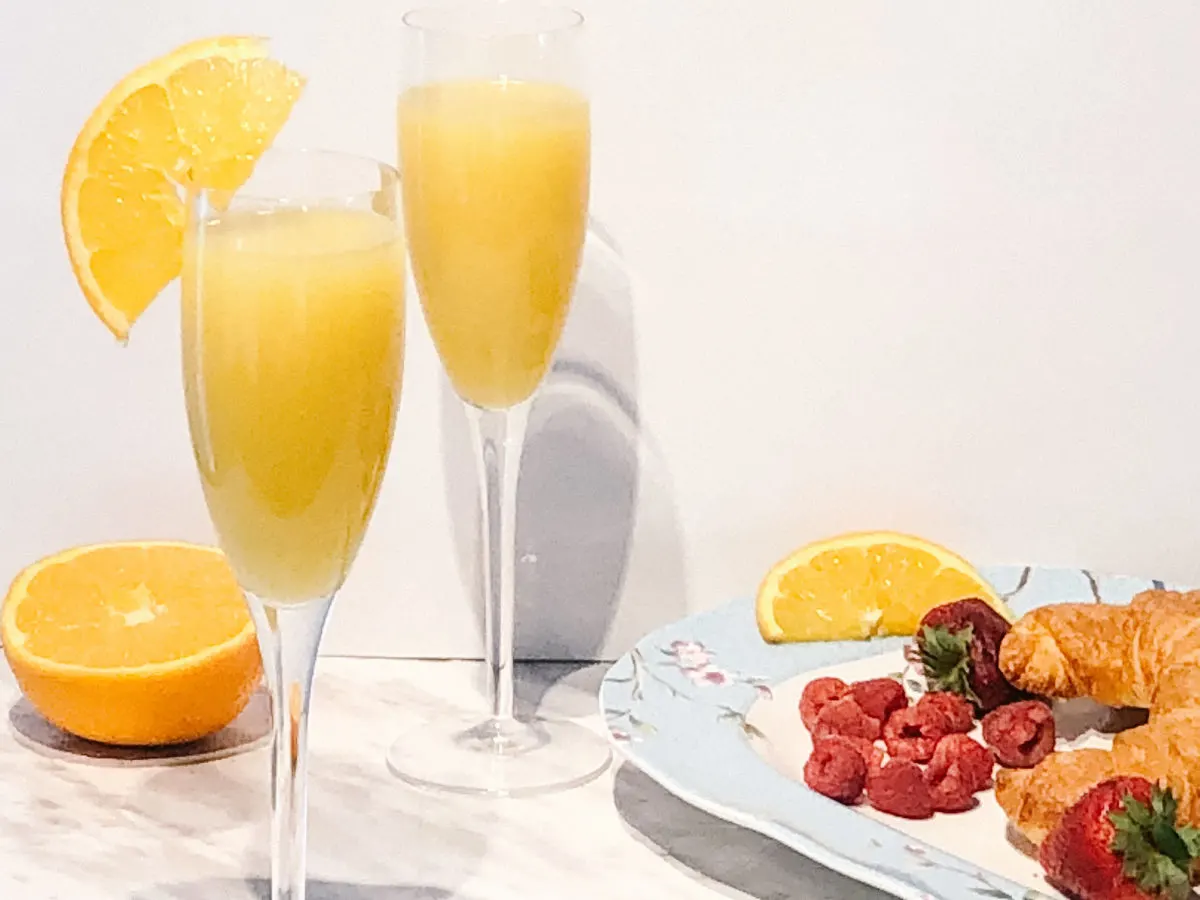 This post contains affiliate links. Please read my Disclosure for more information
MORE CHAMPAGNE COCKTAILS
The Ultimate Champagne Moscow Mule
French 75 Cocktail (Gin Champagne Cocktail)
If you love Champagne cocktails, then you have to try the classic Mimosa recipe!
You are likely familiar with this easy to make brunch cocktail and to be honest it is a classic for a reason.
As someone who loves both Champagne and orange juice, for me this is the perfect drink to have at a fancy breakfast or morning celebration.
Lots of people have a tradition of drinking Mimosas on Christmas morning because they feel sophisticated and refreshing.
There are lots of variations of this classic mimosa including the Poinsettia Cocktail and even a Peppermint Mimosa which is perfect for the holidays.
By the way, if you love holiday cocktails made with sparkling wine, make sure to try these other recipes:
Cranberry Champagne Mimosa (Poinsettia Cocktail)
Classic Mimosa Recipe
You'll love this bubbly combination of sparkling wine and citrus juice that make it perfect for any celebration.
This tasty cocktail is:
Perfect for brunch
Easy to make for a crowd
Great for showers and daytime parties
Impressive
Mimosas are, of course, the most classic brunch cocktail.
Perfect for any occasion, they get really popular around the holidays when we are all out celebrating with friends and family.
Classic Mimosa – Ingredients
You don't need anything too complicated to make a classic mimosa cocktail.
Of course, a champagne flute is a must but other than that, you don't need any special equipment like cocktail shakers or spoons.
Here's what goes in a Mimosa:
Prosecco or similar sparkling Wine
Of course, you can use Champagne if the budget allows but any sparkling wine of your choice is perfect for the mimosas.
Given that you are not drinking the Champagne straight, a Mimosa is a good opportunity to use slightly cheaper sparkling wine in your cocktails.
I used Freixenet Cava from Spain in my mimosas partly because I was drawn to the pretty glass bottle when I was shopping for sparkling wine!
Orange Juice
Freshly squeezed orange juice is key in your classic Mimosa recipe. Pulp or no pulp, the choice is yours but make sure that juice is fresh and cold.
Orange Slices
This is an optional add-on but a simple garnish of orange will elevate your Mimosa to the next level.
Classic Mimosa Recipe: Directions
Step 1
Fill your Champagne flute about halfway with your sparkling wine.
Step 2
Next top your glass with orange juice
Step 3
Put a slice of orange juice on the rim of the champagne flute and serve immediately.
Variation On The Classic Mimosa
Bucks Fizz
This is the British version of the Mimosa and the recipe is exactly the same except you use two parts Champagne to one part orange juice making it slightly stronger.
To make a glass of Bucks Fizz, fill your glass two thirds of the way with Champagne and then top with orange juice.
Classic Mimosa Recipe FAQs
What Alcohol Is Best For Mimosas?
You don't need to use your best Champagne for a mimosa.
Cheaper sparkling wines such as Prosecco or Cava are great with juice and will give you the perfect mimosa cocktail for a lot less money.
Why Is It Called A Mimosa?
The Mimosa is named after the Mimosa plant which blooms with very pretty yellow flowers, similar in shade to the Champagne cocktail.
How Many Mimosas Are In A Bottle Of Prosecco?
You can get around 6-8 Mimosas from one standard sized bottle of Prosecco or Champagne.
Yield:

8
Classic Mimosa Recipe
What better way to celebrate any occasion than with a Classic Mimosa!
This cocktail mixes together bubbly champagne and orange juice. It's delicious and easy to make!
One standard bottle of Champagne or Prosecco should make 8 glasses of this classic mimosa.
Ingredients
1 Bottle Champagne or sparkling wine
2 Cups Orange Juice
Orange Slices
Instructions
Fill the Champagne flute about halfway with Prosecco or another sparkling wine
Top with orange juice
Garnish with a slice of fresh orange
Notes
Non-alcoholic version - substitute the Champagne for club soda or sparkling water
You can use any sparkling wine you wish for this cocktail. My preference is Cava as it is cheaper (!) and a bit lighter.
More Fun Mimosa Recipes
Cranberry Champagne Mimosa (Poinsettia Cocktail)
Mimosa Jello Shots With Cranberry