The dancing berries in this pomegranate spritzer make it more than just a great party cocktail, it's so easy to make too!
This post contains affiliate links. Please read my Disclosure for more information.
MORE PROSECCO COCKTAILS
Strawberry Prosecco Cocktail (Rossini Cocktail)
If you love sparkling wine like Prosecco and Champagne, you will love this Pomegranate Prosecco cocktail that is perfect for any celebration.
I originally made this drink for the holidays with cranberries as, of course, cranberry is the fruit of fall and winter but it's fast become one of my favorites to celebrate birthdays, graduations and it also makes a great fall wedding cocktail.
Make sure to check out the video of this drink as the berries go up and down which makes it a bit of a party piece when you have friends over.
Why you'll love this Pomegranate Spritzer
Whether you decide to use pomegranate seeds or cranberries, there is no doubt that this is one of the best cocktails for the holidays.
This Prosecco Cocktail is:
Pretty

Perfect for any celebration

Always a crowd pleaser

Easy to make

Impressive
Pomegranate Spritzer Ingredients
To make this sparkling wine cocktail, you only need 3 ingredients plus an optional garnish.
This sparkling wine cocktail contains the following:
1/2 ounce Vodka
Prosecco or sparkling wine of your choice
Pomegranate seeds or cranberries
I actually used frozen pomegranate seeds for my drink and when I use cranberries, I typically use dried "Craisins".
You can definitely make it with fresh cranberries if you prefer.
The only thing with using fresh cranberries is that you will miss the cool up and down trick that you achieve with the dried cranberries as fresh cranberries are a bit too heavy.
If you really want to use fresh cranberries, you can always add them as a garnish before you serve the drink.
What is Prosecco?
Prosecco is a sparkling wine from Italy. You can think of it as the Italian version of Champagne much like Cava is the Spanish version.
You probably already know that only sparkling wine made in the Champagne region of France can be officially called Champagne.
Prosecco and Cava are slightly different as they use different grapes but both these wines are much cheaper than real champagne.
For my drink I used a Prosecco from my favorite Californian Vineyard – Josh Cellars. This Prosecco actually sells out in my city every year and is so delicious, try it and you won't go back!
What tools do I need to make the Pomegranate Cocktail?
You actually don't need any tools at all to make this champagne cocktail. All you need a champagne flute.
How To Make The Sparkling Pomegranate Fizz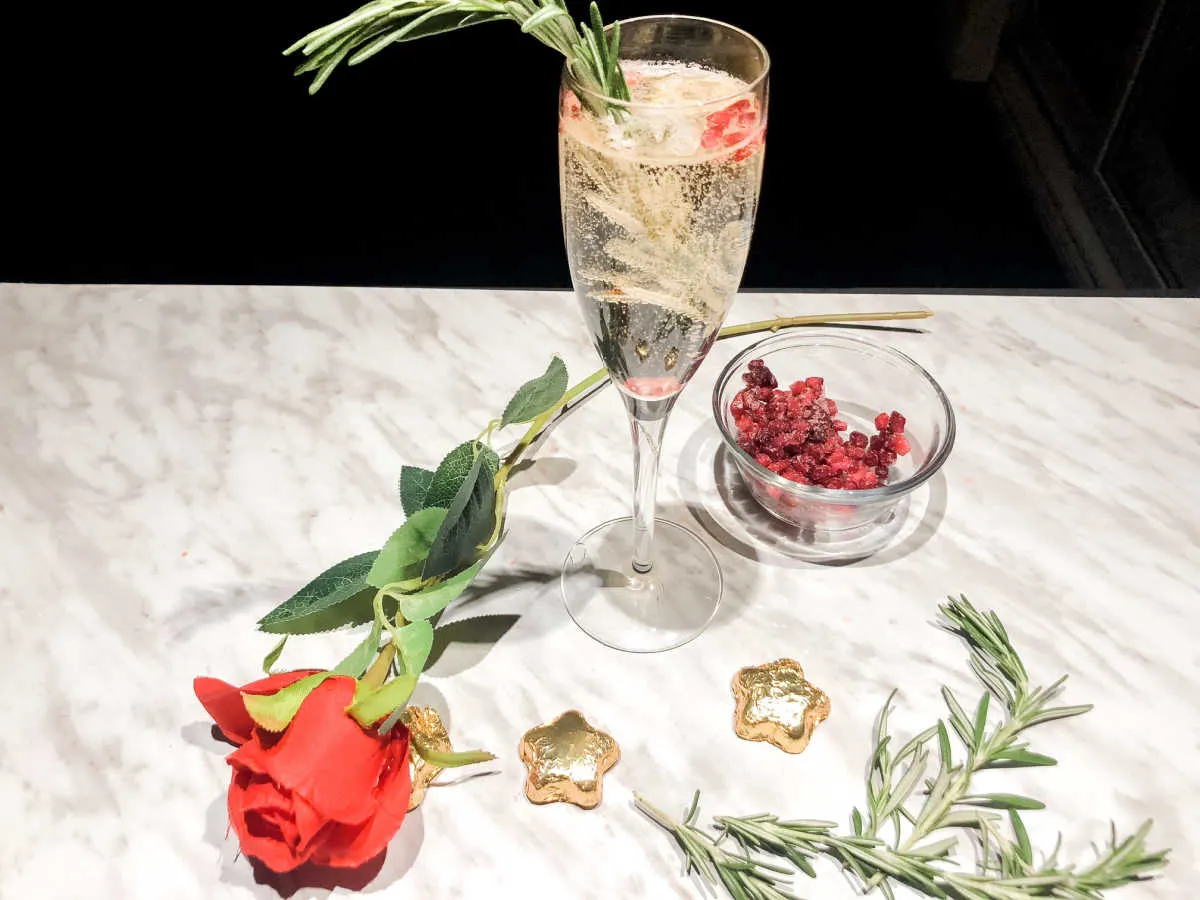 Step 1:Add the vodka to your champagne glass
It should fill about an inch of the bottom of your glass.
Step 2: Add Sparkling wine
Top your glass off with Prosecco or an other sparkling wine
Step 3: Add the pomegranate seeds
Gently drop the pomegranate into your glass and watch for them to float up and down the glass.
Step 3:Garnish and serve
Garnish with a sprig of rosemary if desired.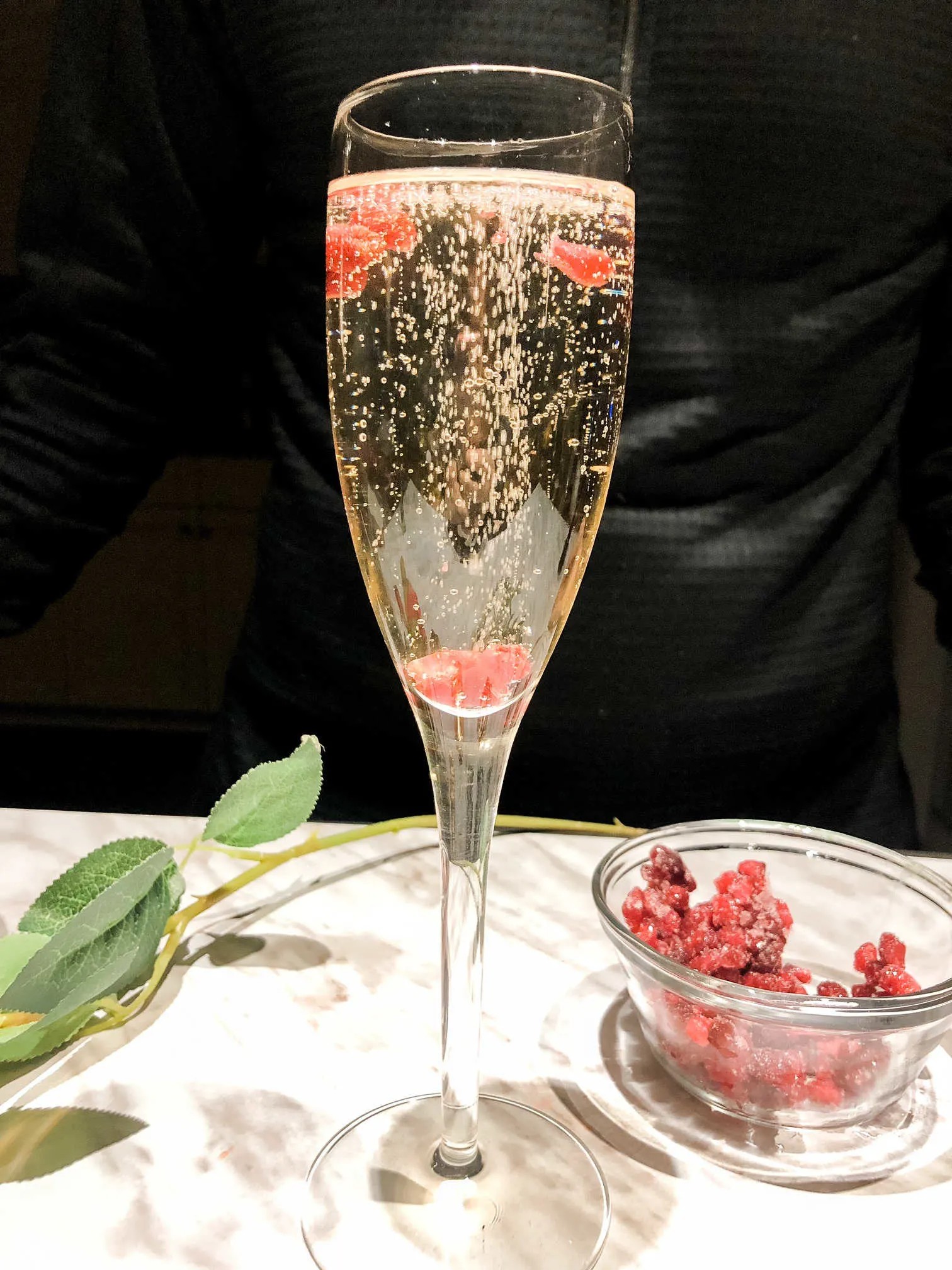 Yield:

1
Pomegranate Spritzer
This sparkling wine cocktail is made with Prosecco and pomegranate seeds. It is the perfect sparkling wine cocktail drink to wow your guests.
Ingredients
1/2 oz Vodka
Prosecco or other sparkling wine
Dried Cranberries or pomegranate seeds
1 Sprig of rosemary for garnish
Instructions
Add the vodka to your champagne glass
Top off your glass with Prosecco
Gently drop the pomegranate seeds into your glass
Top with a sprig of rosemary and serve
Notes
If you decide to use cranberries instead of pomegranate seeds, dried cranberries are better if you want them to bounce up and down.
Want More Pomegranate Cocktails?
Orange Pomegranate Cocktail This drink is perfect for the holidays. It is full of winter flavors.