This winter, warm up with a seasonal cocktail. Crimson and brimming with holiday flavors , this Orange pomegranate cocktail will have you feeling the spirit of celebration in every sip!
This drink brings some fizz from sparkling water alongside vodka plus Christmas spices for an added festive feel.
Not only does this Christmas cocktail taste amazing but it is the perfect addition to any holiday drinks menu this season.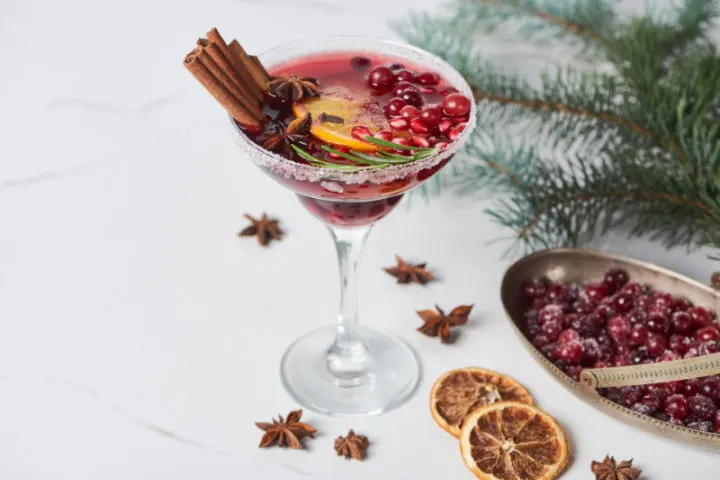 This post contains affiliate links. Please read my Disclosure for more information
RELATED POSTS
Orange Pomegranate Cocktail
Of course, orange and pomegranate are classic winter fruits that come into play as the cold season approaches. Not only do they taste great together, they make for a really healthy combination.
In fact, the antioxidant properties of oranges and pomegranate seeds can reduce the effects of oxidative stress on your skin, which means they will help improve its condition. This in turn helps slow down aging!
So you can really enjoy this holiday completely guilt-free!
This is a delicious cocktail that looks and tastes amazing. Plus, with only 4 ingredients, it is easy to make.
Ingredients for the Pomegranate Christmas Cocktail
Personally, I love pomegranate cocktails with vodka as the main alcohol.
A lot of people wonder what pairs well with pomegranate and this drink gives you all the answers.
Orange, vodka and pomegranate are a great combination and make for a festive sip.
Our Orange Pomegranate Cocktail calls for the following ingredients:
Fresh Orange Juice (you can use blood orange juice too)
Vodka
Pomegranate Juice
Cinnamon sticks
Some people like to add Cointreau to their cocktail but I normally leave it off and enjoy the holiday flavors together.
I serve this Christmas cocktail in a martini glass with lots of garnish. I always add cinnamon and fresh pomegranate seeds plus sometimes frozen cranberries too.
When I'm serving these Christmas cocktails at a party, I love using cute little enamel Christmas wine charms on each glass.
That why people can put their drink down and not get confused over whose it is.
Orange Pomegranate Mocktail
If you want to serve up a non-alcoholic version of the Christmas cocktail then you can substitute the vodka for sparkling water (La Croix orange flavor is perfect)
How to frost your martini glasses
Its super easy to frost your glasses and make them look holiday ready. You can use this technique for any cocktail you like but it works really well for Christmas drinks.
All you need to rim your glasses is some sugar and a slice of orange.
Pour the sugar into a thin layer on a small plate
Rub the slice of orange around the rim
Carefully dip the martini glasses rims down the sugar until the rims are coated with sugar.
Wait a few minutes before pouring your drink
Instructions for making the Orange Pomegranate Cocktail
Step 1
Combine the pomegranate juice, orange juice and vodka into a cocktail shaker with 4-5 ice cubes.
Step 2
Shake vigorously until well-blended (about 15-30 seconds)
Step 3
If you are planning to add a sugar rim to your glasses, do this now then set aside.
Step 4
Add pomegranate seeds and frozen cranberries to your glasses
Step 5
Strain your cocktail into the martini glasses
Garnish with a stick of cinnamon
Serve immediately.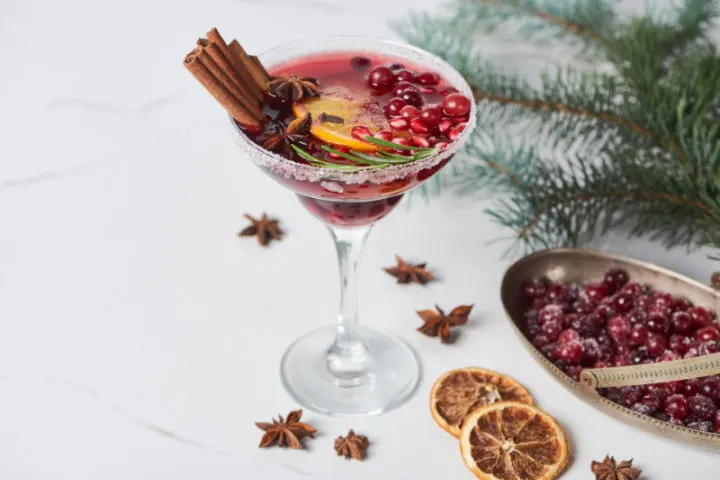 Yield:

1
Orange Pomegranate Vodka Cocktail
The flavors of the season are in full force with this delicious holiday cocktail made with orange and pomegranate and garnished with cinnamon and cranberries.
Ingredients
2 oz Vodka
5oz Pomegranate Juice
1.5 oz Orange Juice
3-6 Frozen Cranberries (optional)
Fresh Pomegranate seeds
2 cinnamon Sticks
Instructions
Combine the vodka and juices in a cocktail shaker with ice. Shake for 15-30 seconds
Ad frozen cranberries and pomegranate seeds to your martini glass
Strain the cocktail over the berries and seeds
Garnish with cinnamon sticks and an orange slice and serve
Notes
You can rim your martini glass easily by rubbing a slice of orange over the rim then dipping it in a shallow saucer of sugar. Leave to dry before pouring the drink into the glass.
You can use fresh or frozen cranberries for the garnish
More Holly Jolly Christmas Cocktails