These fun shark jello shots are sure to be the hit of your next beach party!
Easy to make and delicious with or without alcohol, these shark attack jello cups are a must for any even where swimming is involved!
The best thing about these fun treats is that you can make them in advance to avoid rushing right before your guests arrive.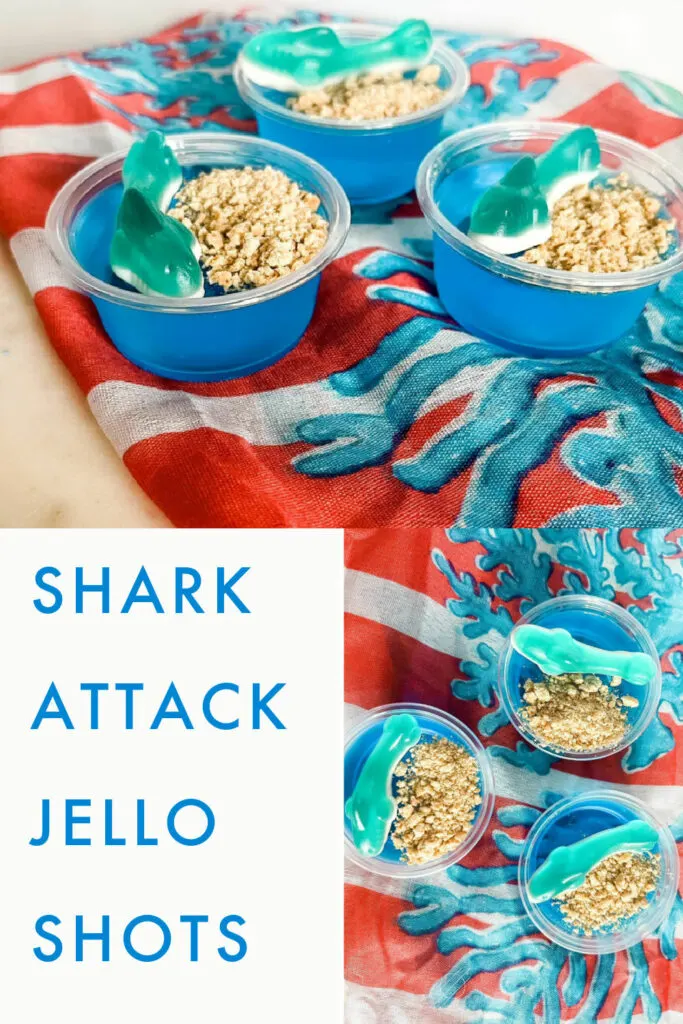 This post may contain affiliate links. Please read my Disclosure for more information
MORE FUN JELLO SHOTS
Piña Colada Jello Shots With Malibu Rum
Shark Jello Shots
Looking for something fun to serve at your next beach party?
Maybe you are planning a movie marathon of all the Jaws films and want to have some shark themed foods.
Look no further than these delicious Shark Attack jello shots!
These blue jello cups are not only delicious but they are so easy to make and impressive to look at!
You can make these fun jello shots with or without alcohol so they are perfect for a kid's birthday party too! (baby shark anyone?)
Shark Jello Shots Ingredients
These jello shots are so easy to make! I used Blueberry flavored Jell-O but you can use any kind of blue jello you like, fort example, ocean water jello or mixed berries.
In a pinch, you could also use unflavored clear gelatin and blue food coloring.
The full recipe fills about 10 jello shot cups, and you can multiple the recipe as needed.
For full step-by-step instructions, scroll down to our recipe card at the bottom of the page.
Ingredients Needed:
Blueberry Jello
Water
Rum (Malibu Rum tastes great).
Graham Crackers
Shark gummy candies
Equipment Needed:
10 2-Ounce Shot Cups with Lids
Baking Sheet or tray
Glass Bowl
Spoon
Measuring jug
How To Make Shark Attack Jello Shots
These shots are so easy to make and can be made a day ahead of your party if kept in the fridge.
The process for making these jello shots is really in two parts.
The ocean
The beach
To Make The Ocean
Boil one cup water. Mix well with the blue Jello powder.
Whisk in half a cup cold water and half a cup rum of choice.
Pour into jello cups so they are about and place in fridge for three hours or until set.
To Make The Beach
When you are ready to serve the Jello shots, it is time to add the garnish.
First, you want to crush your graham crackers into tiny pieces so it resembles "sand".
The gently spoon it onto the top of the jello cup, making sure to only cover half.
Next gently place a gummy shark onto the other side of the jello cup so it looks like it is in the water.
Serve immediately.
Tips For Making Great Jello Shots
Do not add your garnish to your shots if you're not serving them right away. You'll want to keep lids on your shots and garnish them right before serving.

You can use any rum or alcohol you prefer, just don't go over half a cup of alcohol per package of jello or it won't set.

You can keep these in the fridge for up to 5 days, with lids.

To make a non-alcoholic version of these shark attack jello shots so everyone can enjoy them – just use water instead of the rum.
More Ocean Inspired Cocktails
If you loved this great jello shot recipe, make sure you check out some of other favorite ocean-themed cocktails:
Mermaid Water: The Little Mermaid Cocktail
15 Swashbuckling Ocean Themed Cocktails
In the meantime, make sure you subscribe below to get more fun cocktail recipes.
Yield:

6-8 shots
Shark Attack Jello Shots
Total Time:
3 hours
20 minutes
These fun Shark Jello shots are so easy to make and are perfect for your next pool party.
Treat your guests to something different this summer with these fun ocean themed jello shots.
Make with or without alcohol so everyone can enjoy.
Ingredients
1 Box Blueberry jello
1.5 cups water
1.5 cups Rum
5 Graham crackers - crushed
8 Shark gummy candies
Instructions
Boil one cup water. Mix well with powdered blueberry jello.
Whisk in half a cup cold water and half cup rum of choice.
Pour into the cups and place in fridge for four hours or until set.
When ready to serve top with crushed graham cracker and a gummy shark
Notes
You can use Malibu Rum or vodka instead of regular rum if you prefer
You can make these jello shots a day ahead and keep them in the fridge before serving.
To make non-alcoholic versions of these Jello shots, just use 1/2 cup of cold water instead of the cup of rum
Do not add the graham cracker topping until just before serving.