With a name like the Liquid Ghost cocktail, you can be sure this delicious drink is as spooky as it is delicious.
Imagine a melted ghost or maybe an apparition in liquid form and you have this wonderfully creepy Liquid Ghost drink.
Not only is it easy to make, but if you love tropical drinks with coconut, you can be sure this drink will go down a treat.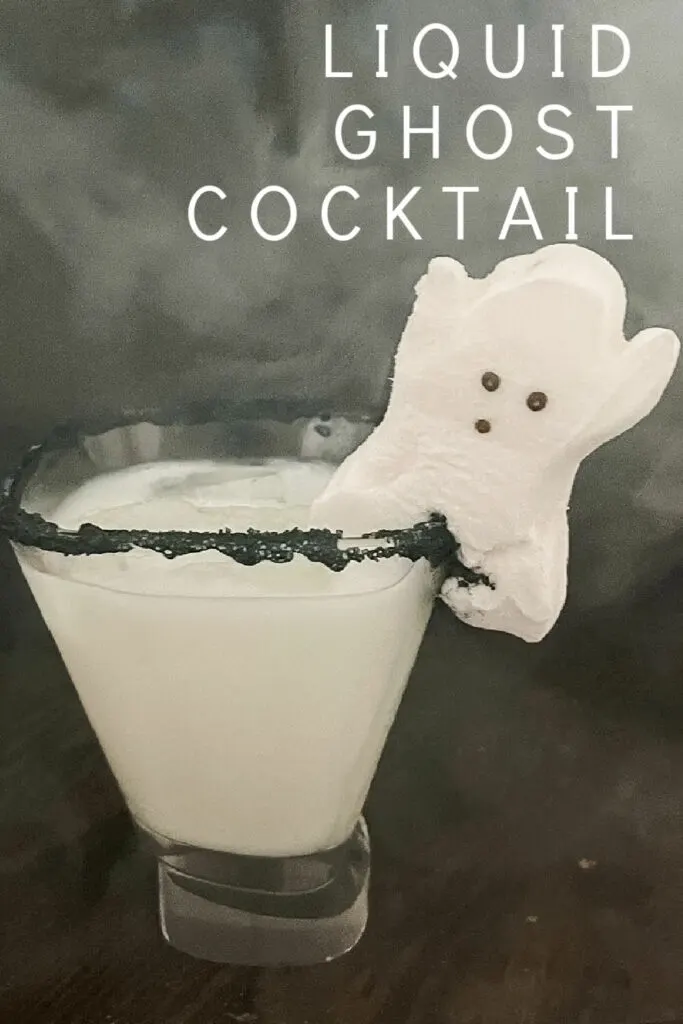 This post contains affiliate links. Please read my Disclosure for more information.
MORE HALLOWEEN COCKTAILS
Spiked Halloween Milkshake Recipe
Liquid Ghost Cocktail
If you want something creepy yet sophisticated for your Halloween drinks menu, then the Liquid Ghost fits the bill.
Not only is it easy to make but it also works great for a black and white themed party.
It pairs really well with our Wicked Witch cocktail which is a bright green classic Halloween drink,
Made in just a couple of minutes with just a cocktail shaker, this is an easy cocktail that you can easily make for a crowd.
Read on for the directions and scroll to the bottom of this page for a printable recipe card.
What alcohol is in the Liquid Ghost Cocktail?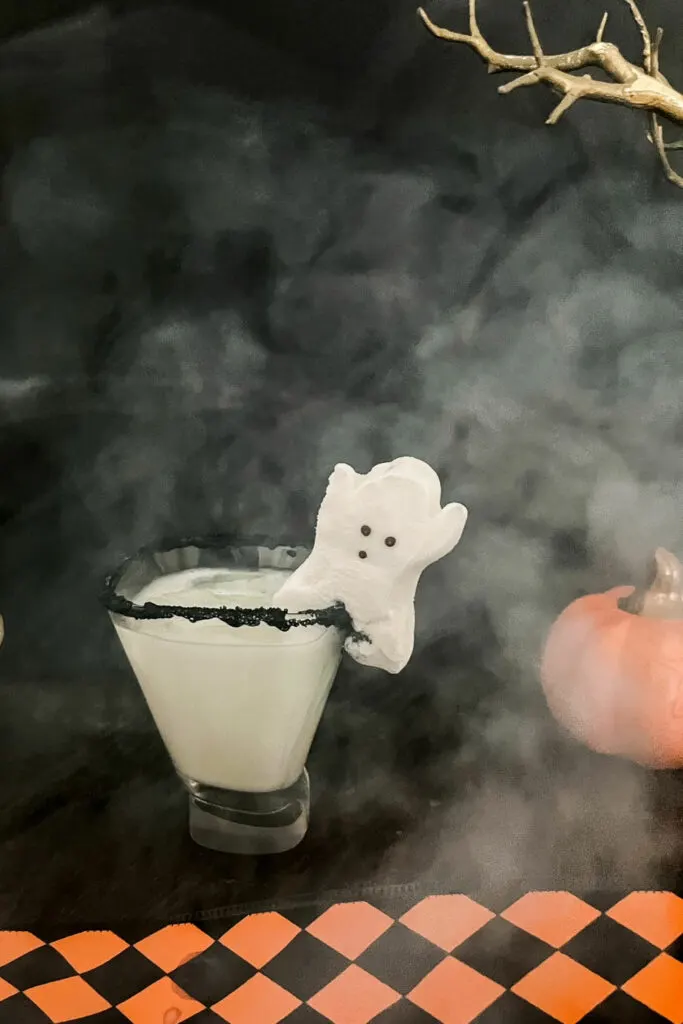 This drink packs a punch as there are actually three different alcohols involved!
First, you need plain vodka.
Second of all, we add in Creme de Cacao and white chocolate liqueur for a delicious creamy flavor.
If you don't have the white chocolate liqueur or want a bit less alcohol, then you can use cream or milk instead.
I've tried it both ways and it tastes great!
Liquid Ghost Cocktail Ingredients
This is a really easy cocktail to make in minutes, here's what you will need:
Vodka
White Chocolate Liqueur
Creme De Cacao
Cream of Coconut
For the garnish, you use a ghost shaped Peeps candy or a plastic eyeball.
As far as equipment goes, all you need is a cocktail shaker and a strainer.
How To Make The Liquid Ghost Drink
This is the perfect Halloween cocktail as it is really easy to make and always a hit.
Here's how to make it:
First, you will want to rim your glass.
I used black sanding sugar but you can also use desiccated (shredded) coconut or Halloween sprinkles.
Just put some simple syrup on a shallow dish and the some sugar on another one.
Dip the rim of your glass into the syrup and then immediately into the sugar.
Set aside for a few minutes to let it dry a little.
Now it is time to make your drink.
First, fill your cocktail shaker with ice cubes.
Add the all the ingredients to your cocktail shaker.
Shake for 12-15 seconds.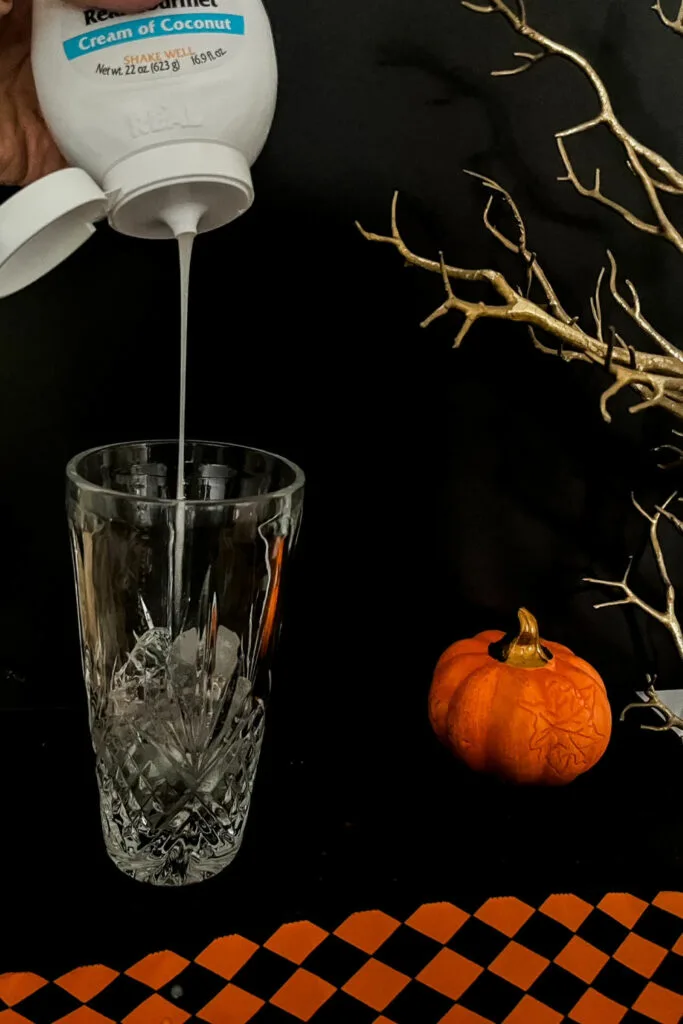 Strain into a tumbler with ice.
Garnish with a ghost candy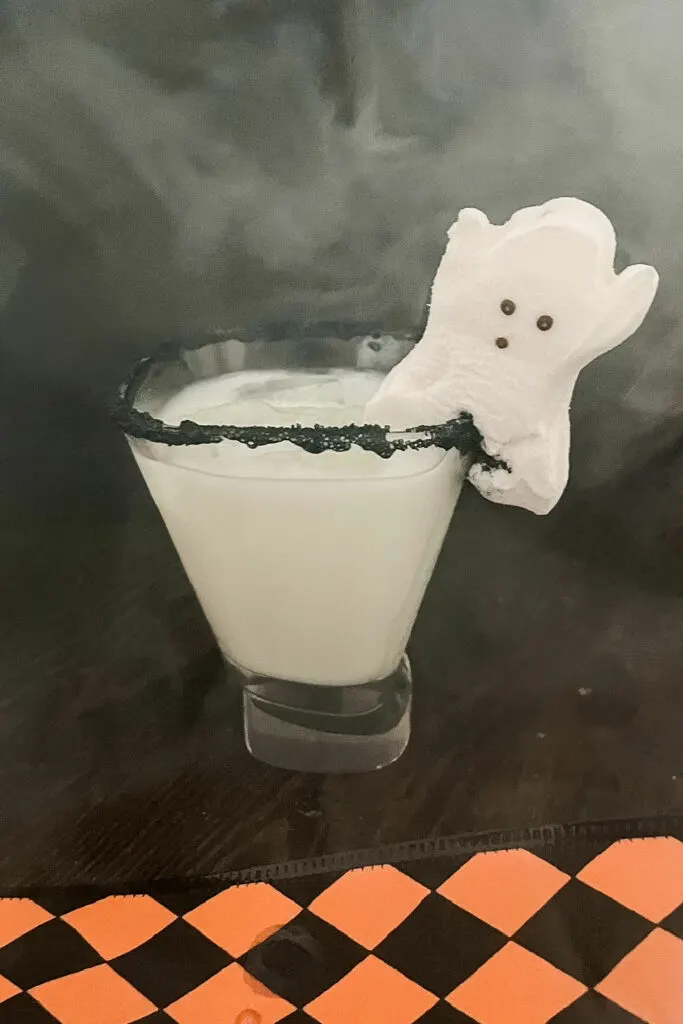 How To Serve Your Liquid Ghost Drink
If you do fancy making it a bit special for your next Halloween party, here are some more ideas:
Use plastic spiders or candy eyeballs for a fun and spooky garnish
Double or triple your recipe and serve it in a fun pumpkin shaped bowl like this one
Use a smoke machine to make the drink look extra spooky like we did!
Yield:

1
Liquid Ghost Drink
This deliciously creepy cocktail is perfect for your next Halloween drinks menu!
While it looks very spectre-like, the taste is definitely out of the world!
Ingredients
4 oz Vodka
3 oz Creme de cacao
1 oz White chocolate liqueur
3 oz Cream of coconut
1 teaspoon Simple syrup
Black sanding sugar or Halloween sprinkles
A marshmallow ghost or candy for the garnish
Instructions
To rim your glass, dip it in simple syrup or water then into a shallow dish containing black sanding sugar. Set aside for a few minutes.
Next, add all your ingredients to a cocktail shaker with ice.
Shake for 10-15 seconds
Strain into your tumbler with fresh ice
Top with a Peeps Marshmallow or similar
Notes
You can use sprinkles, sanding sugar or desiccated (shredded) coconut to rim your glass, or you can leave it plain.
If you have vanilla vodka, you can use that instead of plain vodka.