Who doesn't love a margarita? And at Halloween what better way to celebrate than with a spooky margarita like this one!
If you are a fan of margaritas, you will love this mango margarita.
It's easy to make and only requires a few simple ingredients. It is also really stunning to look at and perfect for serving at your next Halloween party.
So gather your supplies and let's get ready to mix up some margaritas!
This post contain affiliate links. Please read my Disclosure for more information
MORE HALLOWEEN COCKTAILS
Haunted Graveyard Drink Recipe
Jack O' Lantern Cocktail For Halloween
Spooky Margarita For Halloween
This fun margarita is the perfect thing to serve at your Halloween get together.
It's easy to make and tastes amazing!
You'll love this margarita because it's:
Fruity
Quick and easy to make for a crowd
Perfect for any occasion
Spooky Mango Margarita Ingredients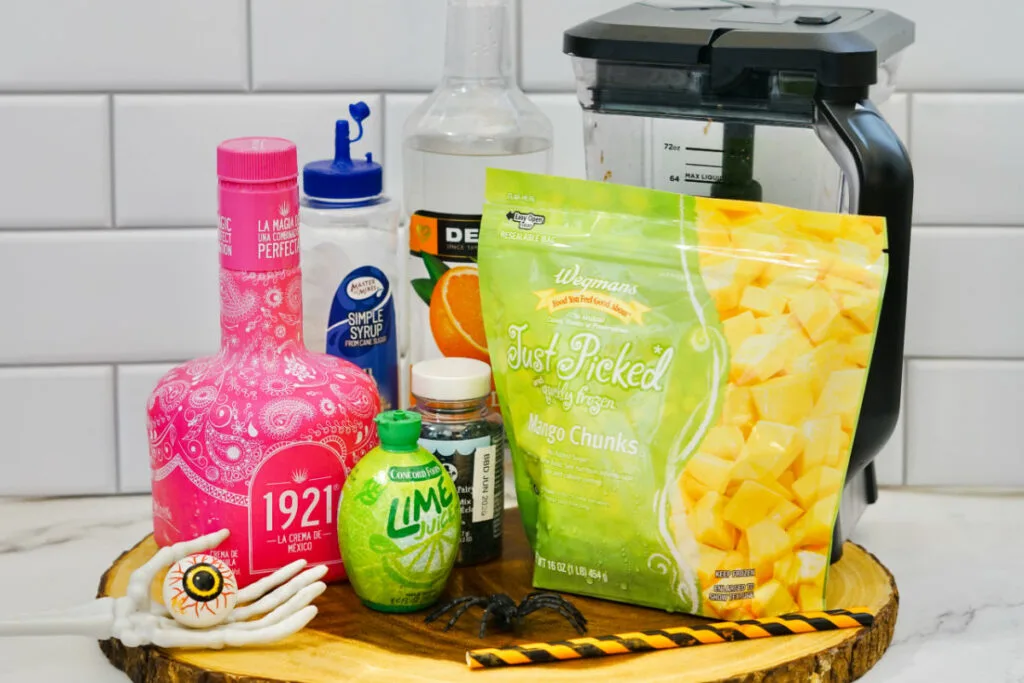 The classic margarita contains tequila, lime juice, and orange liqueur.
While this combo is undoubtedly perfect, this spooky margarita gets a little Halloween twist!
For this creepy cocktail, we are using mango and some fun garnishes to make it extra special.
For the full ingredients and instructions, scroll down to my printable recipe card.
3 Cups Ice
2 Cups Frozen Mango
1/2 Cup Tequila
1/4 Cup Triple Sec
1 Tbs Simple Syrup
1 Tbs Lime Juice
Halloween Sprinkles
Plastic eye balls and spiders.
As with most margaritas, you will need a blender for this recipe.
Personally, I use the Margaritaville mixer because it allows me to make 3 drinks at one time.
If you don't have one, any blender that can crush ice will work great!
Spooky Margarita Recipe
This frozen mango margarita is so easy to make in just a few minutes.
First of all, you want to garnish your margarita glass to make it extra festive.
To do this, coat the rim of a margarita glass with lime juice.
You can do this easily by pouring some lime juice in a saucer and then dipping the rim into the juice.
Next, roll the rim in Halloween sprinkles.
Set the glass aside until you are ready to serve your drink.
Add Mango, lime juice, simple syrup, tequila, & triple sec into the blender.
Top with ice cubes.
Blend on frozen drink mode.
Pour in your frozen margarita.
How To Garnish Your Margarita
This is the fun bit!
You can really add whatever special adornments you want to your cocktail.
Here are some fun ideas:
Gummy worms
Plastic eye balls
Plastic spiders
Spooky Margarita: FAQS
Can I make this margarita ahead of time?
Yes! You can definitely make this drink ahead. The spooky margarita will last up to 12 hours in the fridge.
Do I have to use Tequila Blanco?
No, I prefer Tequila Blanco because it is a clear spirit that doesn't have any oak barrel aging.
This gives it a clean, smooth flavor that is perfect for cocktails.
If you do not have Tequila Blanco, feel free to use another type of tequila such as Reposado or Anejo.
These types of tequila are aged in oak barrels, which will give your drink a different flavor profile.
Can I make this margarita for a crowd?
You can definitely make this cocktail for as many people as you wish by doubling or tripling the recipe.
If you have a blender, you can add all the ingredients into it then just pour into glasses afterwards
Yield:

1
Spooky Margarita
Creepy. and exotic, this fun mango margarita is the perfect addition to your Halloween drinks menu!
Ingredients
1/2 cup Tequila
1/4 cup Triple Sec
3 Cups ice
2 Cups frozen margarita
1 tbs simple syrup
1 tbs Lime Juice
Halloween sprinkles
Plastic eyeballs, spiders or other Halloween decorations
Instructions
Add mango, lime juice, simple syrup, tequila, & triple sec into the blender.
Top with ice cubes.
Blend on frozen drink mode.
Coat the rim of a margarita glass with lime juice.
Roll in Halloween sprinkles.
Pour in the frozen margarita.
Garnish with a eyeball and spider
Notes
To rim your margarita glass, dip the rim in simple syrup or lime juice then into your Halloween sprinkles
Set aside for a few minutes before pouring your drink.