The Haunted Graveyard cocktail has everything you want in a Halloween cocktail – a dark and spooky taste, a great color and the fun addition of smoke!
If you are a fan of bourbon, then this drink is a festive cocktail that is perfect for your next Halloween party.
Not only is it just the cocktail to serve during the spooky season, but the delicious flavors make it a hit year round.
With just 3 simple ingredients and a fun rosemary garnish, the Haunted Graveyard drink is bound to keep your ghouls and monsters coming back for more.
This post contains affiliate links. Please read my Disclosure for more information.
MORE HALLOWEEN COCKTAILS
Spiked Halloween Milkshake Recipe
Haunted Graveyard Drink Recipe
When you are looking for something sophisticated to serve at Halloween and want to go beyond the usual bright green or purple Halloween cocktails, look no further than the somewhat glamorous Haunted Graveyard,
Made in just a couple of minutes with just a cocktail shaker and some fun techniques, it is one of my favorite drinks when I want something to impress.
Read on for the directions and scroll to the bottom of this page for a printable recipe card.
What alcohol is in the Haunted Graveyard?
With only 3 ingredients, you can be sure to have a happy Halloween with this quick and easy spooky cocktail.
This drink works best with a good bourbon although if that isn't your thing, you can use whiskey or rum instead.
Haunted Graveyard Drink Ingredients
The ingredients for this delicious cocktail are quite simple.
The addition of maple syrup makes it a fantastic fall or winter cocktail even outside of Halloween.
If you love maple syrup, make sure to check out my Maple Whiskey Sour Cocktail too.
To make this delicious cocktail, you will need:
Bourbon
Maple Syrup
Bitters
Rosemary
Orange slice
For the garnish, you use the rosemary and a kitchen torch to create a beautiful burnt look.
As far as equipment goes, you just need a cocktail shaker and a strainer.
How To Make The Haunted Graveyard Cocktail
This is the perfect Halloween cocktail as it is really easy to make and always a hit.
Here's how to make it:
First of all, fill your cocktail shaker with ice cubes.
Add the bourbon, maple syrup, bitters and orange slice to your shaker. Shake for 12-15 seconds.
Strain into a martini glass with no ice. (I used these Octopus martini glasses for an extra creepy look)
Garnish with a sprig of rosemary.
How To Garnish The Haunted Graveyard Drink
For an added Halloween look, use a kitchen blow torch to set the sprig of rosemary on fire.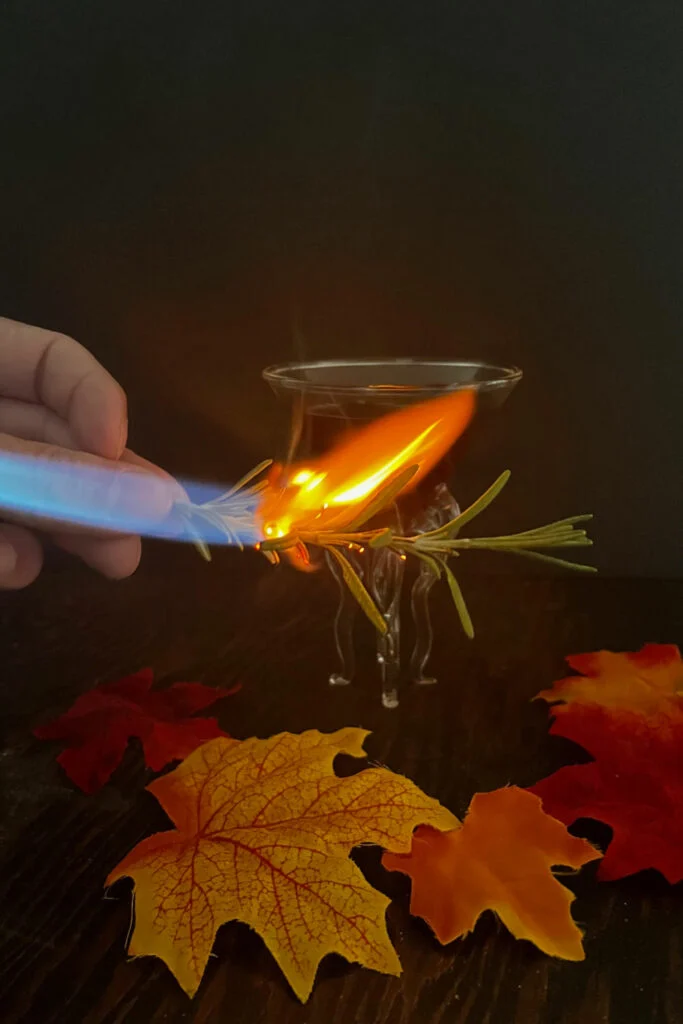 This gives your drink a fantastic woody taste and the creepy smokey look that is perfect for Halloween.
If you do fancy making it a bit special for your next Halloween party, here are some more ideasL
Add candy eyeballs to your drink
Plastic spiders can also make it really festive
Another fun adornment are some gummy worms hanging off the side of your glass
Tips For Making The Perfect Halloween Cocktail
Feel free to switch up the alcohol in this drink for rum or Scotch
You can use flavored bitters such as orange or grapefruit if you have them on hand
Using a smoker is a fun way to make this cocktail extra spooky
Yield:

1
Haunted Graveyard Cocktail
Additional Time:
3 minutes
This delicously woody cocktail is smokey and spooky at the same time.
Imagine a creepy graveyard at night and you have this cocktail!
Ingredients
2 oz Bourbon
1 oz Maple Syrup
Couple of Dashes Bitters
1 Sprig of Rosemary
Orange Slice
Instructions
Put all the ingredients into a cocktail shaker with ice, including the orange.
Strain into a martini glass (no ice). Add the orange slice to the glass.
Garnish with a sprig of rosemary
Optional: set the sprig of rosemary on fire with a kitchen blow torch. This will give your cocktail a smokey, woody flavor and look extra spooky.
Notes
You can use Irish whiskey or Scotch if you prefer.
if you don't want to use the fire, you can just add a sprig of rosemary or omit it completely.