This toasted almond cocktail is made with coffee in a twist that makes it perfect for winter evenings by the fire.
What's life without coffee? Nothing, that's what. There is nothing like it! That is why coffee-drinkers are always looking for new ways to make their coffee experience better.
If you are a fan of hot coffee cocktails, this recipe will be perfect for you. The Toasted Almond Coffee Cocktail is made with Kahlua, Disaronno and Baileys Irish Cream.
This cocktail tastes like an almond croissant dipped in coffee– it's rich and decadent but also refreshing at the same time!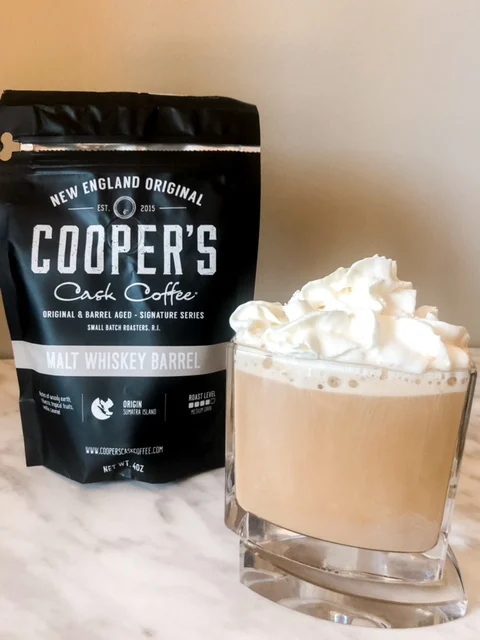 This post contains affiliate links. Please read my Disclosure for more information.
RELATED POSTS
What Is A Toasted Almond Cocktail?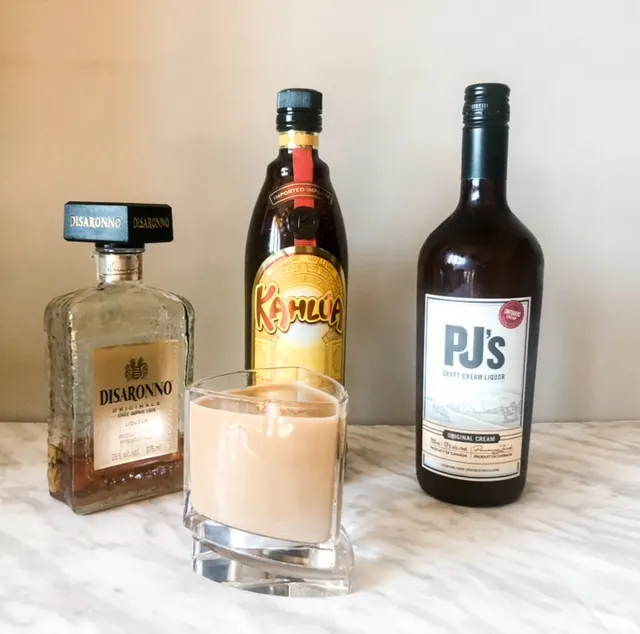 The classic toasted almond cocktail is made with Amaretto, Kahlua and heavy cream. It is an awesome cocktail to have on its own or as a dessert drink.
My version of this classic cocktail is more of a spiked coffee drink that packs an awesome punch.
You will love the Toasted Almond cocktail with hot coffee because it is:
Comforting
Warming
Cozy
Easy to make
Perfect for coffee lovers
If you are looking for a new alcoholic coffee drink to try, you cannot go wrong with this tasty cocktail that is perfect for any occasion.
Hot Coffee Cocktail Ingredients
First of all, you need piping hot, fresh coffee. This is a must.
You can use any kind you like from flavored to regular coffee.
I used maple whiskey coffee in the photos but I have also enjoyed this coffee drink with pumpkin spice coffee and plain old beans.
The other ingredients in this drink are Amaretto, Baileys, Kahlua and a squirt of whipped cream at the end.
You can use regular Bailey's Irish Cream (or a similar Irish cream and regular Kahlua).
Another option is to make your coffee cocktail more festive with peppermint Baileys if you wish.
To make the drink, you need equal parts of every ingredient.
What Is Amaretto?
Amaretto, also known as "Italian coffee liqueur," is made from coffee beans, sugar, and almond flavor. It has a dark coffee color and smells like coffee mixed with cream.
I used Disaronno for my cocktail which is an almond flavored liqueur made without nuts. This mades this cocktail suitable for anyone with a nut allergy.
How To Make An Amaretto Baileys Kahlua Cocktail
To make this toasted almond cocktail, you will want a whiskey tumbler or similar. I love the triangle glasses that I got from Amazon. They are really heavy and look cool!
Next add each ingredient to the glass one at a time, starting with the coffee. Top with whipped cream.
The sit back and enjoy this creamy coffee cocktail that tastes better than any latte! It's the perfect drink for sipping by the fire on a winter's evening.
Yield:

1
Hot Coffee Cocktail
Additional Time:
10 minutes
This alcoholic coffee drink is delicious and creamy. The combination of hot coffee, amaretto, Baileys and Kahlua make for a wonderfully comforting cocktail for the colder months.
Ingredients
1 oz hot coffee
1 oz Amaretto (I used Disaronno which is nut free)
1 oz Bailey's Irish Cream or similar
1 oz Kahlua
Whipped cream
Instructions
Brew your favorite coffee
Add to a whiskey tumbler
Follow with the Amaretto, Baileys and Kahlua
Top with whipped cream
Serve warm
More Comforting Cocktails
Pumpkin Spice Cocktail For Fall