Fall is synonymous with apples and apple cider so what better way to celebrate the season than with this delicious apple cider Moscow mule.
This apple cider cocktail is perfect for sipping around an open fire or enjoying with a slice of pumpkin pie.
If you are a fan of apple cider, you will love this tasty cocktail that takes just minutes to make.
Read on for the recipe and all the details.
This post contains affiliate links. Please read my Disclosure for more information.
MORE FALL COCKTAILS
Why you'll love this Apple Cider Cocktail
This Spiked Apple Cider is:
Tart and refreshing

Perfect for fall

Comforting

Easy to make

Delicious at any time of the year
How do you make an Apple Cider Moscow Mule?
First of all, let's look at the classic Moscow mule. According to this New York Times article, the Moscow Mule is the cocktail that really introduced vodka to the United States.
It was first invented in 1941 and is a mixture of vodka, ginger beer and lime.
What most people know about the Moscow Mule is that it is almost always served in a copper mug.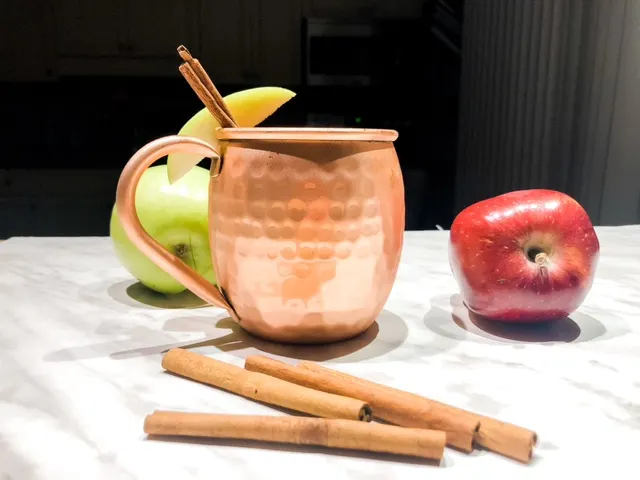 Why does a Moscow Mule have to be in a copper cup?
Not only do copper mugs look cool, they serve a purpose too.
They keep the drink cool and they help infuse the lime and ginger flavors so much that many Moscow Mule fans will not consider any other receptacle for their cocktail.
What's In The Apple Cider Moscow Mule?
In addition to the regular Moscow Mule ingredients of vodka, ginger beer and lime, this version adds in the classic fall ingredients – cinnamon and apple cider.
2 ounces Vodka
4 oz Ginger Beer
2 oz Apple Cider
1 Lime Wedge
Powdered Cinnamon
Apple slices and/or cinnamon stick for garnish
By the way, if you love this Moscow mule, make sure to also check out our Apple Pie Moscow Mule (Plus Apple Pie Mocktail) too!
How To Make The Apple Cider Moscow Mule
Step 1:Combine all the ingredients in a copper mug
Add your vodka, apple cider and ginger beer to your copper mug over ice
Step 2: Add Lime
Squeeze the lime wedge over the drink and then add the lime to your drink
Step 3: Add Cinnamon
Sprinkle cinnamon on the drink and stir
Step 4: Garnish and serve
Garnish with a slice of fresh apple
Yield:

1
Apple Cider Moscow Mule
This apple cider Moscow mule is the perfect fall cocktail.
The fall flavors of apple cider and cinnamon blend for the perfect comfort drink to sip by the fire.
Ingredients
2 oz Vodka
4 oz Ginger Beer
1 Lime Wedge
2 oz Apple Cider
Cinnamon
Ice
Apple Slice or Cinnamon stick
Instructions
Add your vodka, apple cider and ginger beer to your copper mug over ice
Squeeze the lime wedge over the drink and then add the lime to your drink
Sprinkle cinnamon on the drink and stir
Garnish with a slice of fresh apple
More Moscow Mule Recipes
Apple Pie Moscow Mule (Plus Apple Pie Mocktail)