Are you looking for a fun new cocktail to try? Do you love grapefruit drinks? Then you will love the Vodka Greyhound cocktail. As slick and as quick to make as the namesake pup, this is one delicious drink that will have you coming back for more.
This post contains affiliate links. Please read my Disclosure for more information.
MORE GREAT GRAPEFRUIT COCKTAILS
The Best Grapefruit Mimosa: Megmosa Cocktail
This Vodka Greyhound cocktail is refreshing and light. It is perfect for a summer afternoon when you want something quick and easy to make. With only two ingredients, you can make it in minutes.
What is a Vodka Greyhound?
The Vodka Greyhound cocktail is a refreshing and easy-to-drink drink that is perfect for a fun night with friends.
The vodka is balanced with the tartness of grapefruit juice which gives it an awesome zing.
This cocktail is perfect for a summer evening when you want to enjoy some cocktails without spending too much time in the kitchen.
Why is Grapefruit and Vodka called a Greyhound?
No one actually knows how this drink got its name. It is pretty cool name but where does it come from?
Several theories abound – each as plausible as the next one.
The first idea suggests that the drink was first created at a greyhound racing track somewhere in the USA. To me this sounds like the most likely option.
However, some people think that the drink originated on a Greyhound Bus during a cross-country trip that got a bit wild.
Some reports say that this grapefruit cocktail was served at the restaurant that used to be at Greyhound bus terminals. This one seems to make the most sense.
Lastly there is the theory that the cocktail is names after the greyhound dog as it goes down fast and is a pinky grey color.
What Is In A Greyhound Cocktail?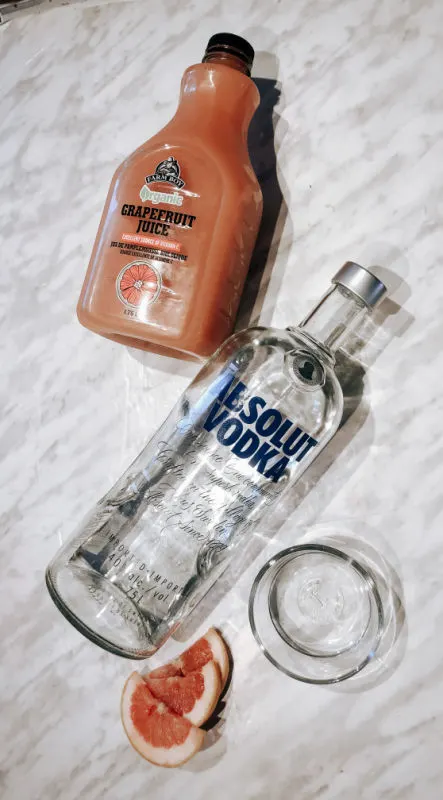 Traditionally this delicious drink is made with gin and grapefruit juice. In this twist on the classic, we have substituted vodka for the gin.
Ingredients
Pink Grapefruit Juice (or grapefruit cocktail – see below)
2 ounces Vodka
1 teaspoon of simple syrup
Grapefruit wedge for garnish
Optional:
You can skip the simple syrup if you like your cocktails a but more tart or you use sweetened grapefruit juice.
Directions For Making A Vodka Greyhound
It is so easy to make this cocktail! You can either make it as a martini or in a high ball glass.
To make it in a martini glass, all you have to do is mix all the ingredients in a martini glass and stir. The key to this method is making sure all the ingredients are chilled as you won't be using any ice.
If you want to go the route of using a larger glass – simply mix all the ingredients in a cocktail shaker with ice. Then strain into your high ball glass or tumbler that contains fresh ice.
In both cases, you can garnish your cocktail with a grapefruit slice if desired.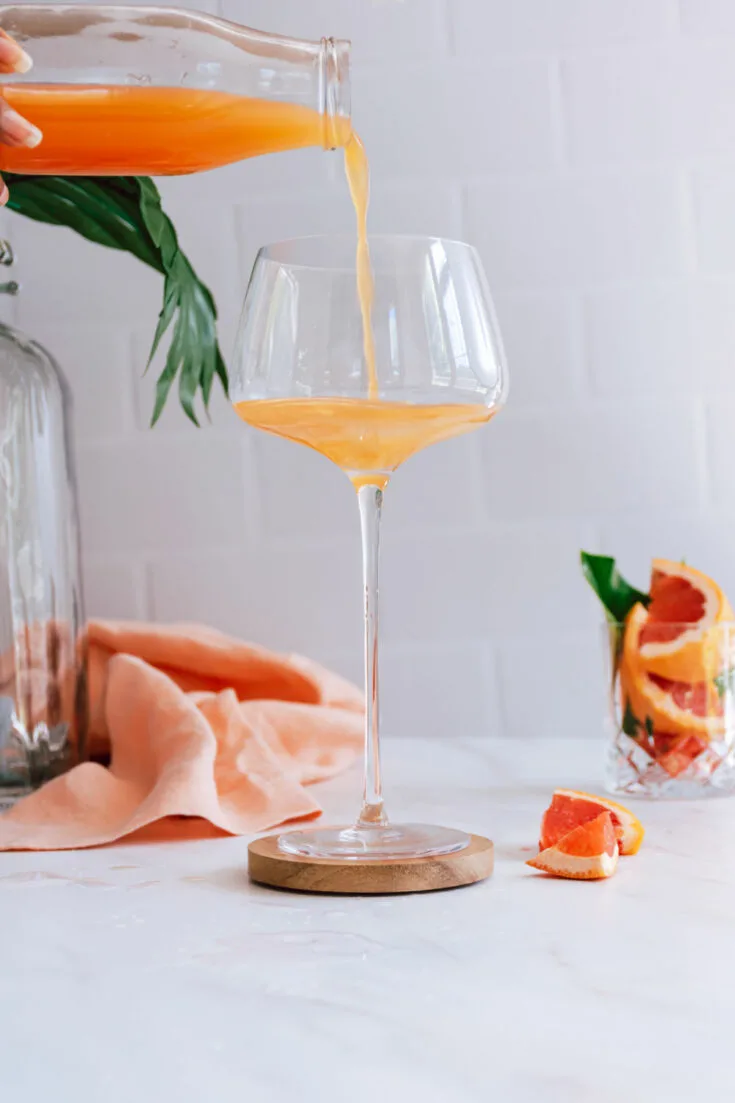 Greyhound Drink Variations
This cocktail is so simple that it is easy to make some variations. Obviously the first option is to use gin instead of vodka to make a more traditional Greyhound.
The second option is to give your glass a salt rim which will turn your drink into a Salty Dog cocktail.
Another fun alternative to the Greyhound is to add lime juice to make it a delicious Grapefruit Vodka Martini.
Virgin Greyhound Option
If you want to make a Virgin Greyhound, simply omit the vodka and add seltzer water or club soda in its place.
Vodka Greyhound – FAQS
Greyhound v Salty dog – what is the difference?
The difference between a greyhound and a salty dog is that a salty dog has a salt rim. Other than that the ingredients are more of less the same although, of course, Greyhounds are traditionally made with Gin where as Salty Dogs are usually made vodka.
Can I make this drink ahead of time?
Another reason to love the Vodka Greyhound Cocktail! It's the perfect make-ahead drink for a party.
You can easily make a big batch of this cocktail and store it in the fridge for up to 24 hours. It is perfect for serving in a pitcher, just x 5 or x6 the ingredients.
Yield:

1
Vodka Greyhound Coacktail
With only two ingredients, this Vodka Greyhound cocktail is refreshing and light. It is perfect for a summer afternoon when you want something quick and easy to make.
Ingredients
4 oz Vodka
2 oz simple syrup
4 oz pink grapefruit juice
Grapefruit slice for garnish
Instructions
Combine the ingredients in a cocktail shaker with ice
Shake for 15-30 seconds
Strain into a cocktail glass containing ice
Garnish with a slice of grapefruit if desired
Notes
Alternatively you can simply pour all the ingredients into a martini glass and stir then serve
This vodka can be substituted for gin if you prefer.
More Grapefruit Cocktails you might like
The Best Grapefruit Mimosa: Megmosa Cocktail