Take your drinks to the next level with delightful cotton candy topper that makes any cocktail Instagram-worthy. This delicious Cotton Candy Champagne cocktail only contains a few ingredients and can be made in minutes.
It's great for serving to a crowd and is one of my favorite pink bridal shower drinks.
This post contains affiliate links. Please read my Disclosure for more information
MORE FUN CHAMPAGNE COCKTAILS
Grapefruit Mimosa: Megmosa Cocktail
The Best Pear Mimosa: Fall Mimosa Recipe
Cotton Candy is one of those retro treats that make us think of childhood adventures at a funfair or theme park. Incorporating it in your cocktails is a fun way to garnish your drinks without needing fancy cutting skills or tools.
As Candy Floss (as it is known in the UK), is pure sugar, you can use it instead of a sugar cube or sugar rim on drinks that are naturally tart.
It mixes really well with sparkling wine for a delicious and elegant bubbly drink that you can serve at a holiday brunch or party.
Cotton Candy Champagne Cocktail
I've called this a Champagne cocktail but the truth is, you could use any kind of sparkling wine as your bubbly. I actually used Rose Prosecco as it is a lot cheaper than "real" Champagne and tastes good too!
You choice of wine for this drink is really personal preference. Some people swear by Prosecco while others will only do Champagne from France. The main key is to use a Rose sparkling wine so you get the pretty pink color.
Rose is a wine that is a mix of both red and white grapes. If you cannot get Rose for some reason, you can add a small dash of grenadine to regular Champagne so that you get the pink hue.
What Is In A Cotton Candy Champagne Cocktail?
This cocktail is so simple. The actual drink only contains two ingredients, Pink Champagne (or sparkling wine) and Angostura Bitters.
For the garnish, you need pink cotton candy and lemon zest.
You don't need any special tools to make this drink but you will need a wooden skewer for the garnish.
2 dashes Angostura bitters (optional)
A large piece cotton candy
5 oz rosé sparkling wine, chilled
How To Make A Cotton Candy Cocktail
Add bitters to your champagne glass.
Skewer the cotton candy
Place the skewer over your Champagne glass
Slowly pour the Champagne into your glass
The Cotton candy will dissolve as soon as the bubbly touches it.
Stir with a small spoon.
Yield:

1
Cotton Candy Champagne Cocktail
Light and delicious, this cotton candy cocktail is so easy to make and tastes wonderful.
You only need a few ingredients to make this impressive drink.
Ingredients
Pink Cotton Candy
5 oz Rose sparkling wine (Champagne or other)
2 Dashes of Angostura Bitters
1 wooden skewer
Instructions
Add bitters to your champagne glass.
Skewer cotton candy
Rest over glass.
Pour the Champagne over the cotton candy
Stir with a small spoon.
Notes
As you pour the Champagne into the glass, the bubbles will dissolve the cotton candy and meld the flavors into the wine.
You can use any sparkling wine you wish for this cocktail. My preference is Prosecco as it is cheaper (!) and a bit lighter.
What is the best alcohol for this cocktail?
As this drink does not involving mixing your wine with juice (as is the case with a classic Mimosa), it is not as easy to go cheap with your sparkling wine for this drink.
Although any Rose wine will work, you probably want to splash out a little bit for this drink as you will be able to taste the sparkling wine fully.
That doesn't mean you need to spend a lot of money on a bottle of the best Champagne but bear in mind that your wine is the star of the show in this cocktail.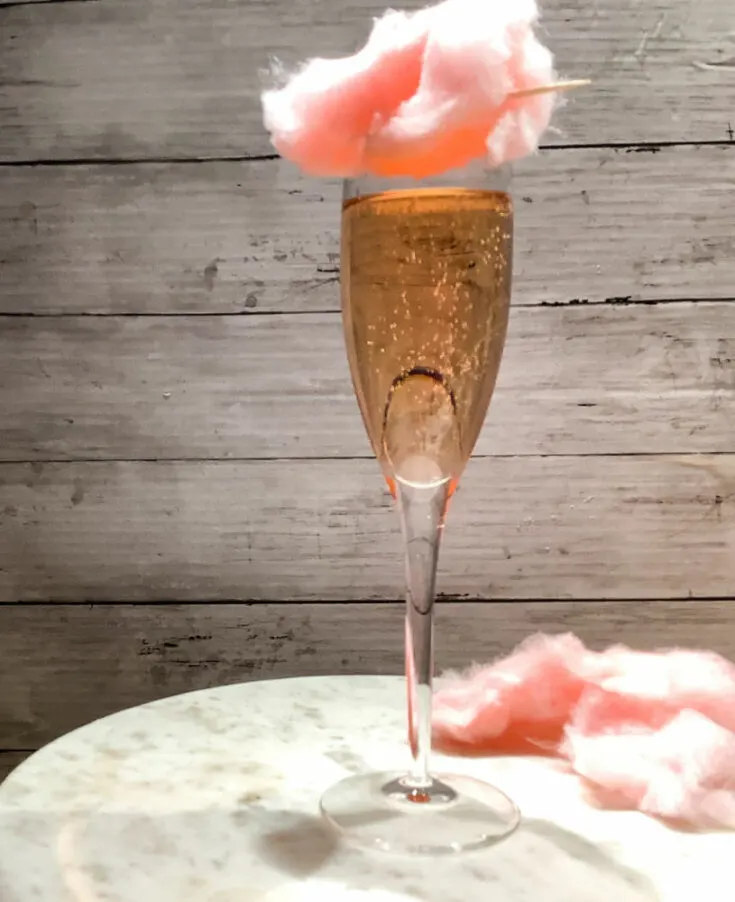 More Pink Cocktails
48 Pretty Pink Bridal Shower Drinks