Who doesn't love a margarita? And what better way to enjoy one than with a delicious fall flavor? This refreshing apple cider margarita is perfect for autumn.
If you are a fan of margaritas, you will love this fall cocktail. Plus, it's easy to make and only requires a few simple ingredients. So gather your supplies and get ready to mix up some margaritas!
This post contain affiliate links. Please read my Disclosure for more information
MORE APPLE CIDER COCKTAILS
Apple Cider Margarita Ingredients
A classic margarita contains tequila, lime juice, and orange liqueur.For this fall- inspired cocktail, we are using apple cider and apple slices to make it extra special.
Tequila Blanco
Apple cider
1 apple; sliced for garnish
Ice
As far as special equipment goes, you will need a blender for this recipe. Personally, I use the Margaritaville mixer because it allows me to make 3 drinks at one time. If you don't have one, any blender that can crush ice will work great!
Apple Cider Margarita Recipe
Add about 2 cups of ice to the blender. Pour in apple cider and two ounces of tequila. Blend well.
Pour into a margarita glass and top with two slices of apple.
How To Garnish Your Margarita
My favorite way to dress this fall margarita is with a simple slice of apple. If you want to go the extra step, you can dip the rim of your glass in caramel or add a stick of cinnamon.
Recipe Variations
Spiced Apple Cider Margarita
If you want to make a spiced apple cider margarita, you can use spiced apple cider or add some spices to your regular apple cider. Cloves, cinnamon and a dash of nutmeg will give your cocktail a delicious spicy taste.
Caramel Apple Cider Margarita
To make this cocktail until a sweet treat, you will want to get some dipping caramel (you can find it in the fruit and veggie aisle at the grocery store). Simply dip the rim of your glass into the caramel before pouring your margarita.
If you love this idea, make sure to check out our Caramel Apple Mimosa too!
Easy Apple Cider Margarita: FAQS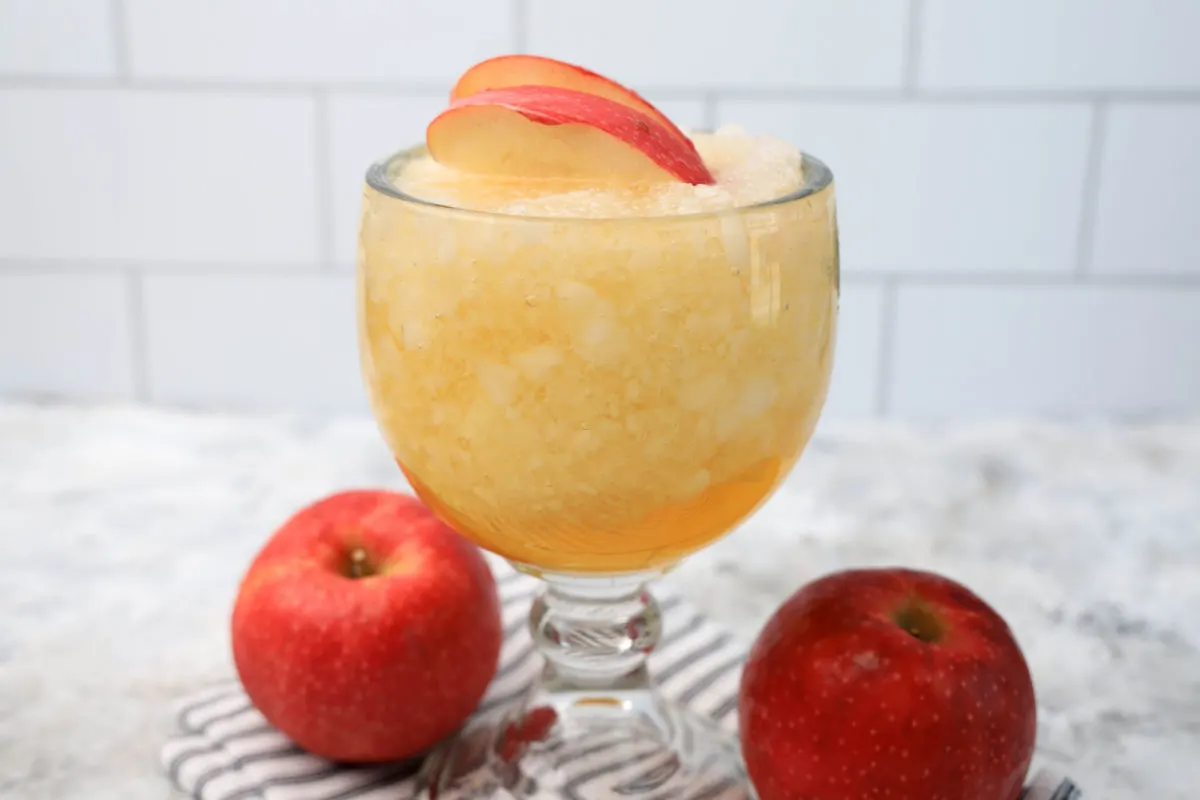 Can I make this margarita ahead of time?
Yes! You can definitely make this drink ahead. The apple cider margarita will last up to 12 hours in the fridge.
Do I have to use Tequila Blanco?
No, I prefer Tequila Blanco because it is a clear spirit that doesn't have any oak barrel aging.
This gives it a clean, smooth flavor that is perfect for cocktails.
If you do not have Tequila Blanco, feel free to use another type of tequila such as Reposado or Anejo. These types of tequila are aged in oak barrels, which will give your drink a different flavor profile.
Can I make this margarita for a crowd?
You can definitely make this cocktail for as many people as you wish by doubling or tripling the recipe. If you have a blender, you can add all the ingredients into it then just pour into glasses afterwards.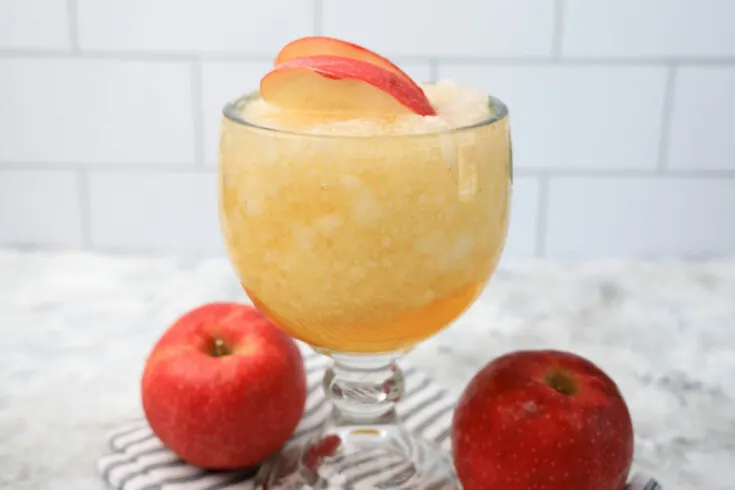 Yield:

1
Apple Cider Margarita
Enjoy the flavors of fall with this delicious apple cider margarita recipe.
Ingredients
2 oz Tequila
1 1/ 2 cup apple cider
1 apple; sliced for garnish
2 cups ice
Instructions
Combine the ingredients with ice in a blender.
Add fresh ice to your margarita glass and pour the mixture in
Top with a slice of apple
Notes
To rim your margarita glass, dip the rim into dipping caramel sauce.
Set aside for a few minutes before pouring your drink.
More Fun Fall Cocktails
Best Pumpkin Pie Martini With Pumpkin Puree
Easy Pumpkin Pie Milkshake Recipe