Rum Moscow Mule, Dark and Stormy, Caribbean Mule, Spiced Rum Moscow Mule.
It doesn't matter what you call this delicious and refreshing drink, it is one of the best cocktails out there!
If you are looking for something easy to make and popular with almost everyone, you can't go wrong with this riff on the classic Moscow Mule.
This post contains affiliate links. Please read my Disclosure for more information.
More Mule Cocktails
What Is A Caribbean Mule

The Caribbean mule is a cocktail made with rum, ginger beer and lime.

It's a refreshing drink that is simple to make and is perfect for sipping on a hot summer's day.
How did the Caribbean Mule come to be?
Basically someone wondered "Can you substitute rum for vodka in a Moscow Mule?" and the answer was a resounding yes!
In fact the Dark and Stormy is the National drink of Bermuda and was created there.
Of course, some people think that the Dark and Stormy was invented during the pirate era when many ships were filled with rum. During one stormy night, they combined some of their leftover ingredients with rum and the Caribbean Mule was invented!
It doesn't matter how this drink was created, the truth is, a rum Moscow mule is a delicious variation of the classic New York cocktail.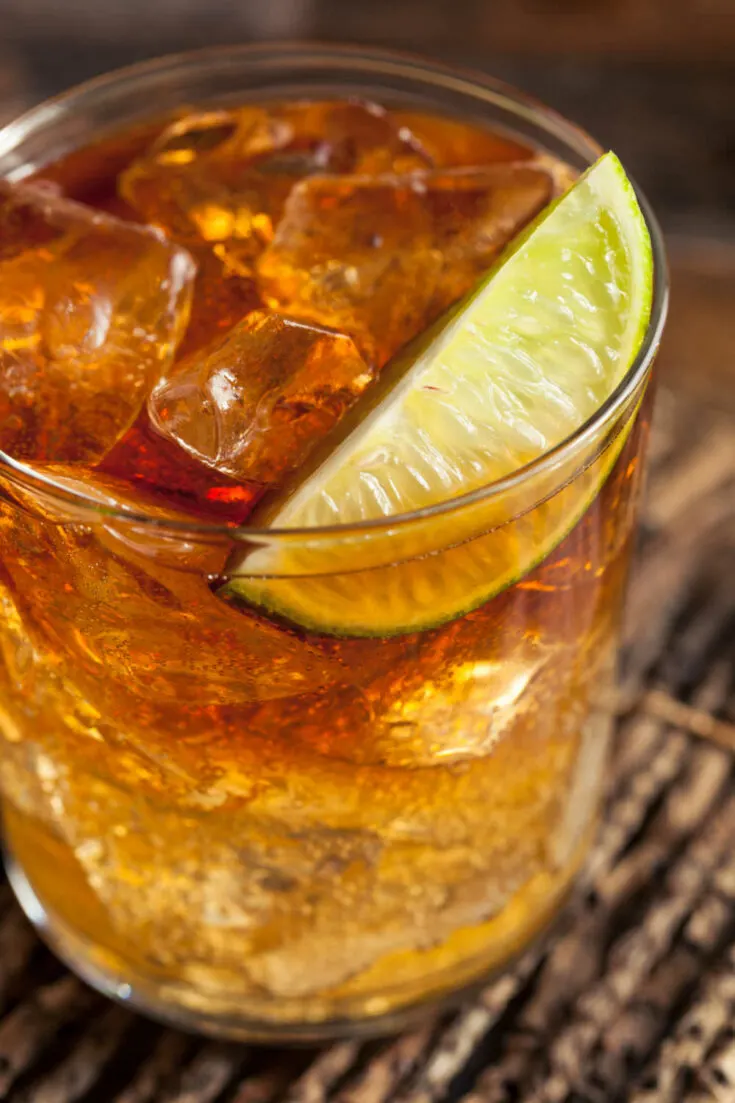 What is in a Caribbean mule?
If you are familiar with the classic Moscow Mule then the ingredients of the Dark and Stormy will be very familiar. You simply switch out the vodka for rum in the Caribbean Mule. I used both spiced rum and dark rum in my Dark and Stormy.
Some versions also use simple syrup but that is mainly personal preference. If you like your cocktails a bit sweeter then you can add some.
Dark and Stormy Ingredients
Spiced Rum
Dark Rum
Ginger Beer
Lime juice
What Kind Of Rum Do Your Use In A Caribbean Mule?
Dark rum is the rum of choice in a Dark and Stormy which is how it got the name! I used Captain Morgan dark rum and Captain Morgan spiced rum too but you can use any kind you like.
The Dark and Stormy originated in Bermuda so the traditional rum to use is Goslings Black Seal Rum.
How To Make A Dark and Stormy
Add the rum and lime juice to a glass with ice
Top with ginger beer
Add a slice of fresh lime for garnish
Spiced Rum Moscow Mule – FAQS
Can you use white rum in Moscow Mule?
Yes, if you are more of an aficionado of white rum rather than spiced rum, you can absolutely use it instead of the dark rum. Your drink will still be a Caribbean Mule but maybe not quite as "dark" and stormy as a drink made with dark rum.
What is the difference between a Moscow Mule and a Dark and Stormy?
There are two mani difference between the Moscow Mule and a Dark and Stormy.
First, a Dark and Stormy contains dark rum and/or spiced rum instead of Vodka (which is the liquor in a Moscow Mule).
Secondly, a Moscow Mule is traditionally served in a served in a copper mug while a Dark and Stormy is served in a high ball glass.
What Is A Moscow Mule With Rum Called?
A Moscow Mule made with rum is normally called a Caribbean Mule or a Dark and Stormy if you use dark rum.
Yield:

1
Caribbean Mule Cocktail
If you love rum cocktails then this Caribbean Mule is the perfect drink for you! This island- inspired twist on the classic Moscow Mule cocktail is easy to make and delicious.
Ingredients
2 oz Spiced Rum
2 oz Dark Rum
5 oz Ginger Beer
1 Lime Wedge
Ice
Instructions
Add your rum and ginger beer to your glass over ice
Squeeze the lime wedge over the drink and then add the lime to your drink
Stir the drink and garnish if you like.
More Fun Mule Cocktails
The Ultimate Champagne Moscow Mule
Apple Pie Moscow Mule (Plus Apple Pie Mocktail)