This Champagne Moscow Mule combines two of my favorite things – Champagne and Vodka!
If you are fan of the classic Mule then take it to another level with a Champagne version and you will never look back.
Moscow Mules are one of the most popular cocktails because they are so easy to make and are a hit with people who don't like strong mixed drinks.
Personally I love the kick of ginger ale in a Moscow Mule and they are fast becoming one of my favorite cocktails when I want something I can sip slowly and enjoy.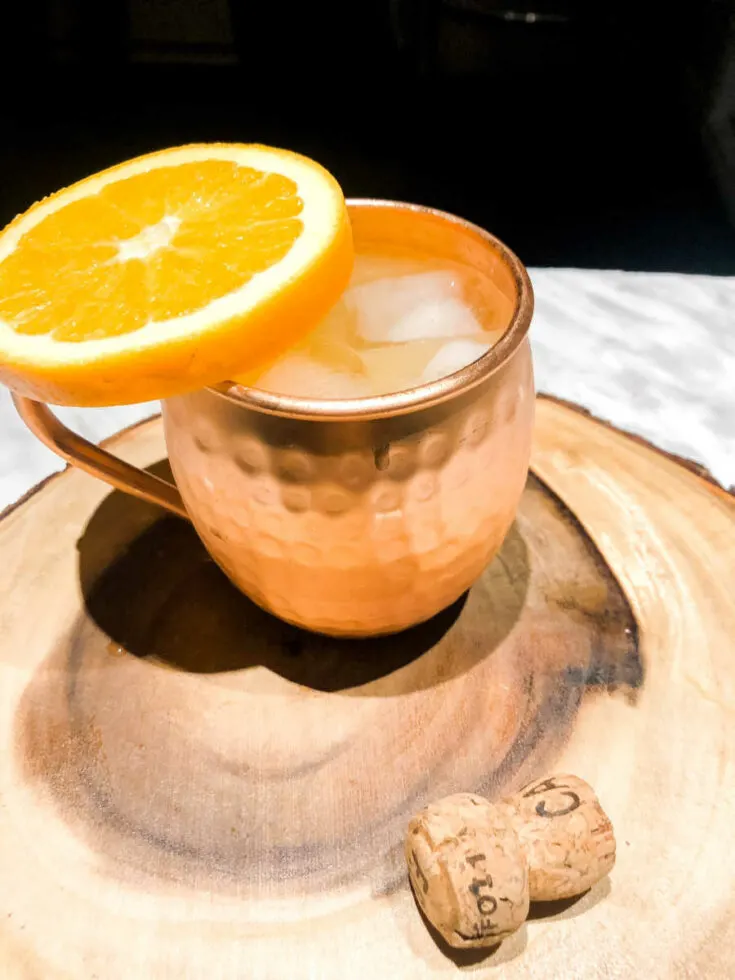 This post contains affiliate links. Please read my Disclosure for more information.
MORE MOSCOW MULES
This tasty twist on the classic Moscow Mule is a glamorous, upscale version that you will love.
This delicious drink is really easy to make and perfect for any occasion.
I often think of Moscow Mules as winter cocktails but really, they are just as perfect round the campfire in the summer as for a crisp autumn night.
Not only is this cocktail easy to make, it is the perfect fizzy treat for any time of year.
This Champagne Moscow Mule is:
Tart and refreshing

Perfect for a crowd

Comforting

Easy to make

Delicious at any time of the year
Champagne Moscow Mule Ingredients
The Moscow Mule is the cocktail that really introduced vodka to the United States.
The classic Moscow Mule is a mixture of vodka, ginger beer and lime.
You might know that a Moscow Mule is commonly served in a copper mug. Not only do they look fancy, they also keep your drink ice cold which is essential with the Mule.
Aficionados of the Moscow Mule also swear that the copper mug makes the drink taste better. Something about the copper bringing out the flavors of the ginger beer.
In addition to the regular Moscow Mule ingredients of vodka, ginger beer, this version adds in Champagne (of course) and a slice of orange.
Vodka
Ginger Beer
Orange Juice
Champagne
1 slice of orange
How To Make An Champagne Moscow Mule
Step 1: Add your vodka
Add your vodka and orange juice
Step 2: Add the ginger beer and Champagne at the same time
Holding a bottle in each hand, pour the ginger beer and Champagne in the glass until it is full.
Step 3: Garnish and serve
Stir the drink and garnish with an orange slice.
Yield:

1
Champagne Moscow Mule
Additional Time:
1 minute
Do you love Moscow mules?
How about champagne? If you said yes to either of those questions, then you're going to love this recipe. It's the perfect celebration drink, and it's so easy to make. So gather your supplies and let's get started!
Ingredients
2 oz Vodka
3 oz of Ginger beer
2 oz Orange Juice
3 oz Champagne
Slice of orange for garnish
Instructions
In a copper mug with ice, vodka and orange juice.
Top with ginger beer and Champagne
Garnish with a slice of orange
Notes
You can use any kind of sparkling wine in this drink - Prosecco, Cava or Champagne will all work really well.
Want More Moscow Mule Recipes?
Apple Pie Moscow Mule (Plus Apple Pie Mocktail) The perfect Moscow Mule for Thanksgiving!
Gingerbread Moscow Mule Here is a holiday version of the classic mule.
Blood Orange Moscow Mule If you love citrus, then you will love this Blood Orange version.