This cranberry gin fizz is sweet and bubbly – perfect for celebrating any occasion.
This post contains affiliate links. Please read my Disclosure for more information.
MORE HOLIDAY COCKTAILS
If you are looking for the perfect winter cocktail, you can't go wrong with this cranberry gin fizz cocktail.
This year for your next party, try out this recipe for Winter Gin Fizz. It has just the right amount of sweetness with tartness from cranberries mixed with orange juice and gin.
What is a Winter Gin Fizz?
It's a cocktail that is perfect for the holiday season, and it has all of your favorite Christmas flavors plus it looks really festive too.
To make this cocktail, you will need:
Gin
Orange juice
Cranberry juice
Ginger ale
You can use a highball glass or a coupe for this drink, it really is up to you. Just add extra
This drink goes down easy because of its refreshing flavor with just enough alcohol to make you feel merry. It also is a really pretty drink that will look great on your party table.
Why You Will Love This Cranberry Gin Cocktail
The winter fizz with cranberry juice is fruity, sweet and perfect for a holiday brunch or party.
Cranberries are of course, THE fruit of the winter which makes this drink perfect for every occasion from Thanksgiving through spring.
Oranges are also in season over the winter months so it is use them in this cocktail to make it even more wintery.
I also love to add some frozen cranberries to this cocktail before serving as the frosting on them looks just snow on holly berries in the winter.
Did you know that cranberries are also really good for you?
They are packed with vitamin C and great for preventing UTIs so you can sip your cranberry fizz guilt-free.
What tools do I need to make the Winter Cranberry Gin Fizz?
You really don't need much in order to make this cocktail which makes it perfect for any party or large gathering when you want to whip them up in minutes.
You don't need a cocktail shaker as you pour each ingredient directly into the glass and then garnish before serving.
How To Make A Cranberry Gin Fizz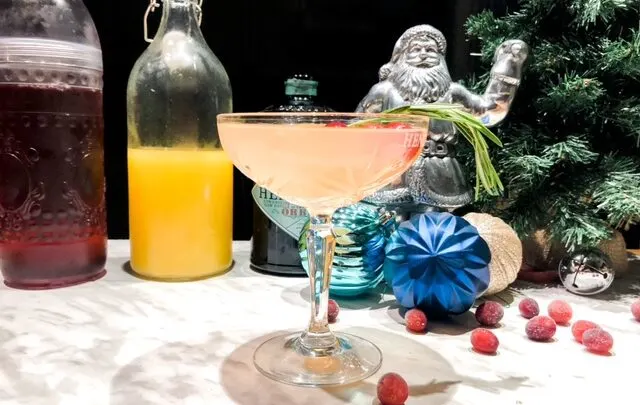 Step 1: Combine the ingredients
Pour the gin and juices (Hi, Snoop!) into your gin glass and top off with ginger ale.
Step 2: Garnish and serve your winter gin fizz
Garnish with frozen cranberries and a sprig of rosemary.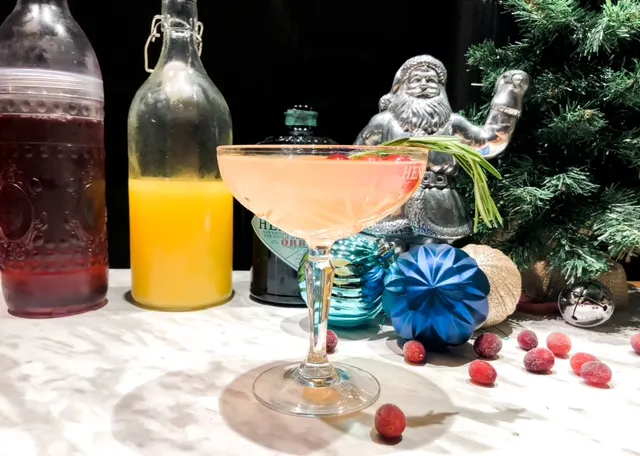 Yield:

1
Winter Gin Fizz Cocktail
This fizzy cocktail is perfect for your next holiday brunch or get together.
If you love holiday cocktails with gin then you will love the cranberry gin fizz!
Ingredients
2 oz gin
1/2 oz orange juice
2 oz cranberry juice
Ginger ale to top off the drink
Frozen cranberries for garnish
Instructions
Pour the gin and juices into your glass
Top with ginger ale
Garnish with frozen cranberries and a sprig of rosemary
More Winter Cocktails
The Ultimate Maple Whiskey Sour Cocktail