Creamy and decadent, this Baileys chocolate martini is a cross between a cocktail and a dessert!
The Baileys chocolate martini is one of the best drinks out there.
It has so much flavor and, if you're feeling extra indulgent on New Year's Eve (or anytime), this will truly be your perfect festive drink!
If you love the decadent taste of Bailey's and are a chocolate lover, this indulgent dessert of a cocktail will soon be one of your holiday go-tos.
I often serve this drink at my Christmas parties and it is always a treat. The presentation is perfect for any celebration and it tastes delicious. Read on for the recipe and all the details.
This post contains affiliate links. Please read my Disclosure for more information.
MORE CHOCOLATE COCKTAILS
Cadbury Creme Egg Cocktail Recipe
Easter Bunny Cocktail – Baileys Easter Egg Cocktail
Chocolate Baileys Cocktail Recipe
First I should warn you that this Christmas cocktail with Bailey's is strong! It is made with 100% alcohol (vodka and Baileys) so definitely not for the faint of heart.
The good news is that it is a super simple cocktail to make (only two ingredients, after all) and it is a very glamorous looking drink.
I always rim my martini glass with melted chocolate when I make this martini but to be honest that is an extra step that you can always skip if you want. I just like adding the extra bit of decadence to an already delicious cocktail.
This Chocolate Bailey's Cocktail is:
Indulgent
Easy to make
the perfect Christmas cocktail
Impressive
Like a dessert
What's In the Chocolate Baileys Martini?
As I mentioned above, this cocktail only contains 2 ingredients – chocolate vodka and Bailey's or a similar Irish cream drink.
You will also need:
Melted chocolate for the rim of the glass
Ice
Fresh raspberries and whipped cream for garnish
What Can I Use Instead Of Baileys?
What if you don't have any Irish cream at all? (Bailey's is the most well-known but there are other brands like the one I used in the pictures).
The good news is that you can make your own substitute. Blend together 1 cup heavy cream, 1 can sweetened condensed milk and Irish whiskey with chocolate syrup for a homemade Bailey's alternative.
You can check out the full recipe at As Easy As Apple Pie.
What Tools Do I need to Make The Chocolate Baileys Martini?
You really don't need much in order to make this cocktail which makes it perfect for any party or large gathering when you want to whip them up in minutes.
The only tool you'll need to make this cocktail:
Don't have the tools you need?
If you don't have a cocktail shaker, a large mason jar works just as well in a pinch.
Use the mason jar lid or a plate to strain the drink if you don't own a strainer.
How To Make The Chocolate Cocktail With Irish Cream
To rim your martini glass with chocolate simply melt 2 tablespoons of chocolate chips in a double burner and place on a saucer. Gently twist the rim of the glass into the chocolate until the rim is covered. Allow to set before pouring in your drink.
Step 1:Combine all the ingredients
Place the vodka and Irish cream in a cocktail shaker. Shake for 15 seconds.
Step 2: Strain
Strain the drink into a martini glass
Step 3: Garnish and Serve
Garnish with a fresh raspberry and whipped cream.
How To Garnish Your Baileys Chocolate Martini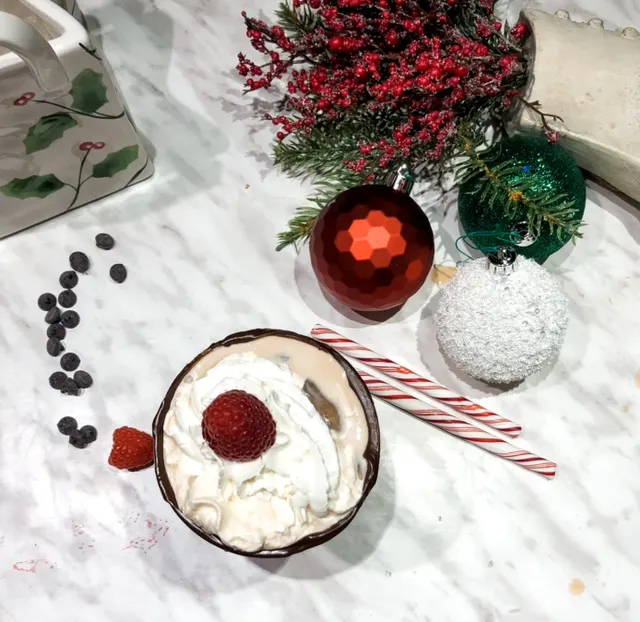 Although you don't have to add a rim to the glass of your Baileys martini, melted chocolate adds a special touch.
I also added a couple of fresh raspberries and some whipped cream on my martini for some extra decandence.
How to make a chocolate rim
I love adding a rim of melted chocolate to my Baileys martinis and during the holidays I even like to add some crushed candy canes like I did for my Peppermint Martini With Baileys.
It is so easy to make the rim:
Melt chocolate and put in in a saucer or shallow bowl
Tilt the glass into the chocolate so that it sticks to the outside edge.
Set aside for a few minutes before making the martini.
Yield:

1
Chocolate Baileys Cocktail
This festive cocktail is delicious and indulgent. If you love creamy cocktails with Baileys, this will ht the spot. It's perfect for serving at your next holiday gathering.
Ingredients
2 oz Baileys or similar Irish Cream
1 oz Chocolate Vodka
Fresh Raspberries
Melted chocolate for the rim
Whipped cream
Instructions
Put the vodka and Baileys into a cocktail shaker and shake for 15 seconds
Strain into a martini glass
Top with whipped cream and fresh raspberries
Serve immediately.
More martini recipes!
If you are in the mood for even more martinis, here are a few you might like: