This easy whiskey cocktail recipe is perfect for the holidays. This cranberry whiskey fizz cocktail is always a staple on my Christmas drinks menu because it is perfect for serving at parties and gathering.
The sweetness of cranberry juice combined with the woody flavors of whiskey made this a fantastic holiday cocktail.
It is the perfect cocktail for a holiday brunch or New Year's Eve party.
Read on for the recipe and all the details.
This post contains affiliate links. Please read my Disclosure for more information.
MORE HOLIDAY COCKTAILS
What is a Whiskey Fizz Cocktail?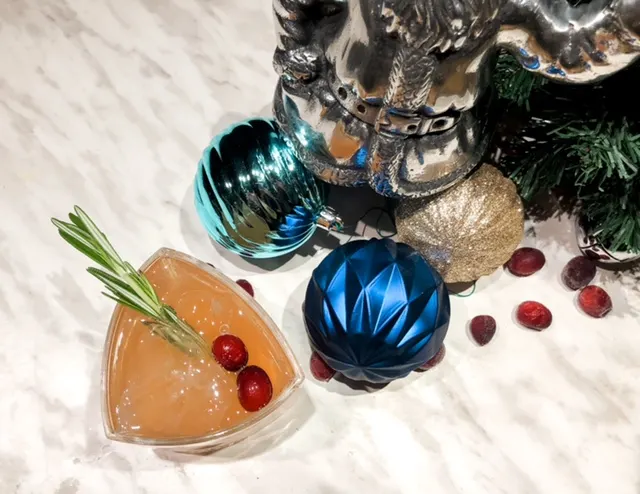 This holiday whiskey fizz is made with whiskey combined with juices and then topped with club soda (which adds the fizz).
You can substitute the lime juice and club soda for lemon-lime soda if you like a little more sweetness in your drinks.
To make this cocktail, you will need:
Whiskey
Lime juice
Cranberry Juice
Club Soda
Why You Will Love This Christmas Whiskey Cocktail
Omit the cranberry from this whiskey fizz and you have a delicious cocktail to enjoy at any time of year but the addition of cranberry juice makes this festive cocktail perfect for the holidays.
This Holiday Whiskey Fizz is:
Festive
Easy to make
Great for a crowd
Both tart and sweet
What tools do I need to make the Christmas Whiskey Fizz Cocktail?
You really don't need much in order to make this cocktail which makes it perfect for any party or large gathering when you want to whip them up in minutes.
If you like the cute glass I used in the photos, you can find it here.
(by the way, I got the amazing lantern from Costco!).
The only tool you'll need to make this cocktail:
Don't have the tools you need?
If you don't have a cocktail shaker, a large mason jar works just as well in a pinch.
Use the mason jar lid or a plate to strain the drink if you don't own a strainer
How To Make A Whiskey Fizz Cocktail
Step 1:Combine all the ingredients
Place the whiskey, lime juice and cranberry juice in a cocktail shaker with ice. Shake for 15 seconds.
Step 2: Strain
Strain the drink into a whiskey tumbler with ice
Step 3: Finish the drink
Top the glass with club soda
Step 4: Garnish and Serve
Garnish with a sprig of rosemary or frozen cranberries as desired
Yield:

1
Christmas Whiskey Fizz Cocktail
This Christmas whiskey fizz cocktail is perfect for the holidays. It's a twist on the classic whiskey fizz drink with cranberry juice for a festive feel.
Ingredients
2 oz whiskey
1/2 oz lime juice
1 oz cranberry juice
Club Soda
Sprig of rosemary for the garnish
Instructions
Combine the whiskey, lime juice and cranberry juice in a cocktail shake. Shake for 15 seconds
Strain into a whiskey tumbler containing ice
Top with club soda
Garnish with a sprig of rosemary
More Festive Holiday Cocktails
23 Festive Christmas Cocktails With Vodka
The Best Christmas Cocktails With Rum