If, like me, you are a huge fan of whiskey cocktails for winter, then this maple whiskey sour will hit all the right spots.
This cocktail is so easy to make and is so comforting and cozy for those cold frosty nights
The sweetness of whiskey combined with the woody flavors of whiskey made this a fantastic winter cocktail.
I love maple syrup cocktails and this one is no exception.
It is the perfect cocktail for sipping fireside in the fall or winter.
Read on for the recipe and all the details.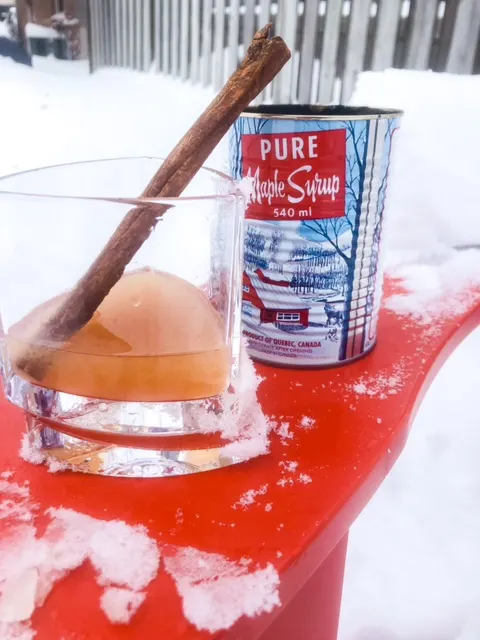 This post contains affiliate links. Please read my Disclosure for more information.
MORE WHISKEY COCKTAILS
What is a Maple Syrup Whiskey Sour?
While the traditional whiskey sour recipe is made with traditional simple syrup, the addition of maple syrup in this cocktail brings a new depth to this classic drink.
Ground cinnamon offers warming flavors for those cold winter days and lemon juice makes it taste just as good in summertime when you're craving something refreshingly tart.
If you are not a fan of cinnamon, you can skip it and still enjoy the warming flavors of maple and whiskey.
To make this cocktail, you will need:
Whiskey
Lemon juice
Maple Syrup
Ground Cinnamon (optional)
Why You Will Love This Maple Syrup Cocktail
This maple syrup whiskey sour is so easy to make and tastes amazing.
Using maple syrup instead of simple syrup adds such a fun, seasonal flavor that really elevates this cocktail and makes it perfect for the holidays.
Whiskey is my favorite spirit, and this rendition of a whiskey sour is simply fantastic and is one of my favorite whiskey cocktails for winter and fall.
Unlike a traditional whiskey sour, there is no egg in this cocktail so it is even easier to make then a regular sour drink.
What tools do I need to make the Maple Syrup Whiskey Sour?
You really don't need much in order to make this cocktail which makes it perfect for any party or large gathering when you want to whip them up in minutes.
If you like the cute glass I used in the photos, you can find it here.
(by the way, I got the amazing lantern from Costco!).
The only tool you'll need to make this cocktail:
Don't have the tools you need?
If you don't have a cocktail shaker, a large mason jar works just as well in a pinch.
Use the mason jar lid or a plate to strain the drink if you don't own a strainer
How To Make A Maple Whiskey Sour Cocktail
Step 1:Combine all the ingredients
Place all the ingredients in a cocktail shaker with ice. Shake for 15 seconds.
Step 2: Strain
Strain the drink into a whiskey tumbler with ice
Step 3: Garnish and Serve
Garnish with a slice of orange or a a cinnamon stick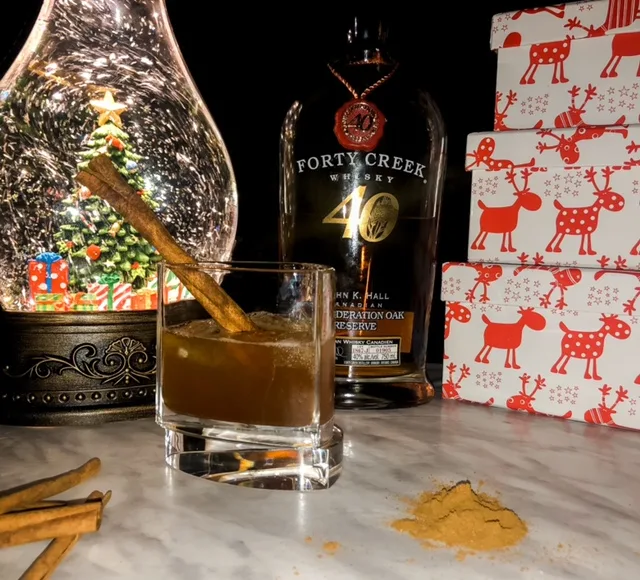 Yield:

1
Maple Whiskey Sour
This maple whiskey sour is made with real maple syrup and tastes amazing. This is a fantastic cocktail for winter and is always a hit during the holidays.
If you love festive Christmas cocktails, you will enjoy this warming blend of whiskey and maple syrup.
Ingredients
2 oz whiskey
1 oz lemon juice
1/2 oz maple syrup
Optional: Pinch of cinnamon
Cinnamon stick or orange slice for garnish
Instructions
Combine the whiskey, lemon juice and maple syrup in a cocktail shaker and shake for 15 seconds
Strain into a whiskey tumbler with ice
Garnish with a cinnamon stick or orange slice
More Winter Cocktails
Peppermint Mimosa {Peppermint Bark Cocktail)
Gingerbread Mojito – The Perfect Holiday Cocktail