Are you looking for an easy homemade holiday gift you can make in minutes? Learn how to make candy cane infused vodka and you will wow everyone this Christmas!
Nothing screams the holidays more than a traditional red and white candy cane. Add some vodka to the mix and you have the perfect holiday cocktail.
Not only is this homemade peppermint vodka an absolute treat, it is so simple and easy to make that you will be whipping up batches in no time.
With only 2 ingredients, this delicious infused vodka is tasty on its own or in a martini.
If you plan to give a jar filled with this vodka as a gift, I've included some free printable labels at the bottom of this post.
Peppermint Cocktail Recipes
Candy Cane Martini- The Perfect Christmas Cocktail
Peppermint Martini With Baileys (Candy Cane Cocktail)
This post may contain affiliate links. Please read my Disclosure for more information
How To Make Candy Cane Infused Vodka
Candy canes and vodka are a great combination.
You can actually buy candy cane flavored vodka at the liquor store during the holidays but it is so much more fun to make your own.
Homemade Peppermint Vodka Ingredients
There are only two ingredients in this candy cane vodka recipe
Vodka
You want regular plain vodka for this candy cane infusion.
Candy Canes
Here's where we need to be careful what we use. First, make sure to grab peppermint flavored candy canes and not fruit flavored ones.
Secondly, and this is important, buy the red and white candy canes only.
The first time I tried out this candy cane vodka recipe, I made the mistake of using the candy canes with green and red stripes.
My infusion still tasted great but it took on a disgusting green/gray color that I most definitely could not gift to anyone.
Candy Cane Vodka Recipe Supplies List
You really don't need much in the way of equipment or supplies for this peppermint vodka.
Mason Jar – whatever size works for you, I used a 16oz jar for my recipe
Red and white peppermint candy canes
Strainer or cheesecloth
If you are planning on gifting this infusion:
Gift tags like my printable ones below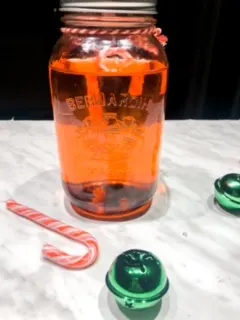 How To Make Candy Cane Infused Vodka – step by step instructions
Making this homemade peppermint vodka takes just a few minutes. The longest part is waiting for the peppermint flavor to infuse into the vodka.
STEP 1: Break up the candy canes if using large ones and place them in the bottom of your mason jar
STEP 2: Fill the jar with vodka. Leave about an inch at the top so you can shake the jar. A 16oz mason jar will hold about 2 cups of vodka once the candy canes are at the bottom.
STEP 3: Place in a cool, dark location for 24 hours. Shake periodically to mix any candy sediment into the liquid.
STEP 4: After 24 hours, check to see if all the candy canes have dissolved and make sure the flavor is minty enough for your taste. If not, wait another 24 hours.
Step 5: Strain the vodka with a strainer or cheesecloth. Seal the jar and store in the fridge or in a cool dark place until you are ready to use.
How To Gift This Candy Cane Vodka
This peppermint vodka infusion makes a fantastic holiday gift if you can bear to part with it.
Jazz the mason jar up with some holiday ribbon or twine and a cute gift tag.
I created these gift tags that you can print on paper or card stock and tie around the neck of your mason jar.
These make a fantastic hostess gift or even a cheeky stocking stuff!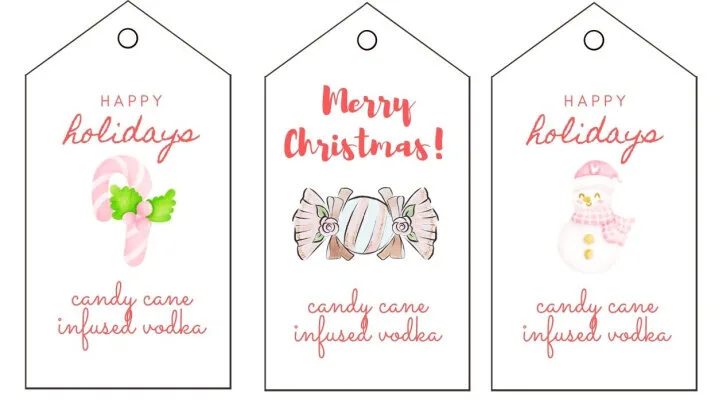 How To Use Homemade Peppermint Vodka
Now you know how to make candy cane infused vodka, you might be wondering what to do with it.
It actually tastes pretty good neat but there are a few nice options you can also try.
Spiked Candy Cane Hot Chocolate
Add a shot of candy cane vodka to a mug of hot chocolate for an extra special treat. This also works really well with white hot chocolate.
Candy Cane Martini
It would be amiss to not make a candy cane martini with our homemade peppermint vodka, wouldn't it?
To make this delicious drink, you will need the following ingredients:
0.75 oz clear Creme de Cacao
1/2 oz Peppermint Schnapps
1 cup homemade peppermint vodka as per this recipe.
Whatever you do, make sure to use the clear version of Creme de Cacao otherwise you will be left with a not very festive looking brown martini.
How To Make A Candy Cane Martini
Combine the ingredients in a cocktail shaker
Strain into a martini glass
Garnish with a candy cane if desired
You can jazz your glass up even more with an easy candy cane rim like in the picture above.
To do this, simply crush your candy canes in a blender for a few minutes. If you don't have a blender, you can put the candy canes in a zippered seal bag and roll rolling pin over them for a few minutes.
Put the crushed candy canes in a shallow bowl. Now, dip the rim of your martini glass in simple sugar (sugar and water) and then into the candy canes.
Wait a few minutes for the rim to set before pouring the drink into the glass.
Yield:

1
Candy Cane Vodka Recipe
Total Time:
1 day
5 minutes
This festive treat is sure to be a hit on your holiday drinks menu. Peppermint vodka is perfect on its own and also makes a fantastic holiday gift.
Ingredients
2 cups plain vodka
20 mini candy canes or 10 big ones
Instructions
If using large candy canes, break them into pieces
Put the candy canes into the bottom of a clean mason jar
Pour the vodka over the top, leaving an inch of space at the top
Place in the fridge or a cool dark cabinet for 24 hours
After 24 hours, shake the jar and taste test. Also make sure all the candy canes have dissolved. Leave for an additional 24 hours if desired.
Strain with cheesecloth or a strainer before serving
Notes
Make sure to use only red and white candy canes (not the red and green kind)
This drink tastes great on its own or in cocktails
Add a nip of this peppermint vodka to make spiked eggnog, hot chocolate or coffee
More Fun Christmas Cocktails
Cranberry Champagne Mimosa (Poinsettia Cocktail)
Cranberry Gin Fizz – The Perfect Christmas Cocktail