Mimosa jello shots are a fun way to add some pizzazz to your New Years Eve party.
They're easy, delicious, and will keep everyone in high spirits all night long! This recipe makes the jello shots even more festive with the addition of cranberry juice.
Not only does the cranberry juice make your Prosecco Jello shots look really pretty but they add a nice touch of holiday flair!
The nice thing about Mimosa Jello shots is that you can make them ahead and serve them to a crowd.
You can easily whip up a batch in 5 minutes then put them in the fridge until you are ready to offer them to your party guests.
This post contains affiliate links. Please read my Disclosure for more information
RELATED POSTS
Cranberry Mimosa Jello Shots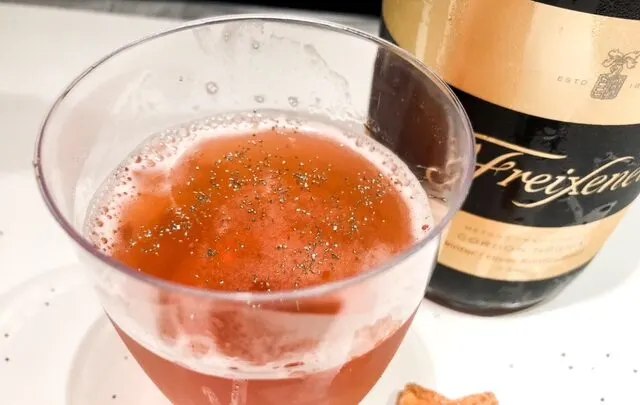 If you are a fan of the classic Mimosa, then you will love these Jello shots. I used my recipe for the Cranberry Champagne Mimosa as inspiration to make these pretty New Years shots.
Cranberry is of course, a classic Christmas fruit and it makes these Champagne jello shots even more special.
I love making Jello shots for parties because they are so easy to make and always impressive.
These Mimosa Jello Shots are:
Impressive
Festive
Simple to Make
The perfect make ahead shot
Cranberry Mimosa Jello Shots
If you want an easy make ahead shot recipe, you can't get better than jello shots.
This Mimosa Jello Shot recipe is an elegant version of the classic vodka Jell-O shot that we all knew in college.
Classic Jell-O shots contain only boiling water, Jell-O or Gelatin and Vodka.
A classic Mimosa contains Champagne, Orange juice and sometimes Cointreau. A Cranberry Champagne Mimosa, sometimes called a Poinsettia Cocktail, replaces the orange juice for cranberry juice to make it more festive.
With these shots, I have turned the cranberry mimosa into a jello version so that you can make them ahead.
To make the Mimosa jello shots you just need the following ingredients:
Champagne or sparkling wine
Gelatin
Cranberry Juice
Edible glitter (optional)
For my shots, I used this silver edible glitter from Amazon. A little goes a long way when it comes to edible glitter so don't go crazy!
Molds To Use For Your Jello Shots
You can use plastic shot glasses or small plastic champagne flutes for your jello shots.
Another idea is to make your jello shots in a flat baking tray and then slice them into squares once they set.
You can also use a silicone ice cube tray or chocolate mold to make cute shapes like the snowflakes in my pictures. I got my mold from Amazon.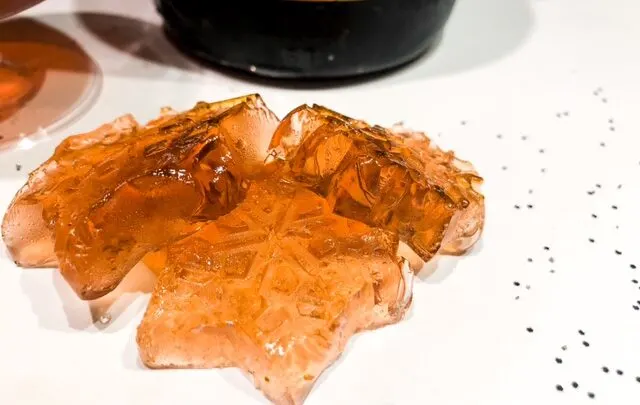 The Best Sparkling Wine To Use In Your Jello Shots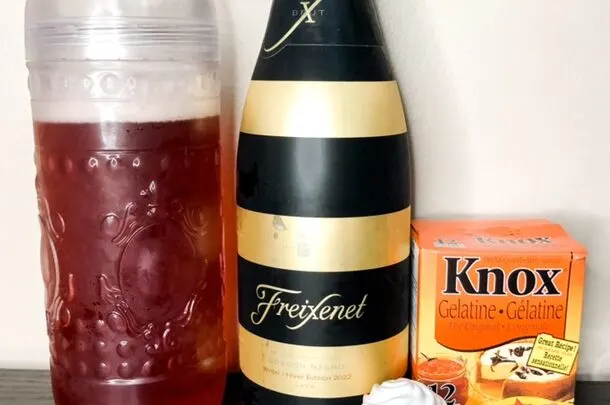 These Mimosa shots could also be called Prosecco Jello Shots or Champagne Jello shots as to be honest, you can use any kind of sparkling wine that you choose.
I used Freixenet Cava which is the Spanish version of Champagne. Its very reasonably priced and tastes great!
You don't need to worry about using a really expensive Champagne for these shots as they are not meant to be savoured delicately.
Yield:

14
Cranberry Jello Shots
Total Time:
1 hour
5 minutes
These Mimosa Jello Shots are the perfect shot to serve to a crowd. Cranberry gives them a fun festive feel that is perfect for any celebration.
Ingredients
1 cup fresh cranberry juice
1 cup sparkling wine or Champagne
2 Packets of plain Gelatin
1 teaspoon of sugar
Instructions
In a small saucepan, combine the cranberry juice and sugar. Sprinkle the gelatin on top and let sit for 2-3 minutes to let the gelatin soak in.
Place the saucepan over a medium heat, stirring often until the gelatin has dissolved (about 3-4 minutes).
Remove the pan from stovetop and stir in the champagne. Don't worry about the foam, it will go away as the Jello sets
Pour into your shot glasses or baking sheet and place in fridge to set.
Once ready (approx an hour), sprinkle with edible glitter and serve when ready.
Notes
For a traditional Mimosa Jello Shot, substitute orange juice for the cranberry juice
If you like sweet drinks, add in an extra teaspoon of sugar to the mixture
You can also sprinkle edible glitter into the mixture for a more sparkly finish
More Fun Shot Recipes