It is that time of year again, when we celebrate the most wonderful day of all.
And what better way to celebrate it than with a cranberry champagne mimosa.
With Christmas just around the corner, it's time to start getting in the holiday mood and unwind after a long work week with some cocktails!
Our favorite cocktail for this season is always something with cranberry and bubbles.
That's why this delicious mimosa is perfect. It is simple to make and tastes great too!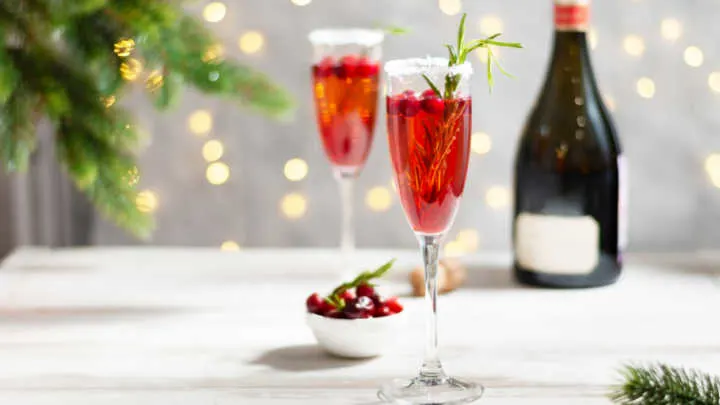 This post contains affiliate links. Please read my Disclosure for more information
RELATED POSTS
Cranberry Champagne Mimosa
Mimosas are always a hit as Christmas Brunch Cocktails and this cranberry version is no exception.
Not only does it look really festive but it tastes like a cup of holiday cheer too!
In fact, a mimosa made with cranberry juice is usually referred to as a poinsettia, which is, of course, the classic flower around the holidays.
I love to serve this cocktail at my parties and gatherings throughout the season but I've also served it at bridal showers and Sip and See parties to great success.
It is an elegant, classy cocktail that looks and tastes amazing. Plus, with only 2 ingredients, it is so simple to make.
Ingredients for the Champagne Cranberry Mimosa
The good news, this version of the classic brunch cocktail is just as easy to make as the original.
The classic Mimosa contains the following:
Our Cranberry Champagne Mimosa calls for similar ingredients but I do go a bit lighter on the cranberry juice as it is so tart.
Champagne (or Cava, Prosecco or similar sparkling wine – see below for more info on making that choice)
Cranberry Juice
Some variations on the Poinsettia cocktail call for an orange liqueur such as Grand Marnier, I don't normally include that but you absolutely can if you prefer.
The only other things you will need to make this holiday cocktail sparkle are champagne flutes and some fresh cranberries and rosemary for garnish if you choose.
In my opinion, champagne flutes are a must when it comes to making the perfect mimosa. The design of the glass retains the bubbles that make this drink look so glamourous.
When I'm serving these mimosas at a party, I love using cute little enamel Christmas wine charms on each glass.
That why people can put their drink down and not get confused over whose it is.
If you have a raucous crowd and want to go disposable, I have used these glitter champagne flutes made out of plastic.
They are surprisingly cute!
Cranberry Mimosa For A Crowd
While this is the perfect holiday cocktail for a party, if you want to make this cranberry mimosa for a crowd, you can't whip up a pitcher or prep it ahead very easily.
The champagne really needs to be poured fresh into every glass and a pitcher will just take away from the delicious bubbly taste.
What you can do is fill a tray with champagne flutes and pour the cranberry juice into each one.
When you are ready to serve, you can top each flute up with the sparkling wine then garnish.
Cranberry Mimosa Mocktail
If you want to serve up a non-alcoholic version of the cranberry Champagne cocktail then you can substitute the sparkling wine for club soda.
You may also find that pure cranberry juice is simply too tart without the sweetness of the Champagne so you can use the sweetened kind for your mocktails.
Cranberry Champagne Mimosa – FAQ
What is the best alcohol for mimosas?
It might surprise you that a lot of purists believe the best alcohol for a mimosa is actually Cava or Proseseco.
Those are the Spanish and Italian versions of Champagne and they often have a lighter, more fruity taste than traditional Champagne from France.
Cava and Prosecco are also a lot cheaper than Champagne so feel free to substitute them into your Cranberry Champagne mimosas with no guilt.
I normally go for an extra-dry or brut Cava or Champagne but you can really go with your personal preference.
Can you get drunk on mimosas?
Is there such thing as too many mimosas? The secret to this is, of course, in the quantity.
A single glass is unlikely to make you drunk.
However, multiple glasses over a short period time could create an alcohol buzz and depending on your ability to hold your liquor.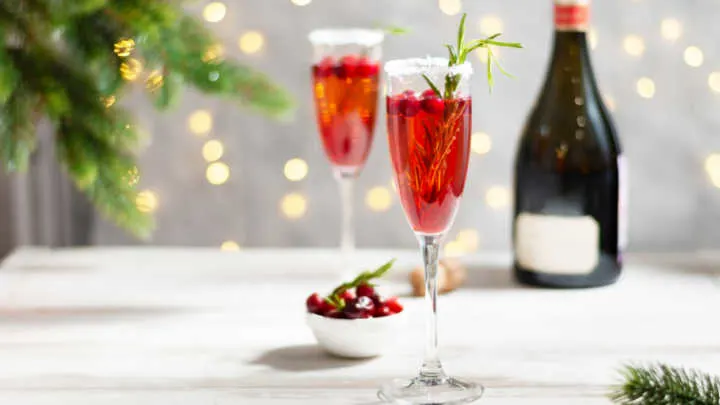 Yield:

10
Cranberry Champagne Mimosa
The holiday season is a time for festive cheer and celebrating the year. What better way to celebrate than with a Cranberry Champagne Mimosa?
This cocktail mixes together bubbly champagne and cranberry juice and fresh cranberries. It's delicious and easy to make!
One standard bottle of Champagne should make 10 glasses of this cranberry mimosa.
Ingredients
1 Bottle Champagne or sparkling wine
2 Cups Cranberry juice (not cocktail)
Fresh Cranberries
Fresh Rosemary
Instructions
Put 3-4 fresh cranberries at the bottom of each champagne flute
Cover with cranberry juice about 1/4 of the way up the glass
Top with Champagne
Garnish with a sprig of fresh rosemary
Notes
Non-alcoholic version - substitute the Champagne for club soda or sparkling water
You can use any sparkling wine you wish for this cocktail. My preference is Cava as it is cheaper (!) and a bit lighter.
The pure cranberry juice is very tart so use naturally sweetened if you prefer. I also like this cocktail with Cranapple juice.
Cranberry Christmas Mimosa – Final Thoughts
This cranberry Champagne mimosa is sometimes called a Poinsettia. Its the perfect holiday cocktail with Champagne for your Christmas brunch menu.
Pair it with a light turkey salad or Christmas cookies and appetizers for the ultimate holiday treat!
More Holiday Cocktail Recipes
Candy Cane Martini- The Perfect Christmas Cocktail