What better way to get in the Irish spirit on St. Patrick's Day than with a shot of one of Ireland's most popular breakfast drinks – The Irish Breakfast shot.
It's quick and easy!
I've always been a huge fan of the traditional Irish breakfast, with bacon, eggs – the works!
That's why when I discovered the Irish Breakfast shot I knew this was going to be on my St. Patrick's Day cocktail menu.
The nice thing about this shot is that it only takes a few ingredients plus you might have some bacon leftover which is always a welcome treat.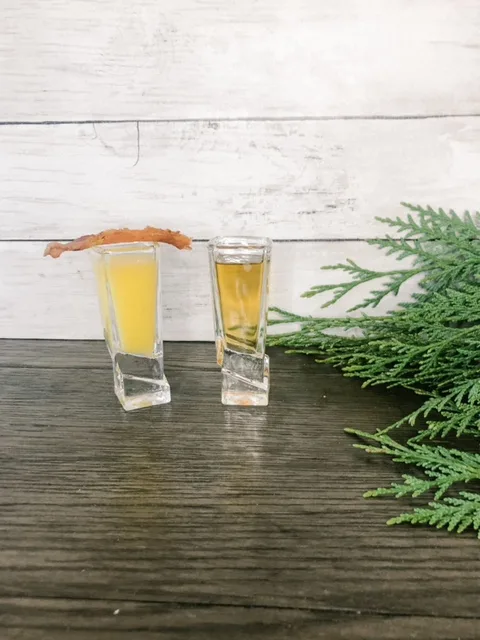 This post contains affiliate links. Please read my Disclosure for more information.
RELATED POSTS
Why you'll love this Irish Breakfast Shot
This shot is a great way to start a day… and night of celebrating St. Patrick.
This Breakfast Shot recipe is:
Refreshing
Perfect for St. Patrick's Day
Easy to make
Tasty
Great for the morning, or night.
Irish Breakfast Shot Ingredients
First of all, let's be clear that Irish Whiskey is the way to go with this shot. Any Whiskey will do but nothing beats a Whiskey like Jameson when it comes to a shot like this.
Here are the Irish Breakfast Shot Ingredients you will need.
Irish Whiskey
Butterscotch Schnapps
Orange Juice
Bacon
The great thing about this shot is all you need is a couple of shot glasses.
How To Make An Irish Breakfast Shot
Step 1:Cook the bacon
Pre-cook the bacon to your desired level.
Step 2: Make the first shot – Orange juice with the bacon
In your first shot glass, simply fill it with 2 oz. of orange juice and place the cooked bacon on top.
Step 3: Make the second shot
In the second shot glass, add 1.5 oz. of Irish Whiskey. Then add 0.5 oz. of Butterscotch Schnapps to the Irish Whiskey.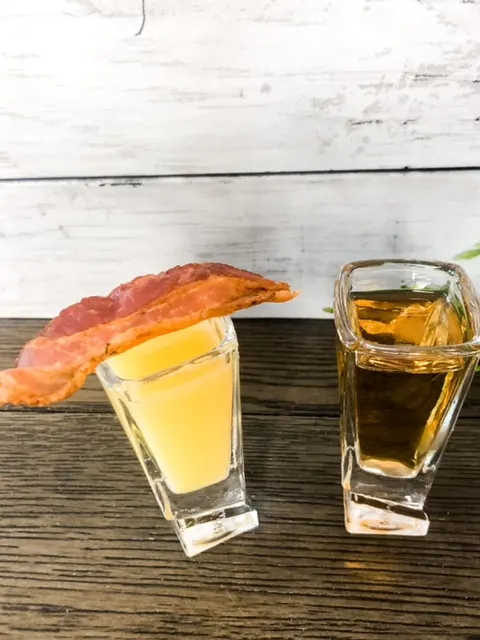 Yield:

1
Irish Breakfast Shot
Additional Time:
1 minute
What a great way to start of your St Patrick's Day celebration with an Irish Breakfast Shot. You'll love this easy to make recipe!
Ingredients
1 oz Irish Whiskey
0.5 oz Butterscotch Schnapps
3 oz of Orange Juice
1 strip of cooked bacon
Instructions
Pre-cook bacon to your desired taste and preference. Set the cooked bacon to the side.
In one shot glass, pour the orange juice. Then place the cooked bacon on top of the glass.
In the second shot glass, add the Irish Whiskey
In the second shot glass, add the Butterscotch Schnapps.
Serve both shot glasses and bacon together.
Want More St. Patrick's Day Recipes?
Try these:
The Shamrock Cocktail (The Perfect St Patrick's Day Cocktail)