Looking for something super fun to serve your guests? This little beer recipe tastes great and is sure to be the life of the party!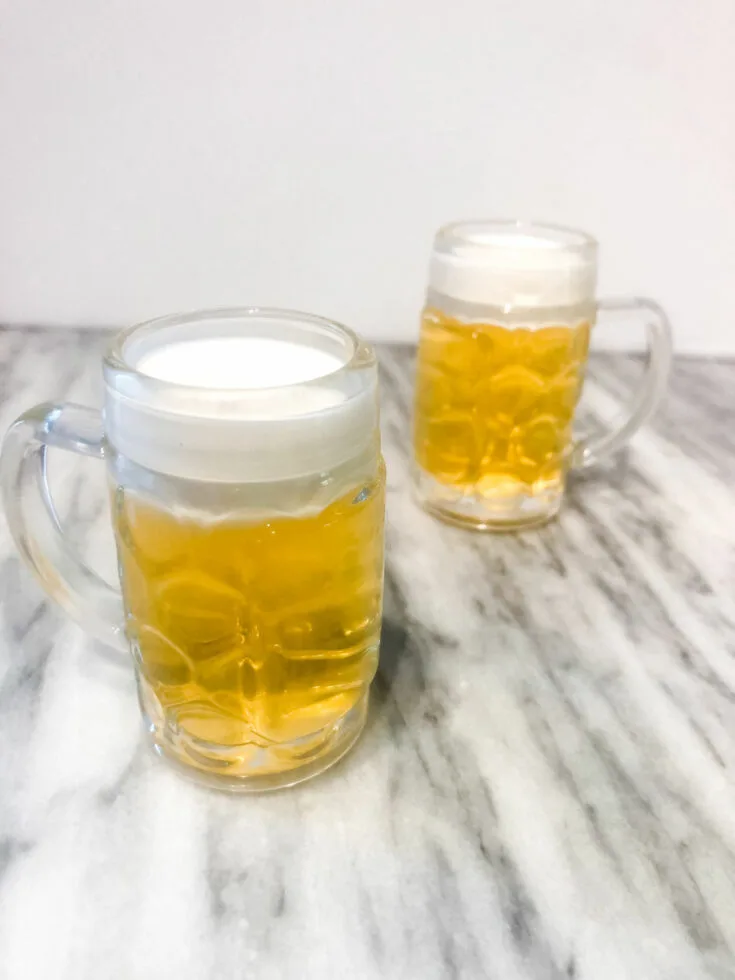 This post contains affiliate links. Please read my Disclosure for more information
MORE FUN SHOT RECIPES
What Is A Little Beer Shot?
You have have heard of the Baby Guinness Shot which is made to look like a little glass of Guinness. The Little beer is another version of this fun shot recipe and looks like a glass of regular light beer.
If you are looking for something other than green beer for St Patrick's Day or another party, the Little Beer is always a hit.
You can make a whole tray in minutes to serve to your guests.
You might be thinking that the Little Beer shot is just a miniaturized version of a pint of beer.
While it certainly does look like it, in fact this recipe contains no beer at all. Of course, you can totally pour beer into shot glasses and call it a little beer but most shots are a bit stronger than a tiny thimble of larger!
Little Beer Ingredients
Making this recipe requires only two ingredients so it is very quick and easy to make. For the full recipe and all the details, scroll down to our printable recipe card.
To make a Little Beer, you will need:
What Is Licor 43?
Licor Cuaranta y Tres as the Spanish call it, is a Spanish liqueur from Cartagena. As per the Licor 43 website, when the Romans conquered present-day Cartagena in 209 BC, they discovered a golden elixir known as Liqvor Mirabilis.
They promptly banned it but the locals still made it in secret. Licor 43 is inspired by the original Liqvor Mirabilis recipe of herbs and fruits from the area. It is one of the fastest growing premium liqueurs in the World.
What Does Licor 43 Taste like?
A little bit vanilla, a little bit honey, Licor 43 is a sweet tasting drink that is the color of beer, making it the perfect ingredient for a mini beer shot!
How To Make A Little Beer Shot
It is super easy to make a Little Beer Shot!
Step 1: Add your Licor 43 to your shot glass.
Leave about 1/4 inch at the top of your glass to add the beer's "head"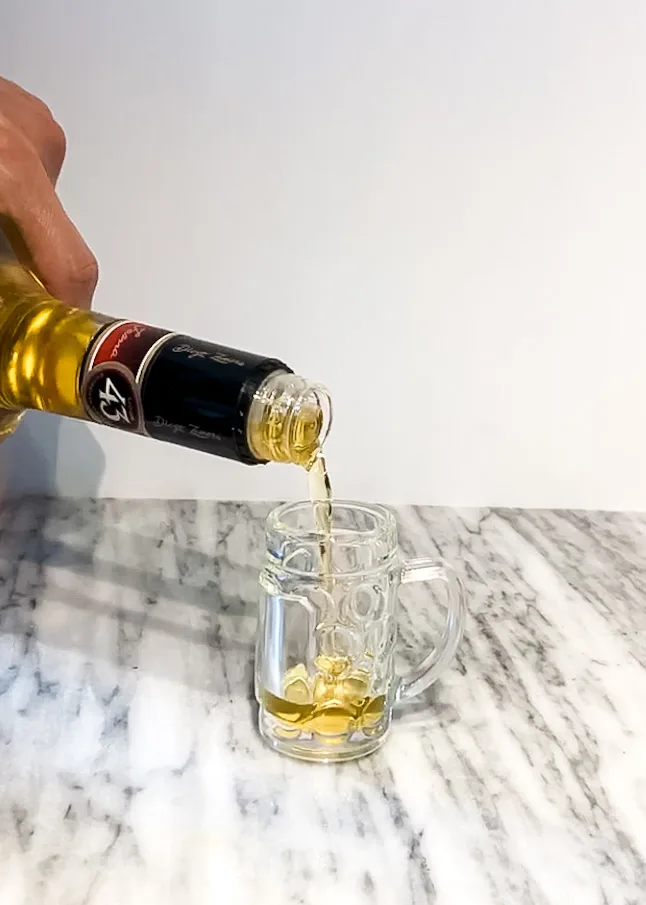 Step 2: Add heavy cream
Top with cream and serve immediately
Mini Beer Shot Variations
Little Beer Shot with Baileys: Use Baileys Irish Cream instead of heavy cream for a coffee flavored taste
Sandrillo: This Mexican cocktail consists of Licor 43 shaken with whole milk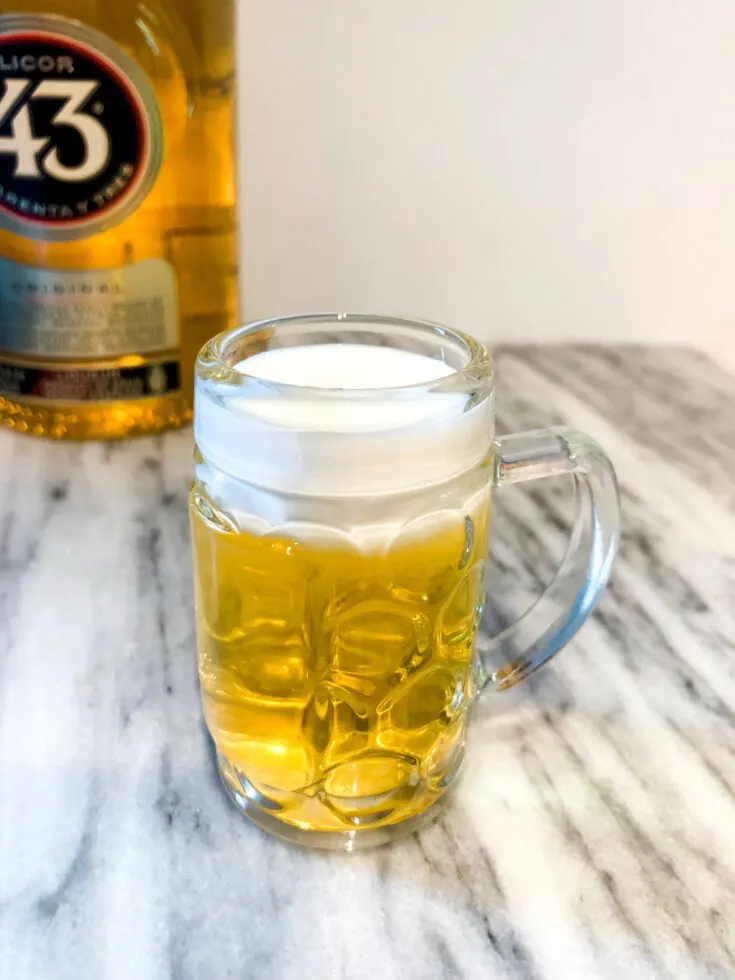 Little Beer Shot FAQS
Why Is it called A Little Beer Shot?
Little Beer or Mini Beer shot get's its name simply because it looks like the miniaturized version of a glass of beer.
Ironically, it doesn't actually contain any beer at all!
What is Licor 43 made of?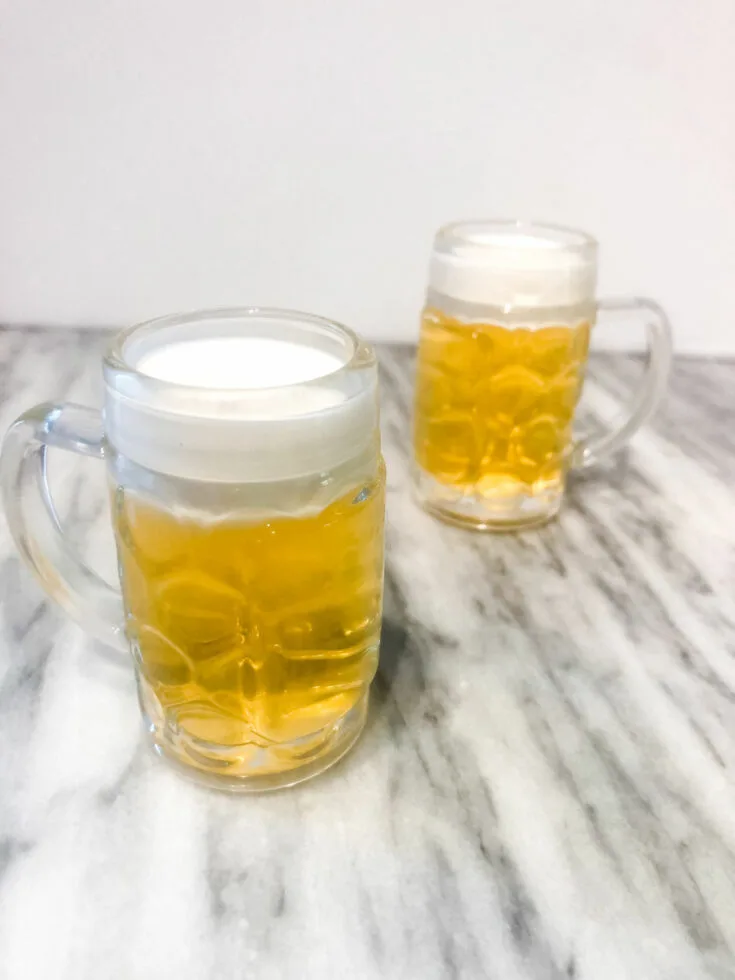 Yield:

1
Little Beer Recipe
This Little Beer shot recipe is super easy to make and only uses two ingredients.
It creates an amazing talking point for any party because although this shot looks exactly like a baby shot of beer, it actually doesn't contain any!
Ingredients
1 Part heavy cream
3 Parts Licor 43
Instructions
Add the Licor 43 to your shot glass
Top up with a layer of cream
Serve Immediately
Notes
You can use Irish cream instead of heavy cream if preferred.
More Fantastic Shot Recipes
Slippery Nipple Cocktail Recipe
Dark and Stormy Midnight Oil Shot Recipe