When most people think of whiskey cocktails, they think of the old fashioned. But there are so many other delicious options out there! This peach whiskey sour is one of my favorites. It's easy to make and is perfect for parties.
Let's face it, is there anything better than a whiskey cocktail?
Especially on a hot summer day, nothing beats the refreshing flavor of a good whiskey sour.
This cocktail recipe is for all you whiskey lovers out there, with a delicious peach version of this classic cocktail. With only four ingredients, it's easy to make and perfect for any occasion. Read on for the recipe.
This post contains affiliate links. Please read my Disclosure for more information.
More Whiskey Cocktails
Why you'll love this peach whiskey sour
Add some peachy sweetness to your whiskey sour with this delicious twist on the classic cocktail that has been popular since the 1870s.
If you love peach cocktails, make sure to also check out our Easy Peach Vodka Lemonade and our fun Peach Vodka Jello Shots.
This Whiskey cocktail recipe is: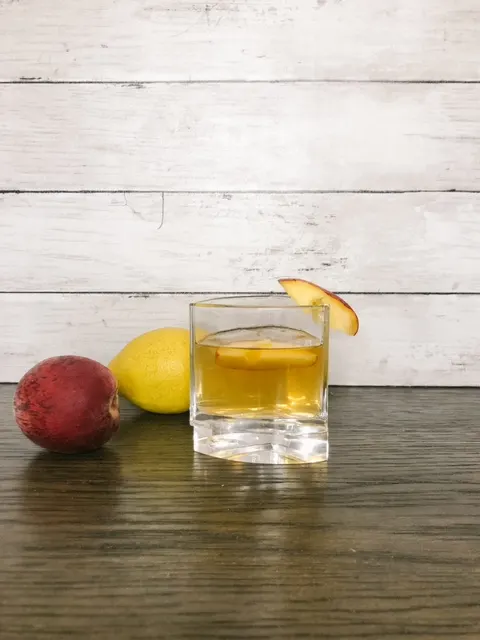 Tart and refreshing

fruity

Great for summer

Easy to make

Impressive
Peach Whiskey Sour Ingredients
As with all sour cocktails, this peach version contains a liquor, a citrus and a sweetener (in this case simple syrup).
The great thing about this peach whiskey sour is that you can make it at any time of year as you don't need fresh peaches.
This is a simple cocktail that is made like all whiskey sours with egg white to make it look foamy.
To make this cocktail you need:
Whiskey
Peach schnapps
Lemon juice
Simple syrup
Optional:
egg whites (see below for a vegan option)
If you are not planning on using egg whites, then all you need is a jigger to measure your shots.
How To Make A Peach Whiskey Sour Cocktail
Step 1:
Pour your whiskey into a whiskey tumbler with ice
Step 2:
Add The Peach schnapps
Step 3:
Follow with the lemon juice and simple syrup
Step 4
Garnish with a slice of peach
Variation on The Peach Whiskey Sour
If you want to make a foamy head on your peach whiskey cocktail then you will need to add egg white to your ingredients list.
You'll also need:
Don't have the tools you need?
If you don't have a cocktail shaker, a large mason jar works just as well in a pinch.
Use the mason jar lid or a plate to strain the drink if you don't own a strainer.
Why does this cocktail contain egg white?
The egg white is optional in this cocktail as it doesn't actually add any flavor to the drink.
The purpose of adding it into the recipe is to give the cocktail the signature foam that makes a whiskey sour so popular.
What can I use instead of egg whites?
If you don't want to use egg whites, one option is to do what is known as a vegan dry shake is when you add the liquid from a can of chickpeas.
This will give you creamy texture without any dairy ingredients in your recipe. The liquid in a can of chickpeas is known as aquafaba so you might see this option mention as an aquafaba dry shake or a vegan dry shake.
I am going to give the instructions on how to make both versions of this cocktail so you can decide which one you want to do.
How to make a Peach Whiskey Sour With Egg White Foam
To make the foamy head, you want to do a dry shake to make sure the egg white froths and makes a beautiful looking cocktail when you are done.
The dry shake achieves this by whipping air into your egg whites and making them as frothy as possible.
Here's how to make the drink using egg whites:
Add the ingredients for the cocktail into a cocktail shaker (put the egg white in last)
Shake them vigorously for at least 30 seconds.
After dry–shaking, add ice and shake the mixture again then strain and pour into glasses.
Yield:

1
Peach Whiskey Sour
This peach whiskey sour is perfect for summer!
This is a fantastic cocktail for a warm evening and is always a hit at a party.
Ingredients
2 oz whiskey
1 oz lemon juice
1 oz Peach Schnapps
1/2 oz Simple Syrup
Instructions
Add ice to your tumbler and add in the whiskey
Pour in the peach schnapps, lemon juice and simple syrup.
Garnish with a slice of peach
Want More Whiskey Cocktail Recipes?
Whiskey Fizz Cocktail Recipe With Cranberry
Maple Syrup Cocktail With Whiskey