This peppermint martini with Baileys is the perfect holiday cocktail recipe. It is a fun and festive candy cane cocktail that is guaranteed to make you feel jolly all season long.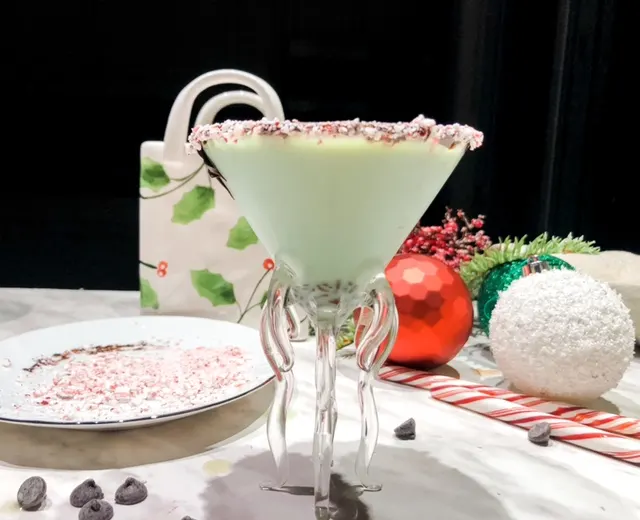 This post may contain affiliate links. Please read my Disclosure for more information.
MORE HOLIDAY RECIPES
If you love the taste of peppermint and Baileys then you will love this creamy concoction that is perfect for your next Christmas party or gathering.
Although this is called a candy cane martini, the truth is, it is not that close to a traditional martini.
Christmas cocktail might be a better name although it is served in a martini glass.
The rim of the glass is also covered in candy canes which makes it even more festive and impressive.
Follow these easy-to-follow steps below to make your own festive drink.
Peppermint Martini With Baileys
This easy to make peppermint martini is:
Creamy and decadent

Perfect for Christmas and the holidays

Great for parties

Easy to make

Impressive
This peppermint martini is a festive drink that will help you enjoy the holidays with a merry attitude.
The recipe for this perfect holiday cocktail is surprisingly easy to make in addition to being tasty!
Like one of my other favorite Christmas cocktails, this minty cocktail is made with Baileys or a similar Irish cream liqueur.
This gives the drink a delicious creamy taste that goes beautifully with the Creme de Menthe. To be honest, this cocktail almost tastes like an alcoholic version of mint chocolate chip ice cream.
To make this peppermint martini with candy cane garnish, you need to prepare the glass first.
Although it looks really impressive and festive, it is actually really easy to rim the glass with candy cane.
Peppermint Martini Ingredients
This peppermint martini, like most martinis is a cocktail that contains alcohol only. There are no mixers in this drink as it is served in a small glass.
This Bailey's candy cane cocktail contains:
Baileys or a similar Irish Cream drink
Creme de Cacao
Creme de Menthe
You may also want to add sprinkles for a garnish although this is optional.
What tools do I need to make the Peppermint Cocktail?
You really don't need much in order to make this cocktail which makes it perfect for any party or large gathering when you want to whip them up in minutes.
If you like the cute martini glass I used in the photos, I got it here.
The only tool you'll need to make this cocktail:
Don't have the tools you need?
If you don't have a cocktail shaker, a large mason jar works just as well in a pinch.
Use the mason jar lid or a plate to strain the drink if you don't own a strainer.
How To Make The Peppermint Martini With Baileys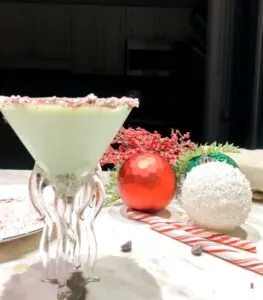 Step 1: Rim the glass with chocolate and candy canes
Follow the instructions above for rimming your glass using melted chocolate and candy canes. You can try different kinds of chocolate (peppermint, dark chocolate, white etc) and different candies.
Step 2:Combine all the ingredients
Place all the ingredients in a cocktail shaker with ice. Shake for 15 seconds.
Step 3: Strain
Strain the drink into a martini glass
Step 4: Garnish and Serve
How To Make The Candy Cane Garnish
To rim your martini glass with candy canes, dip the edge of the glass in melted chocolate then dip it in a saucer or bowl containing crushed peppermint candies or candy canes.
If you want to get really fancy, you can also sprinkle some grated nutmeg on top.
Other Options For Your Peppermint Martini Glass
Candy canes are an iconic symbol of the holiday season, but they're not the only thing you can use to rim your glass.
There are many different kinds of candy that make for great substitutes such as:
Sprinkles in holiday colors
Non-pareils
Crushed Oreos
Chopped nuts
Candy Cane Cocktail – Final Thoughts
A festive way to celebrate the holidays, this candy cane martini starts with a rim of crushed candies and ends with a really creamy cocktail that is sure to be the hit of your party.
Yield:

1
Peppermint Martini With Baileys
This festive, minty treat will keep your guests feeling in the holiday spirit.
First, the glass is rimmed with crushed candy canes adhered to its surface by chocolate. Next comes a combination of Baileys and other creamy liqueurs.
Ingredients
2 oz Baileys
2 oz Creme de Cacao
2 oz Creme de Menthe
Chocolate Sprinkles for garnish
For the rim - 2 crushed candy canes and 1/4 cup of chocolate chips.
Instructions
Rim your martini glass with melted chocolate and dip in candy canes
Place the Baileys, Creme de Menthe and Creme de Cacao in a cocktail shaker with ice. Shake for 15 seconds.
Strain into a martini glass
Garnish with chocolate sprinkles
Want More Holiday Cocktail Recipes?
The Best Christmas Cocktails With Rum
The Best Holiday Cocktails With Champagne