This strawberry mojito pitcher recipe is perfect for a crowd.
Easy to whip up and delicious to drink, it is a hit at any party or event.
This post contains affiliate links. Please read my Disclosure for more information.
MORE MOJITO RECIPES
Blueberry Mojito Pitcher Recipe
Strawberry Mojito Recipe

If you love mojitos, and you love strawberry cocktails like the Rossini Cocktail , this strawberry mojito pitcher recipe will wow you.
We all know the classic mojito is a delightful mix of lime, mint and, of course, rum.
In this Strawberry mojito, the combination of rum, mint, lime and strawberries is simply delicious.
Honestly, I think this is one of my favorite cocktails and I'm craving one just looking at the photos.
The other nice thing is that this drink is a crowd pleaser and you can make up a pitcher in minutes.
It is perfect for serving at a party or poolside gathering.
In fact, it has become my go-to drink when I have friends over.
Another bonus – this is one of the prettiest drinks out there.
The pale pink color with the pieces of fresh strawberry and mint leaves make this one of my favorite drinks of the summer.
Read on for the full recipe plus tips for alternative versions of the mojito.
Strawberry Mojito Pitcher Recipe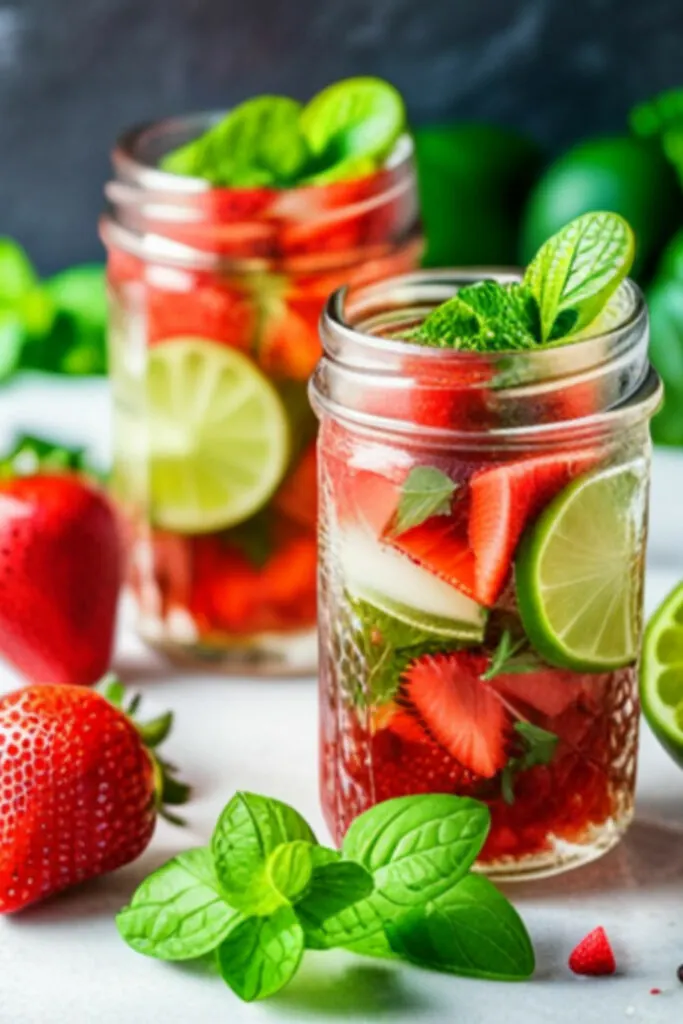 It's so easy to whip this drink up for a crowd.
The nice thing is, there are also some cool variations of the mojito that will help you provide options for anyone at your gathering.
If you are in a pinch and don't have any strawberries, you can use raspberries instead.
I like to add a nice sugar rim to the glass too but you can omit it if you want to cut down on the sugar.
What Are The Ingredients For A Strawberry Mojito?
Here's what you need to make the mojito pitcher.
Like I mentioned, if you don't have strawberries, you can try other fruits such as raspberries or blueberries).
You can check out our recipe for a Blueberry Mojito Pitcher Recipe here!
This recipe makes up a nice sized pitcher of mojitos (5-7 glasses) and you don't need much more than the regular mojito ingredients.
For the full ingredients list and directions, scroll down to our printable recipe card.
Mint leaves
Fresh Strawberries, sliced
White Rum
White Sugar or simple syrup
Soda Water
Ice
TIP: You can substitute the white sugar for simple sugar if desired.
Equipment Needed To Make A Mojito
The only tool you'll need to make this cocktail:
If you don't have a muddler, you can get by with the wrong end of a wooden spoon but a muddler does make things much easier and they are pretty inexpensive.
How To Rim The Glass With Sugar
It is really easy to create a sugar rim on your glasses and it really adds a nice touch to the drink.
For the rim you will need:
Fresh lime wedges
Sugar in a saucer
Simply run a lime wedge around the rim of the glass and then dip it in the sugar.
Set it aside for a few minutes before you pour the mojito in.
Alternatives To The Strawberry Mojito Recipe
There are a few variations to this recipe that you might want to try.
First of all, if you don't like rum, you can sub make your strawberry mojito with vodka or even gin.
I made a Watermelon Vodka Mojito that is completely delicious.
If you want to make it with gin, you can check out my classic Gin Mojito Recipe.
You can literally try any fruit with your mojito, for example:
Raspberries
Pineapple
Kiwis
Blood Oranges
Blueberries
To be honest, if you want to try a different flavour of mojito, you can use any berries instead of the strawberries.
Want to make a virgin strawberry mojito?
This is one of the easiest drinks to covert into a mocktail.
I often make it for my kids and they love feeling all grown-up with their fancy drink.
To make a non-alcoholic mojito, simply omit the alcohol and cut the sugar by a third.
Too much sugar without the alcohol tastes way too sweet!
Yield:

1 Pitcher (5-7 Glasses)
Strawberry Mojito Pitcher Recipe
Nothing beats a refreshing strawberry mojito! Whip up this gorgeous drink and wow your friends with one of the most pretty drinks out there.
Ingredients
2 Limes
10 Mint Leaves
8 Strawberries, sliced
1 cup White Sugar
1 cup White Rum
2 Cups Club Soda
Ice
Instructions
Squeeze the limes into the pitcher
Place the limes, mint, strawberries and sugar into the pitcher and muddle it with a muddler or the wrong end of a wooden spoon.
Stir in the rum and club soda until the sugar has dissolved
Add ice to the rimmed glasses
Pour the mojito into the glasses and enjoy
More Mojito Recipes