Holidays cocktails with champagne are a mainstay of most Christmas celebrations.
Of course, the holidays are a time for celebrating with friends and family, so it's no surprise that so many of us look for new cocktails recipes.
But this year, rather than relying on the same old drinks, try something new and wow your guests!
Below is a list of 15 holiday cocktails using champagne as the main ingredient.
From classics like the French 75 to fun holiday twists on the mimosa, there's sure to be something here for every taste.
This post may contain affiliate links. Please read my Disclosure for more information.
RELATED POSTS
Why Make Holiday Cocktails With Champagne?
Champagne is the perfect drink for celebrating the holidays.
It's festive, celebratory, and so delicious. After all, what could be better than sparkling wine?
Whether you're looking to mix up your usual cocktails or create a signature cocktail of your own, champagne is the best choice! Check out this list of 10 great holiday drinks with champagne as their main ingredient to get inspired for this season.
What exactly is Champagne?
In North America, at least, we tend to use the words champagne, sparkling wine and Prosecco interchangeably but the truth is they are all slightly different.
Champagne is a sparkling wine from the Champagne region of France. Sparkling wine is only called Champagne if from that region.
This area has been an important location for vintners and brewers since Roman times, when it was known as "the land where white wine grows."
Most Champagnes are made with chardonnay grapes. They typically have a pale yellow color and a light taste that is dryer than other wines.
The word Champagne comes from the French word meaning "to burst forth" or "to sprout." And true to this name, champagne's carbonation makes it effervescent and gives it a pleasant mouth-feel that is easy to drink.
Of all the sparkling wines available, Champagne is typically the most expensive.
While this post is called holiday cocktails with Champagne, it could also be called Christmas Prosecco Cocktails as Prosecco is another popular sparkling wine that has a more accessible price-point.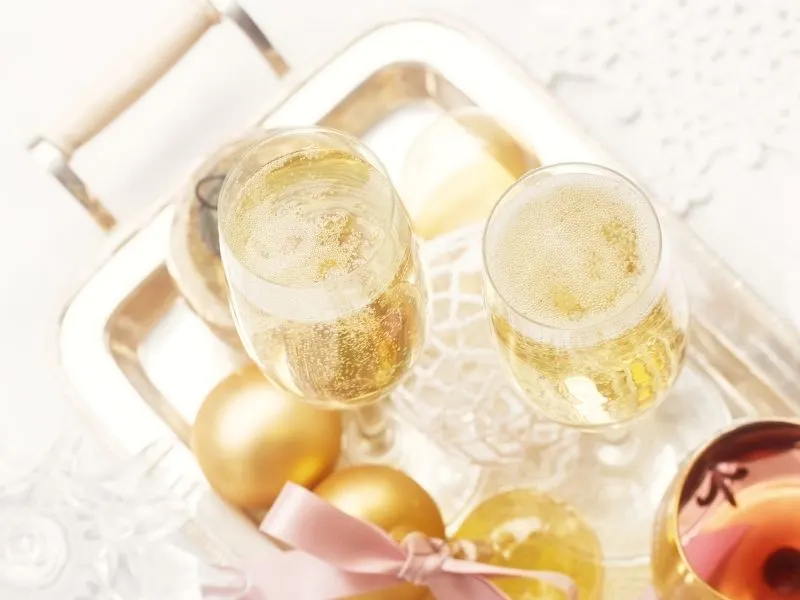 What Is Prosecco?
Prosecco is a type of Italian sparkling wine that has become popular in recent years. Prosecco is made primarily from the Glera grape, which grows along the Veneto coast of northeast Italy.
The wine's name comes from its location: "Pro" means "from," and "Secco" means "dry."
There are plenty of other wines that go by this name, but it is usually used to refer to the sparkling variety made in Italy.
This fizzy drink can be served on its own or as an ingredient in cocktails, like mimosas or bellinis.
It also pairs well with citrus fruit, so it's perfect for spritzers or margaritas!
However you choose to serve it, prosecco is a wonderful choice for your holiday celebrations and the list below is full of Christmas Prosecco cocktails.
The third kind of sparkling wine you will likely encounter is Cava with the most popular brand being Freixenet (pronounced Frey-shuh-net).
What Is Cava?
Cava is a type of sparkling wine that originates in Spain and where it is used for almost all Christmas cocktails that call for Champagne.
It's made primarily from the Xarel-lo, Macabeo and Parellada grapes.
Cava production has been around since the time of the Phoenicians in 60 BC when they introduced winemaking techniques to Spain.
However, it wasn't until 1872 that cava was first created by Spanish monks who added sugar cane juice to give it its distinctive fizziness.
The name "cava" comes from cavare, which means "to dig."
This refers to an ancient technique used for making wines bubbly–pressing them through a system of pipes with small holes dug into the ground or stone walls. Today, most cavas are made in a slightly different way, but the process is still similar.
Holiday Cocktails With Champagne
These Christmas Prosecco cocktails taste great with any sparkling wine and are perfect for your holiday celebrations.
Christmas Cocktails Using Prosecco and Champagne – Final Thoughts
Champagne cocktails have been popular for years as great ways to celebrate with friends and family! Whether you're looking for festive libations or fun twists on holiday classics, there's sure to be something here that will suit your tastes.
More Fun Christmas Cocktails
23 Festive Christmas Cocktails With Vodka
Christmas Fairy Absinthe Cocktail
Pomegranate Spritzer With Dancing Berries