Don't get tangled up in complicated cocktail recipes! This Rapunzel cocktail is delicious and perfect for a Disney themed party!
This post contains affiliate links. Please read my Disclosure for more information
MORE DISNEY INSPIRED COCKTAILS
Encanto Cocktail: Easy Disney Inspired Martini
This tasty purple mojito is inspired by one of my favorite princesses – Rapunzel!
You'll love this delicious drink that is really easy to make and perfect for any occasion.
This tasty and pretty cocktail is inspired by the popular Disney Movie and is perfect if you need an adult drink for a Tangled themed party.
Not only is this cocktail easy to make, it is the perfect tropical treat for any time of year.
What's in the Rapunzel Cocktail?
This fun drink is really easy to make with only a few ingredients and it is a delicious twist on a classic mojito.
Mojitos are a traditional cocktail that originated in Cuba and are typically made with rum, lime and sugar.
The great thing about this versatile drink is that you can make all different kinds from a Raspberry Mojito to a more extravagant Champagne Mojito.
In fact, it's one of the greatest cocktails of all time, in our opinion!
We substitute Empress Gin instead of the classic rum in the Rapunzel cocktail to give it the pretty purple color.
Empress Gin is made with a blend of botanicals that give it a delicate flavor and make it really unique. Whenever I made a cocktail with Empress, it is always a huge hit at any party.
The first time we sipped this Tangled cocktail we fell in love! Here's how to make it.
If you are familiar with the Disney version of Rapunzel, then you know her dress is purple so of course we needed a purple ingredient for this drink.
To make this drink you need:
Empress Gin
Pineapple Chunks
Lime Juice
Simple syrup
Soda Water
Mint Leaves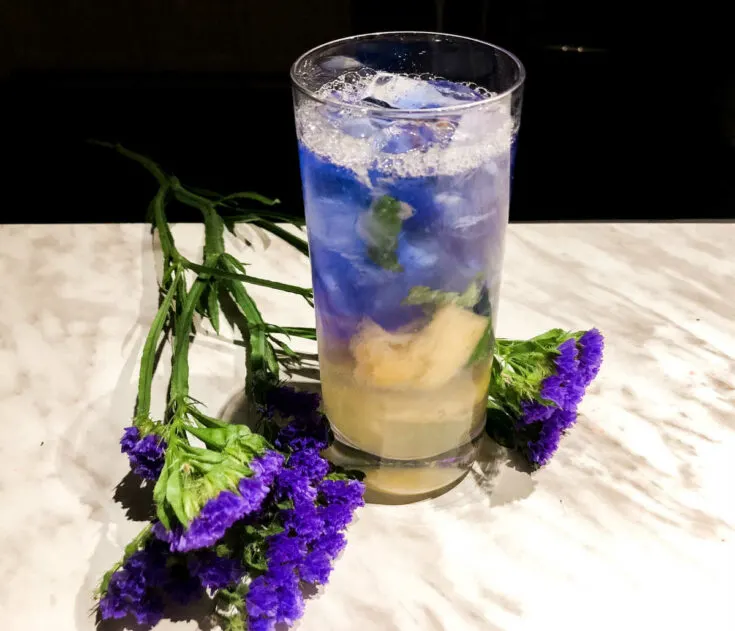 Equipment Needed To Make A Mojito
The only tool you'll need to make this cocktail:
If you don't have a muddler, you can get by with the wrong end of a wooden spoon but a muddler does make things much easier and they are pretty inexpensive.
How To Make A Rapunzel Cocktail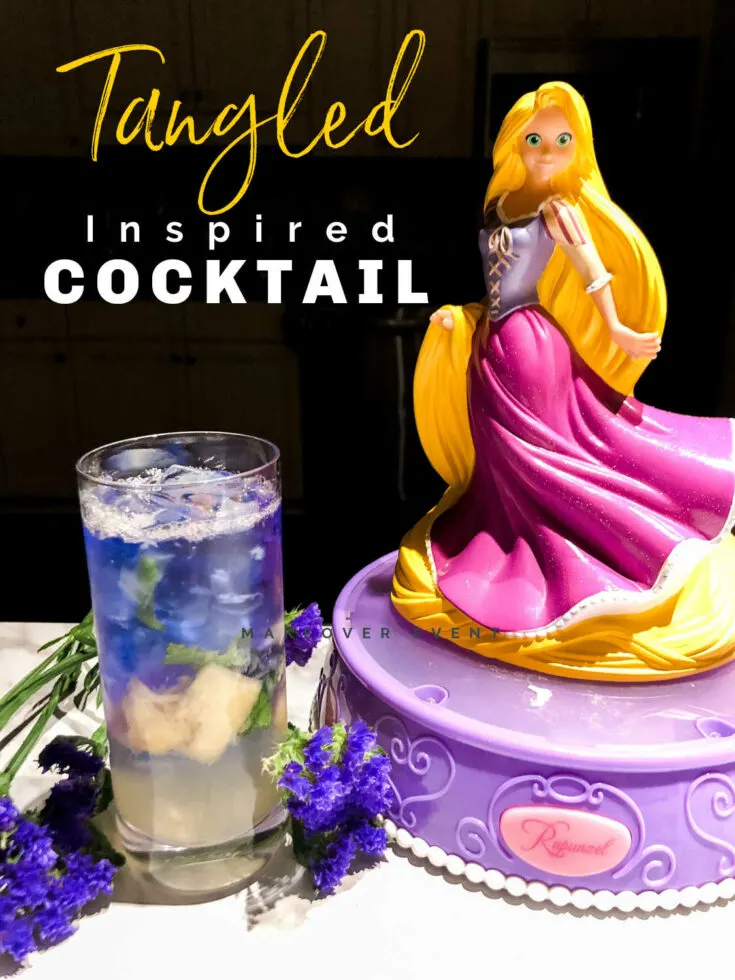 If you're ready to get drinking, here are the basic steps to the make this pretty mojito
Step 1:Muddle the ingredients
Add mint leaves, lime, pineapple and simple sugar in a glass and smash using your muddler.
Step 2: Add the soda water
Add ice to the glass and then add in your soda water about leaving about 1 inch at the top of the glass.
Step 3: Top with Empress Gin
Finish off by adding the Empress gin to the top of your drink.
Step 4: Stir and serve
Yield:

1
Rapunzel Cocktail
Additional Time:
1 minute
Mojitos are a classic cocktail that can be made with lots of different flavors, but this Tangled inspired version is not only tasty - it is really pretty too!
Ingredients
2 oz Empress Gin
1/2 oz fresh Lime Juice
1 oz simple syrup
Soda Water
3-5 chunks fresh pineapple
6 - 8 Mint Leaves
Instructions
1. In a tall glass, add sugar, lime juice, pineapple chunks and mint leaves. Muddle ingredients together.
2. Add ice to the glass and then add Club Soda leaving about an inch at the top
3. Add the Empress gin as a last step
4. Gently stir the drink
Looking for more easy cocktail recipes?
Looking beyond the mojito, here are some of our most popular cocktails
The Elsa Cocktail This electric blue combination of coconut rum and vodka is the perfect treat on a "Frozen" day.
Beauty and the Beast Cocktail – This shimmering beauty is so easy to make and is sure to wow at your next party
Encanto Cocktail – Inspired by the latest Disney movie, this purple cocktail is always a hit.