This glamorous Cinderella cocktail is fizzy, delicious and so easy to make! If you want the perfect glass slipper cocktail, then this champagne beverage is sure to be exactly what you are looking for.
This delicious bubbly drink is perfect for celebrating any occasion but the blue color lends itself to a Cinderella inspired cocktail.
If you are a fan of mimosas like the Cranberry Champagne Mimosa or the Peppermint Mimosa, you will love this delicious drink.
With only a few ingredients, this cocktail is amazingly easy to make and ready in minutes. It is also really great for a crowd because you can pour a tray of Cinderella cocktails.
This post contains affiliate links. Please read my Disclosure for more information
MORE DISNEY INSPIRED COCKTAILS
Encanto Cocktail: Easy Disney Inspired Martini
Dirty Cinderella Cocktail
Champagne cocktails are always a hit for brunch and for other celebrations and this blue version is perfect for any holiday.
Not only does it look really fun, but it tastes amazing too.
I love to serve this cocktail at my parties and gatherings year round but it really wows at a Disney Cinderella party if you are looking for.
Obviously this is a Cinderella cocktail with alcohol hence why it is called a "dirty Cinderella" – nothing to do with her dress being covered in soot from cleaning all day.
It is an elegant, classy cocktail that looks and tastes amazing. Plus, with only 4 ingredients, it is so simple to make.
Cinderella Cocktail Ingredients
Make this simple cocktail in minutes but to add some extra dazzle, a fun blue sugar rim elevates the whole experience.
This glass slipper cocktail contains the following:
Champagne (or Cava, Prosecco or similar sparkling wine – see below for more info on making that choice)
Vodka
Blue Curacao
Lemon Juice
The only other things you will need to make this fun cocktail are champagne flutes and blue sugar for the rim if you choose.
In my opinion, champagne flutes are a must when it comes to making the perfect champagne cocktail.
The design of the glass retains the bubbles that make this drink look so glamourous.
How To Rim Your Champagne Flute
If desired, rim your champagne flutes with blue sanding sugar.
You will need to two saucers – one with simple syrup and one with blue sanding sugar (deep enough for the glass to be dipped without breaking).
Instructions
Dip the rim of the glass in simple syrup
Then dip the rim into a saucer covered in blue sugar.
Set aside for a few minutes until it dries.
Cinderella Cocktail For A Crowd
If you want to make this Disney inspired cocktail for a crowd, you can't whip up a pitcher or prep it ahead very easily.
The champagne really needs to be poured fresh into every glass and a pitcher will just take away from the delicious bubbly taste.
What you can do is fill a tray with champagne flutes and pour the vodka, and lemon juice into each one.
When you are ready to serve, you can top each flute up with the sparkling wine and add the Blue Curacao.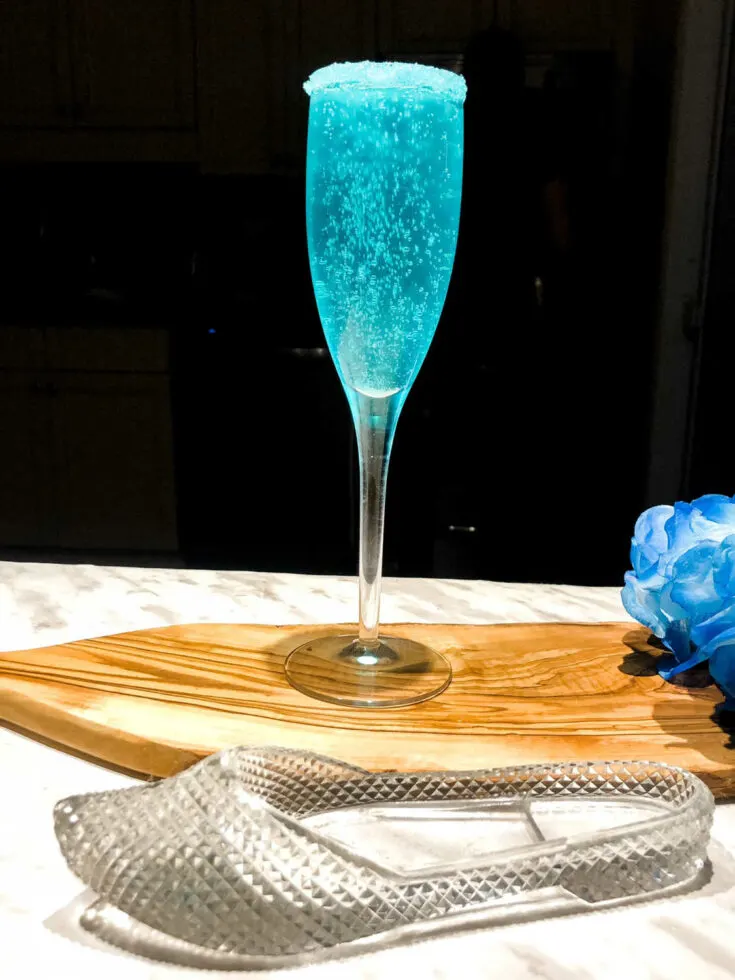 Dirty Cinderella Cocktail Recipe
After adding the blue sugar rim to the glass, set it aside until it dries.
The add the vodka and lemon juice to your champagne flute
Top with Champagne
Finish off with a dash of Blue Curacao
Yield:

1
Cinderella Cocktail
The Dirty Cinderella is the perfect cocktail for a Disney Inspired party. Bubbly and light, it only contains 4 ingredients and is perfect for a crowd.
Ingredients
Sparkling wine of your choice (enough for 1 Champagne flute)
1 oz Vodka
Squeeze of Lemon Juice
1/2 oz Blue Curacao
Instructions
If desired, rim your champagne flutes with blue sanding sugar. To do this. dip the rim of the glass in simple syrup then into a saucer covered in blue sugar. Set aside for a few minutes until it dries.
Once the rim is dry, pour the vodka and lemon juice into your champagne flute. Top the glass with Champagne
Finally add the Blue Curacao to your glass.
Serve immediately
Notes
To make a batch of Cinderella cocktails, you will want to prep all the glasses with the sugar rim and set aside until they dry.
Then pour the vodka and lemon juice into every glass
When you are ready to serve the drink, fill each glass with Champagne, top with Blue Curacao and serve immediately
Cinderella Cocktail FAQs
What Is Blue Curacao?
Blue Curacao is a citrus flavored liqueur made with a citrus fruit, grown on the Dutch island of Curaçao.
Blue Curacao does contain alcohol but you can buy non-alcoholic versions that will color your drink without getting you drunk. The most common non-alcoholic Blue Curacao is the Torani Blue Curacao Syrup.
If you want the blue coloring but don't have any Blue Curacao, add a few drops of blue food coloring to your drink to make the same color.
What is the best alcohol for this cocktail?
Although we often use the words interchangeably, Champagne, Prosecco and Cava are all different because they are from different regions of Europe.
Cava is from Spain and Prosecco is from Italy and they are a bit lighter and fruitier than Champagne from France.
Cava and Prosecco are also a lot cheaper than Champagne so feel free to substitute them with no guilt. I used Prosecco for this cocktail as you can see in the pictures.
I normally go for an extra-dry or brut Cava or Champagne but you can really go with your personal preference.
Looking for more easy cocktail recipes?
Looking beyond the mojito, here are some of our most popular cocktails
The Elsa Cocktail This electric blue combination of coconut rum and vodka is the perfect treat on a "Frozen" day.
Beauty and the Beast Cocktail – This shimmering beauty is so easy to make and is sure to wow at your next party
Encanto Cocktail – Inspired by the latest Disney movie, this purple cocktail is always a hit.