If you love the movie, you will love this Disney Encanto cocktail that is as delicious as it is beautiful. Just don't talk about Bruno!
This post contains affiliate links. Please read my Disclosure for more information
MORE DISNEY INSPIRED COCKTAILS
Scooby Doo Shots – Melon Liqueur Shots
Do love the movie Encanto and want a tasty cocktail to go with your viewing?
You'll love this delicious gin martini.
This shimmering cocktail is inspired by the popular Disney Movie and was inspired after my 7th time watching the movie with my kids this past weekend.
If you don't know Spanish, you might not know that Encanto means charm and I think you will agree that this cocktail is indeed magical and charming.
It looks so pretty that it's great for celebrations of all kinds and great for those who want an adult beverage for a birthday party or other event.
This Encanto cocktail is delicious and really easy to make. I added a sparkling pink rim to the glass for a little extra.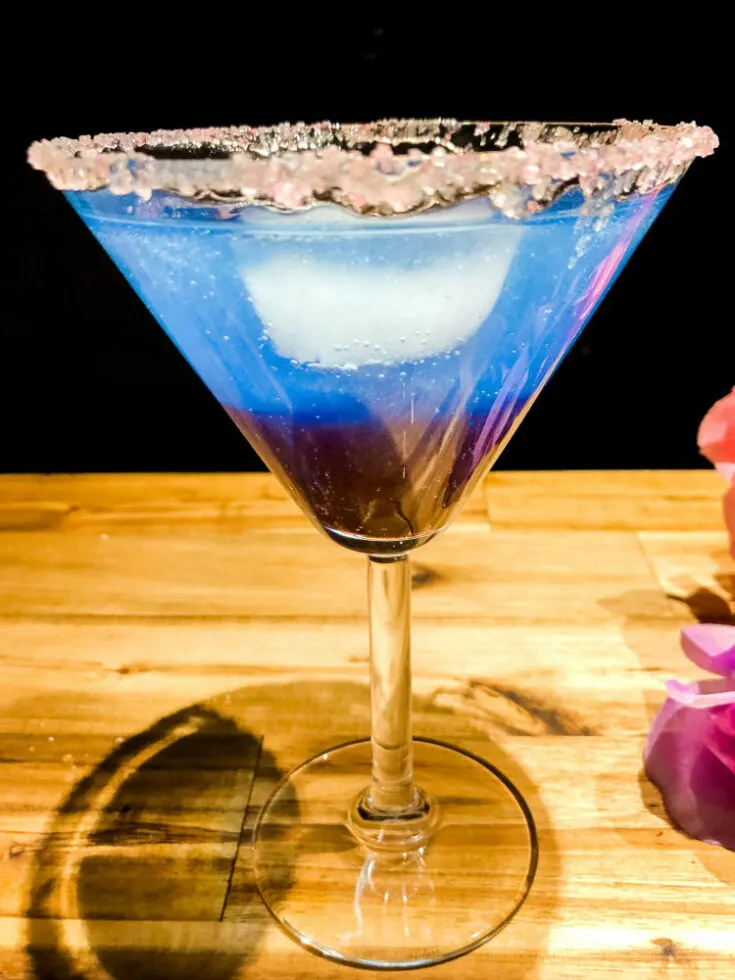 What's in the Encanto martini?
The Encanto martini is really easy to make with only 4 ingredients. The alcohol in the drink are white rum and gin.
I made this Encanto cocktail with Empress Gin which gives it the beautiful violet color.
If you are not familiar with this gin, you will love it. It is made with eight organic botanicals and the lilac hue comes from Butterfly pea blossom.
To make this drink you need:
Empress Gin
White Rum
Grenadine
Lemon Lime Soda
I got my blue glitter from Amazon. It is so great for adding a shimmer to any kind of cocktail or mocktail you want to make.
I also used pink sparkle sugar for the rim but you can skip this if you want.
How To Make An Encanto Inspired Cocktail
If you're ready to get drinking, here are the basic steps to the make this pretty glitter cocktail
Add the rum to your martini glass
Next add in the Empress gin
Add a couple of ice cubes to your cocktail
Top with lemon lime soda
Sprinkle blue edible glitter on top and stir
Serve immediately
How To Make A Pink Glitter Rim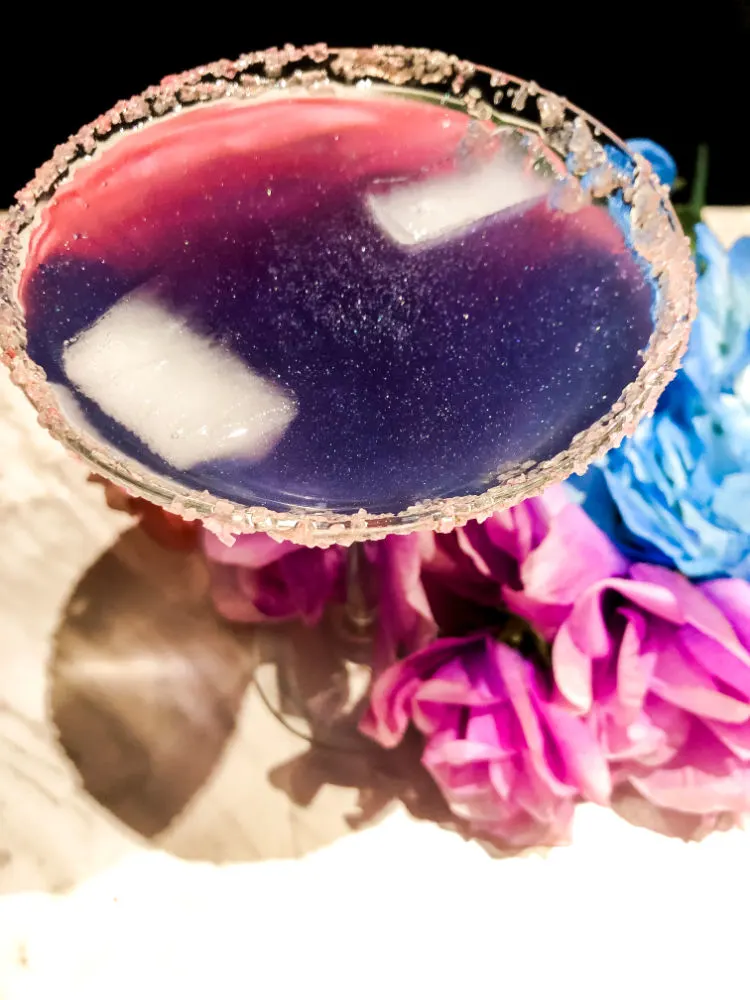 Lastly, let's talk about that glittery rim! Entirely optional, this gives your cocktail the perfect Encanto charm and makes it much more magical.
To make the rim you need clear honey (the runny kind) and pink sanding sugar.
It is so easy to make the rim:
Spread pink sugar on a plate or large bowl in an even layer.

Put honey on another plate

Tilt the martini glass into the honey so that it sticks to the outside edge.

Next dip the rim into the pink sugar. Set aside for a few minutes before making your cocktail
When To Serve An Encanto Cocktail
Although we call it an Encanto martini, this drink works well for so many occasions. It's great as a:
For Unicorn parties (if you like these kinds of drinks, check out my Unicorn Cocktail too!)
Bachelorette party drink
Girls night out drink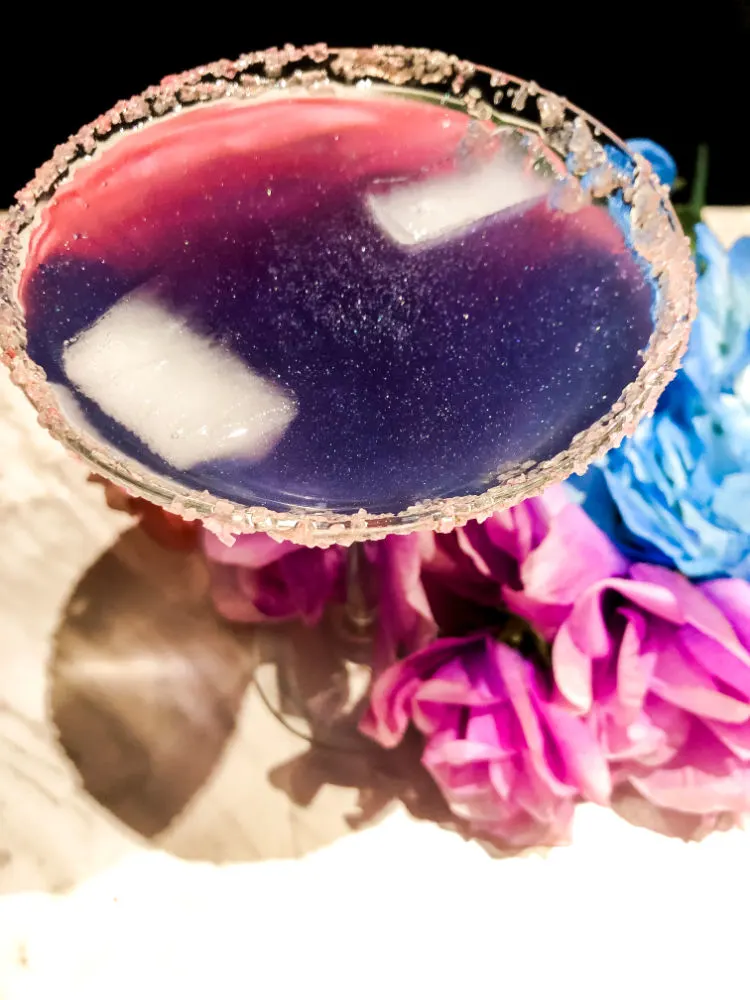 Yield:

1
Encanto Cocktail
This delicious and shimmering cocktail is the perfect adult beverage for your next Encanto party - it is truly magical!
Ingredients
1.5 oz Empress Gin
1.5 oz White Rum
1/2 Can Lemon Lime Soda
1/2 oz Grenadine
Instructions
Rim your glass with by dipping it in honey and then in pink sanding sugar. Let it dry before continuing
Add in your white rum
Follow with the Empress Gin
Top with Lemon Lime Soda
Sprinkle blue edible glitter into the drink and stir
Slowly pour in the grenadine and serve immediately
Notes
You can buy edible glitter at store such as Michaels and on Amazon
More Fun Cocktail Recipes!
If you are in the mood for even more martinis, here are a few you might like: