If you are a fan of the Dirty Shirley drink, you will love this Russian Kiss Cocktail recipe!
It is a refreshing cocktail that is perfect for Valentine's Day, Halloween or really any occasion you need to make an impressive drink with minimal effort.
Read on for the recipe this delicious Russian Kiss Cocktail.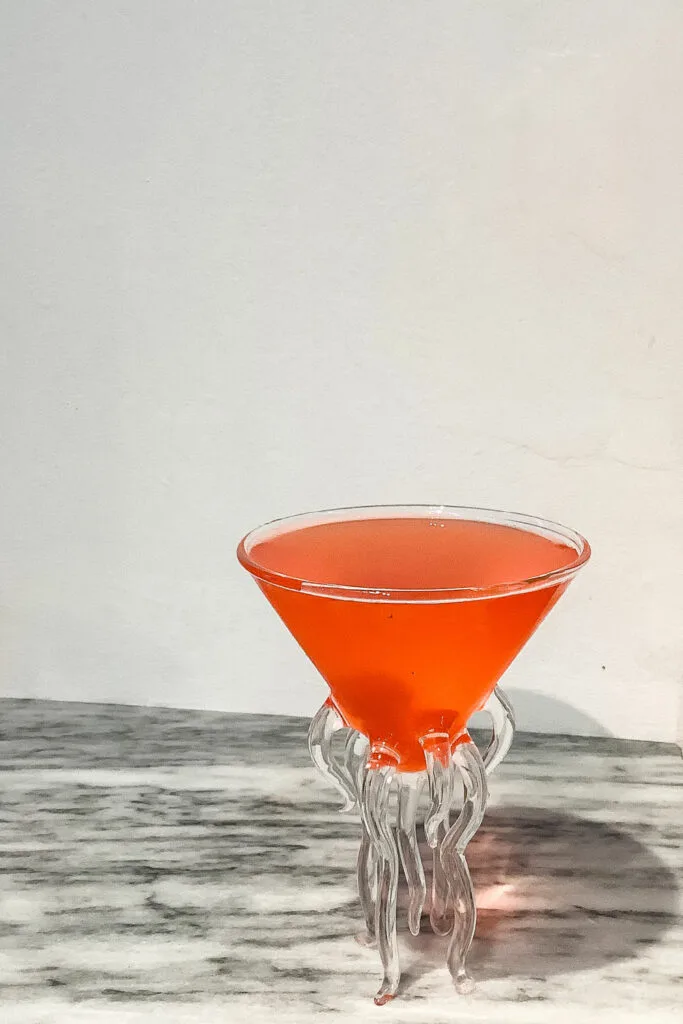 This post contains affiliate links. Please read my Disclosure for more information.
MORE RED COCKTAILS
The Red Spectre – Spooky Halloween Gin Cocktail
Red Velvet Martini – Birthday Cake Sprinkle Cocktail
What Is A Russian Kiss Cocktail?
The Russian Kiss is the perfect drink for vodka lovers who prefer a sweet cocktail.
It is very similar to the spiked version of a Shirley Temple which, of course, is a cult classic.
The main difference is that the Russian Kiss uses club soda instead of lemon-lime soda and crushed cherries for added flavor.
This cocktail is made with simple ingredients that make it perfect for any occasion.
The red color makes it great for Halloween.
What alcohol is in a Russian Kiss cocktail?
The alcohol in this delicious red cocktail is, as the name suggests, vodka.
The beautiful red color comes from the crushed cherries and grenadine in the drink and they give the cocktail its delicious taste.
As far as special equipment, you need a cocktail shaker and a strainer.
You also need a muddler or the wrong end of a wooden spoon.
For the full recipe and a printable instruction sheet, scroll to the bottom of this page.
To make this delicious cocktail, you will need:
Vodka
Grenadine Syrup
Club Soda/.Soda water
3 cherries
Ice
How To Make A Russian Kiss Cocktail
This drink is really easy to make and all you need is a cocktail shaker or mason jar to mix the ingredients.
Add the cherries to your mason jar or cocktail shaker and then mash with your muddler. (make sure the cherry stones are removed before proceeding or before making the drink).
In the shaker, add in ice, grenadine, vodka and. Shake well.
Pour into a martini glass.
Top with soda water and a maraschino cherry if desired.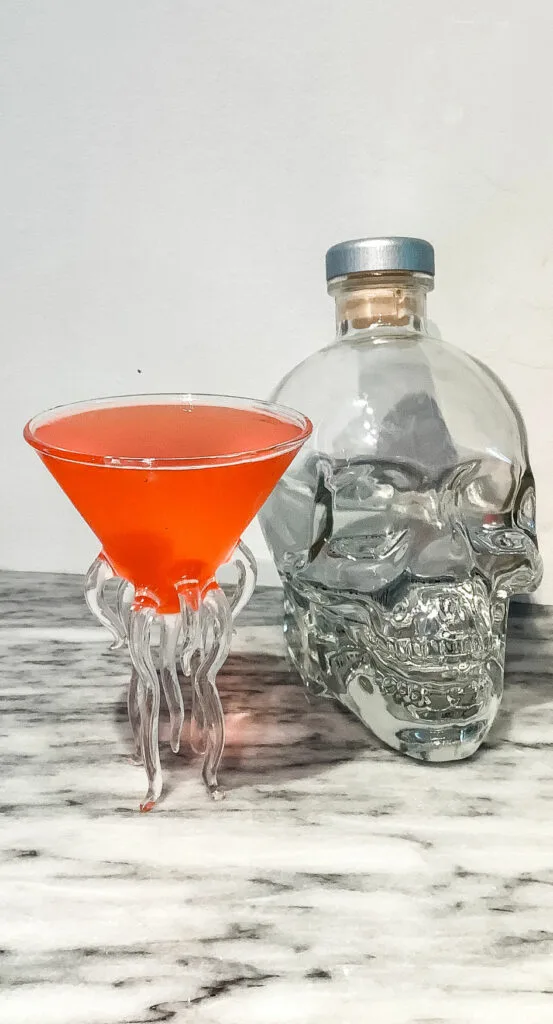 Tips For Making The Perfect Russian Kiss
If you want a slightly different flavor, you can use cranberry juice instead of the grenadine
A splash of lime juice also makes it taste great
You can rim your glass with salt if you like (sugar would be too sweet).
Other Russian Kiss Cocktail Recipes
If you are a fan of other vodka-based drinks, you need to try the other delicious cocktails in the Russian Kiss family.
Blue Russian Kiss Recipe
If you like blue cocktails, you will love the Blue Russian.
To make this delicious drink, you will still use vodka as your base spirit but omit the grenadine and cherries and instead use Blue Curacao.
You also use light cream on top of the blue for a fun blue and white cocktail.
White Russian Recipe
Coffee Liqueur and heavy cream make this creamy cocktail one of the most popular at any time of year.
While you can enjoy a classic White Russian at any time of year, your taste buds will love a Pumpkin Spice White Russian or Gingerbread White Russian during the holidays!
Black Russian Cocktail
This is the most famous of the Russian cocktails and was featured heavily in the movie, "The Big Lebowski".
If you love simple two ingredient cocktails, this one is for you.
All it contains is vodka and a coffee liqueur such as Kahluah.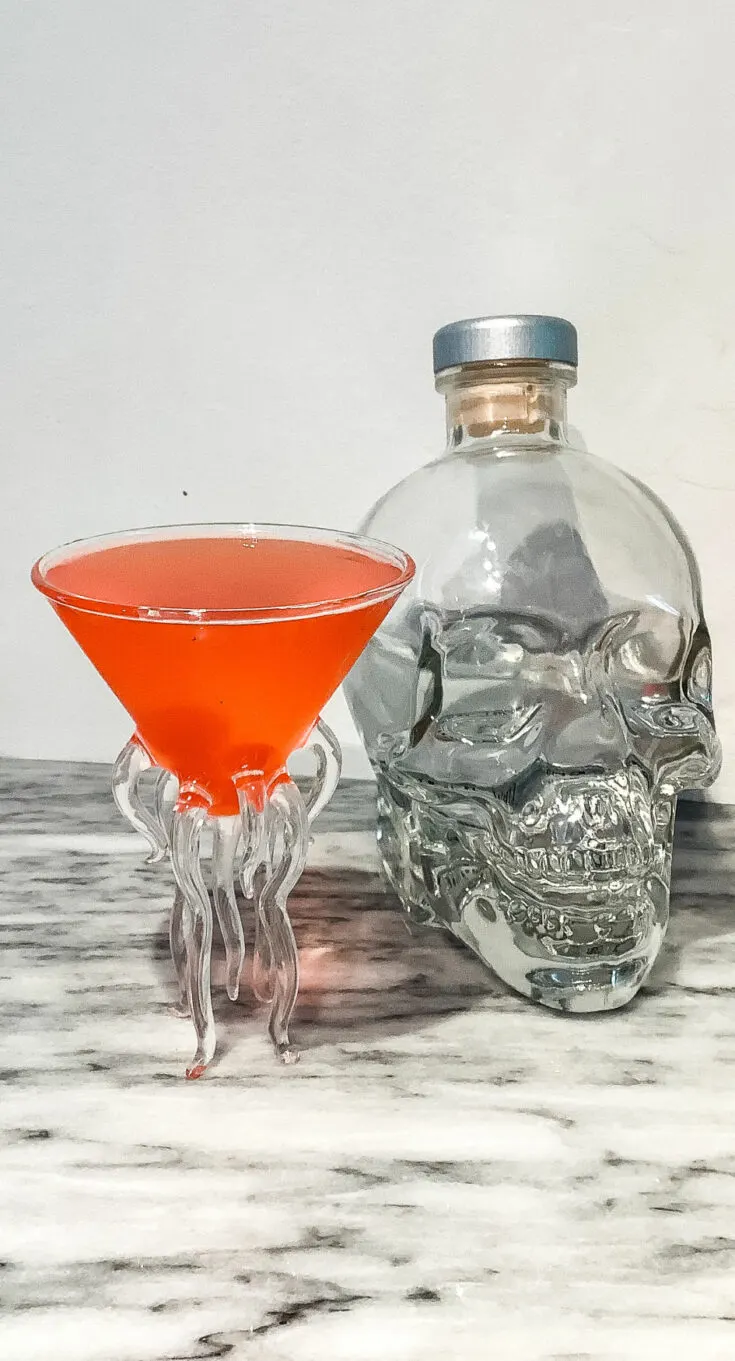 Yield:

1
Russian Kiss Cocktail
The Russian Kiss cocktail is a delicious vodka drink that is perfect for Halloween or Valentine's Day. It is simple and easy to make in seconds.
Ingredients
2 oz Vodka
3/4 oz Grenadine
3/4 Cherries
Club Soda
Instructions
In a mason jar or cocktail shaker, muddle your cherries until they are crushed (make sure to remove the stones first)
Next add ice, vodka and grenadine to the cocktail shaker and shake for 15 seconds
Strain into a martini glass
Top with club soda
More Spooky Cocktail Recipes
Spiked Halloween Milkshake Recipe