Take the original mocktail to the next level with this delicious Dirty Shirley Temple cocktail recipe.
The Dirty Shirley is a grown-up twist on the Shirley Temple that we all knew from childhood.
Named after the child star who loved super sweet drinks, the Dirty Shirley makes it a cocktail and gets its kick from the vodka.
It still retains, however, the original flavors of grenadine and lemon-lime soda that make the Shirley Temple a hit with kids around the World.
The ingredients are simple and can be found in most households. This delicious drink will have you coming back for more!
If you are looking for a refreshing and easy to make cocktail, especially if you are serving the mocktail version to kids, then you will love this Dirty Shirley Temple recipe.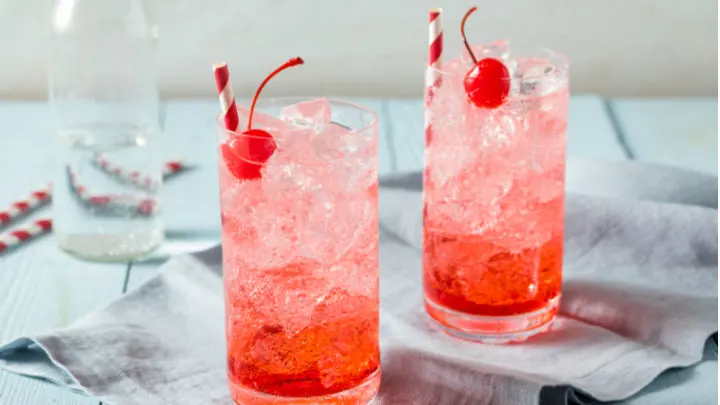 This post contains affiliate links. Please read my Disclosure for more information.
RELATED POSTS
Why you'll love this Dirty Shirley Temple Recipe
Easy to make and delicious to drink, this cocktail is perfect for family gatherings where you are serving people of all ages.
Make an original Shirley Temple for the kids then make it dirty for the over 21 crowd.
This cocktail has the exact same ingredients as the mocktail Shirley Temple plus plain vodka so its super easy to whip up a batch of the mocktail, then add vodka for anyone who wants it.
This Alcoholic Shirley Temple is:
Tart and refreshing
Great for any occasion
Easy to make
Impressive
What Is In A Dirty Shirley Cocktail?
The recipe is so easy to make with just a few common ingredients and no messing around with muddling or using a cocktail shaker.
It is really easy to double or triple the recipe to make a pitcher to serve to a crowd.
To make the Dirty Shirley, you need:
Vodka of your choice
Grenadine
Lemon/lime soda (use diet soda to make your drink skinny)
Maraschino cherries for garnish
Is Grenadine Alcoholic?
No, Grenadine does not contain alcohol.
Grenadine syrup has a mild cherry flavour and is made from pomegranate juice, sugar syrup or honey.
It's typically used as an ingredient in many cocktails, including the famous Tequila Sunrise and this Dirty Shirley Temple.
What can I use instead of grenadine?
If you don't have any grenadine, you can use the cherry juice from your jar of maraschino cherries.
How To Make The Dirty Shirley Temple
Step 1: Fill your glass with ice
Fill a highball glass with fresh ice.
Step 2: Add your ingredients
Add your vodka and grenadine. Top with the lemon/lime soda,
Step 3: Garnish and Serve
Garnish with one or two cherries and serve immediately.
Variations On The Dirty Shirley Cocktail
Bend Over Shirley Drink Recipe
This easy to make variation on the Dirty Shirley calls for Raspberry vodka instead of plain vodka.
Other than that, the ingredients and instructions are the same as for the Dirty Shirley Cocktail Recipe:
2 ounces Raspberry Vodka
1 oz grenadine
1 can lemon/lime soda (use diet soda to make your drink skinny)
Maraschino cherries for garnish
Non-Alcoholic Shirley Temple
The mocktail version of the Dirty Shirley is the classic Shirley Temple cocktail.
It is named after the famous child actress who died in 2014.
Legend has it that it was invented because Shirley was complaining about not having something fancy to drink while her parents sipped on Old Fashioned cocktails.
It is made in exactly the same way as the Dirty Shirley without the vodka.
Yield:

1
Dirty Shirley Cocktail Recipe
This alcoholic version of the classic Shirley Temple mocktail is refreshing and light. It's a great cocktail to serve to a crowd as it is so easy to make.
Ingredients
2 oz Vodka
1 oz Grenadine
Lemon/Lime soda
Fresh Ice
Maraschino cherries for garnish
Instructions
Fill your highball glass with ice
Add the ingredients one at a time
Garnish with a cherry and serve.
Notes
Make this a classic Shirley Temple Cocktail by omitting the vodka
Turn this into a Bend Over Shirley Cocktail by using Raspberry vodka.
Make this cocktail skinny by using diet soda
Looking for more easy cocktail recipes?
Looking beyond the mojito, here are some of our most popular cocktails