Looking for a new elegant drink to try? You will love this French Blonde Cocktail recipe!
It is a refreshing cocktail that is perfect for a summer afternoon on the porch or a fancy evening soiree.
Read on for the recipe this delicious French Blonde Cocktail.
This post contains affiliate links. Please read my Disclosure for more information.
MORE FRENCH COCKTAILS
French 75 Cocktail (Gin Champagne Cocktail)
Cucumber Vodka Elderflower Cocktail
What Is A French Blonde Cocktail?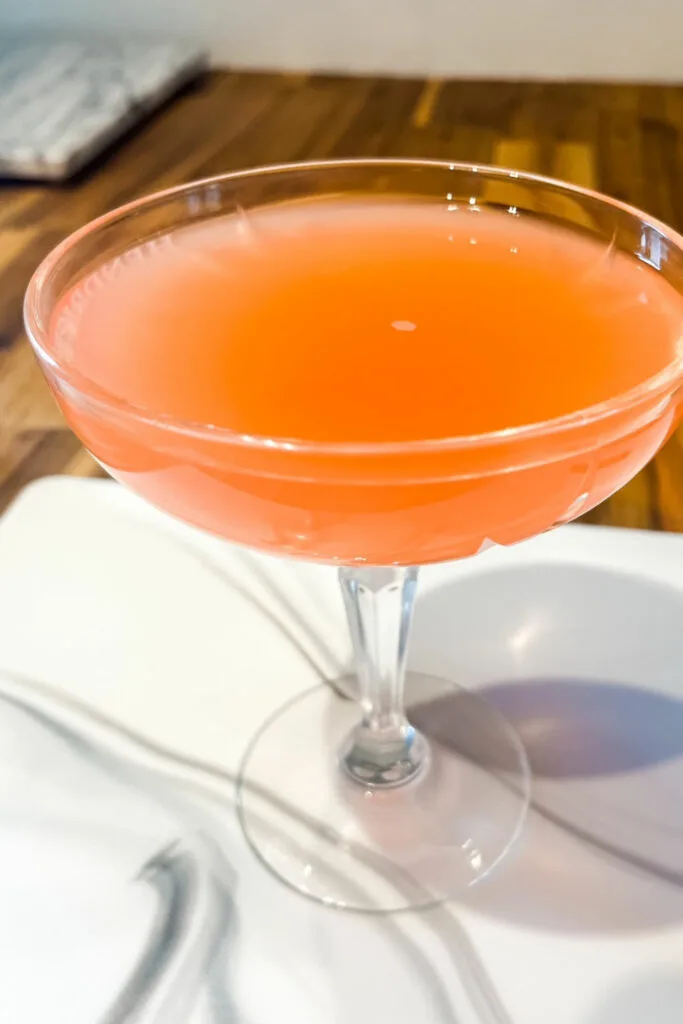 The French Blonde is the perfect drink for gin lovers who like a drink with a bit of a tang to it.
It is one of my favorite recipes to make for a party because it is a simple cocktail that is impressive and fun.
It is a classic cocktail that is elegant and the perfect holiday drink recipe when you want something a bit different.
The citrus notes from the grapefruit and lemon juice are just perfect with the gin,
Some recipes call for a french liqueur known as Lillet Blanc but we've omitted it in our recipe as the drink is delightful already.
This cocktail is made with simple ingredients that make it a great drink for any occasion.
Why Is It Called A Dirty Blonde?
Dirty Blonde cocktails like the French Blonde all have the same color that resembles blonde hair.
The light pink color makes it perfect for a bridal shower or spring brunch.
What alcohol is in a French Blonde cocktail?
The alcohol in this delicious pink cocktail is gin however, you can easily use vodka instead if you aren't a huge gin drinker.
The beautiful pink color comes from the pink grapefruit juice.
As far as special equipment, you need a cocktail shaker and a strainer.
For the full recipe and a printable instruction sheet, scroll to the bottom of this page.
To make this delicious cocktail, you will need:
Fresh Grapefruit juice
St Germain elderflower liqueur
Dry Gin
Fresh lemon juice
Lemon Bitters
Thin lemon slices for garnish (optional)
​What Is St Germain?
St Germain elderflower liquor gives this cocktail wonderful herbal notes and makes it equally perfect for chilly winter nights or hot summer days.
It is an ancient alcohol from France that has become very popular in recent years.
If you like the taste of your Dirty Blonde cocktail, make sure to try our elderflower spritz too.
How To Make A French Blonde Cocktail
This is a good drink for summer or winter get-togethers as it is really easy to make.
All you need is a cocktail shaker or mason jar to mix the ingredients.
Add all the ingredients to an ice-filled cocktail shaker and shake well.
Strain into a martini glass.
Garnish with a slice of grapefruit, a sprig of rosemary or thin lemon slices if desired.
Tips For Making The Perfect French Blonde
If you want a slightly different color, you can use regular grapefruit juice rather than the pink kind.
You can rim your glass with sugar to counteract the bite of the grapefruit juice.
I prefer to use coupes over martini glasses for this cocktail as they give the drink a retro feel.
Use a chilled cocktail glass to take your drink to the next level.
Variations on The French Blonde
Classic French Blonde Cocktail
Use regular grapefruit juice instead of pink grapefruit juice to make a classic French Blonde Cocktail!
Brûléed French Blonde Martini
Make a Brûléed French Blonde martini by adding egg white to your cocktail shaker then a top coat of white sugar to the finished drink.
Then use a kitchen torch to make the brûléed topping
Yield:

1
French Redhead Cocktail Recipe
The delicious French Blonde cocktail gets a pink twist with this Redhead version.
Ingredients
2 oz Fresh Grapefruit juice
1 oz St Germain elderflower liqueur
1 oz Dry Gin
1 teaspoon fresh lemon juice
Dash Lemon Bitters or regular bitters
Instructions
Place all the ingredients into a cocktail shaker with ice
Shake well for 15 seconds
Strain into a coupe or a martini glass
Garnish with thin slices of lemon if desired
More Grapefruit Cocktail Recipes
Pink Paloma Recipe (Easy Grapefruit Cocktail)
The Best Grapefruit Mimosa: Megmosa Cocktail