As the name suggests, the Snake Bite Shot Recipe is a potent shooter that is great for parties and gatherings. This shot has been around for decades and there are lots of different variations.
If you are a fan of whiskey cocktails and love the taste of lime, you will really enjoy this shot recipe that is sure to get you in the party mood!
Read on for the recipe and alternative recipes.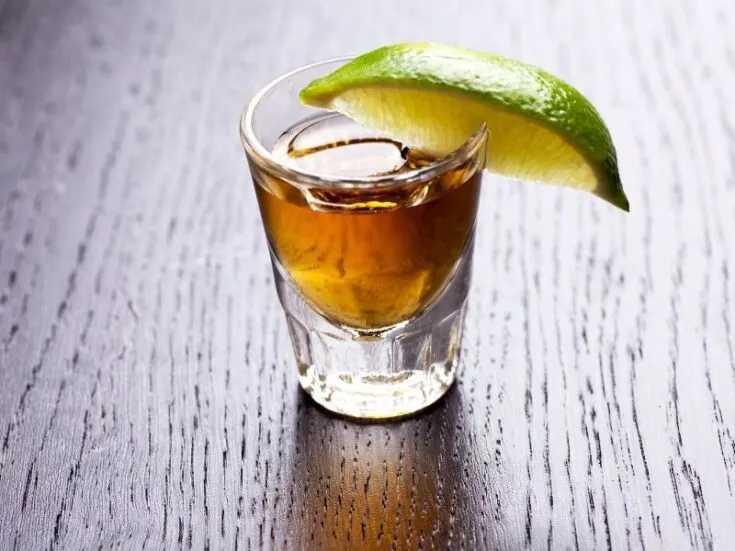 This post contains affiliate links. Please read my Disclosure for more information.
MORE SHOT RECIPES
What Is A Snake Bite Cocktail?
A "snake bite" is a shot consisting of one part whiskey and one part liqueur or lime juice, with the drinker consuming it in one go.
The name comes from its effect on your head – it's said to feel like you've been bitten by a snake! If you're looking for an effective way to get drunk fast, this drink might be just what you need.
How To Make A Snake Bite Shot
The snake bite is a really simply shot that really packs a punch. All you need to make it are:
Whiskey (the Snake Bite shot with Southern Comfort is a favorite)
Lime Juice or Lime cordial
Hot sauce (optional)
For the lime juice, you can use the juice of a freshly squeezed lime or bottled lime juice.
You can also opt to use Lime cordial or if you really want your shot to have a "bite" you can also use a lime liqueur such as Patron Citronge Lime.
Yield:

1
Snake Bite Shot Recipe
The Snake Bite Shot Recipe can make made with Southern Comfort or another kind of whiskey. It is a great shot for large gatherings and parties and is quick and easy to make.
Ingredients
1.5 oz Whiskey
Lime Juice
Hot Sauce (optional)
Wedge of lime for garnish
Instructions
Fill your shot glass with whiskey, leaving a little bit of room at the top
Top the glass with lime juice
Add 5-10 dashes of hot sauce as desired
Garnish with a wedge of lime
Variations On The Snake Bite Shot
The original recipe for a snake bite was simply whiskey and liqueur. The drink is normally made with either lime juice or syrup, but you can try other flavors if you like – raspberry, peach schnapps and cranberry come to mind.
Bloody Snake Bite Shot Recipe
Follow the regular recipe but add in a dash of cranberry juice for a sweeter version of the original and you have a Bloody Snake Bite.
Snake Bite Shot With Tequila
Another popular variation on the regular Snake bite shot recipe is to use tequila instead of the lime. This makes for a really potent shot that is 100% strong alcohol.
Snake Bite Shot With Yukon Jack
A lot of Snake Bite Shot recipes call for Yukon Jack instead of whiskey.
What is Yukon Jack?
Yukon Jack is a Canadian honey based liqueur, made from Canadian Whisky and honey. It is not strictly a whiskey as it is classified as a liqueur. You can find it at most liqueur stores and it adds a really nice sweetness to your snake bite shot.
British Snake Bite Cocktail
The British version of a Snake Bite is completely different from the US, whiskey based version above.
A UK snake bite is a beer based drink that is 50% beer and 50% alcoholic apple cider. In Britain, the beer used is typically a lighter, larger based beer while in the States, a darker Stout or Guinness style beer is used.
The addition of apple cider makes this a lighter beverage that is great for summer days. A version called "Snake Bite and Black" adds in blackcurrant liqueur for a sweeter taste.
More Whiskey Cocktails
The Best Holiday Cocktails With Whiskey
The Ultimate Maple Whiskey Sour Cocktail
Whiskey Fizz Cocktail Recipe With Cranberry