This delicious Sugar Cookie Martini recipe is so easy to make and perfect for the holidays.
Made with decadent Bailey's Irish Cream and a cute sprinkle rim, it is the perfect addition to your holiday cocktail menu.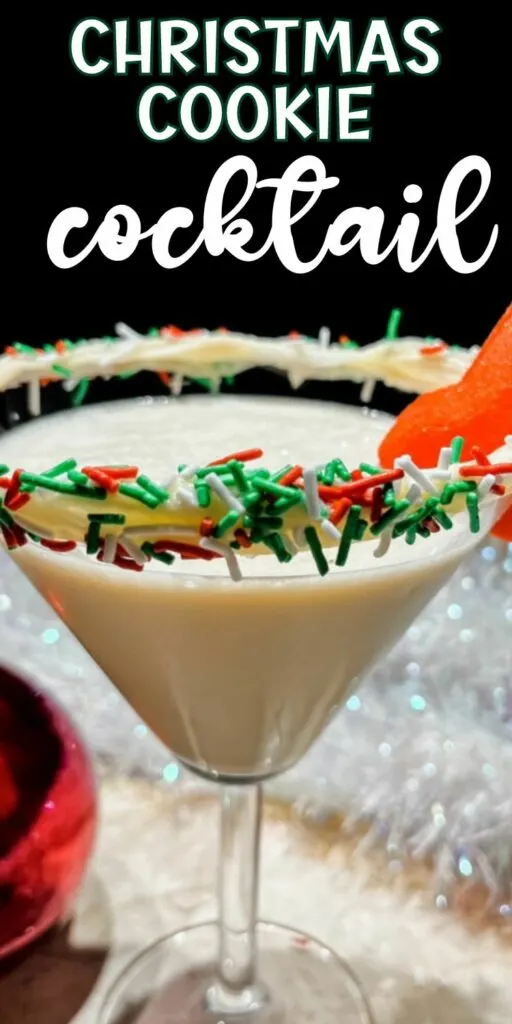 This post contains affiliate links. Please read my Disclosure for more information
MORE CHRISTMAS COCKTAILS
Peppermint Martini With Baileys
Gingerbread Mojito – The Perfect Holiday Cocktail
The Perfect Sugar Cookie Martini
'Tis the season to sip and savor, and what better way to spread holiday cheer than with a festive and decadent cocktail?
As the snowflakes fall and the twinkling lights adorn our homes, it's time to gather around the fireplace and indulge in the sweet and spirited magic of Christmas.
This delightful concoction that combines the nostalgic flavors of sugar cookies with the spirited warmth of a martini is perfect for sipping fireside.
Get ready to elevate your holiday celebrations with the delicious Christmas Cookie Martini, a delicious Christmas drink that will have you toasting to the most wonderful time of the year.
Sugar Cookie Martini Ingredients
This Christmas, elevate your celebrations with this enchanting Sugar Cookie Martini recipe.
Similar to our other dessert-inspired cocktail, the Red Velvet Martini, this drink is like a treat from a bakery.
With its delightful combination of vanilla vodka, amaretto, white chocolate liqueur, and a hint of cream, this Sugar Cookie cocktail is sure to spread holiday cheer and create lasting memories with friends and family.
Whether you're hosting a festive gathering or simply treating yourself to a special moment, this sweet and spirited concoction will make your holidays merry and bright.
So, raise your glass, toast to the most wonderful time of the year, and enjoy every sip of this delectable holiday elixir.
For full step-by-step instructions, scroll down to our recipe card at the bottom of the page.
To make this drink you need:
Vanilla Vodka
Baileys Irish Cream
Half and Half or thick cream
Amaretto
Powdered Sugar
Ice
For the rim of the glass (optional):
Vanilla frosting
Christmas Sprinkles
What Is Amaretto?
Amaretto is a luscious and versatile Italian liqueur that is perfect in so many cocktails.
Its name, "amaretto," derives from the Italian word "amaro," which means bitter, although the liqueur itself is known for its sweet, almond-like flavor.
Typically made from either apricot pits or almonds, amaretto boasts a rich, nutty taste with hints of marzipan and subtle undertones of fruit.
Do I have to use Vanilla Vodka?
You really want vodka in this Christmas cookie cocktail recipe to give your drink that lovely taste of a sugar cookie.
If you don't have any vanilla vodka, never fear!
You can actually make vanilla vodka at home using 1 teaspoon of pure vanilla extract for every 1 cup of vodka.
Christmas Sugar Cookie Martini Recipe
This Christmas cocktail is so easy to make! You can have it ready in minutes.
Plus – simply double the recipe to make it for a crowd!
Step 1: Prepare Your Glass
Begin by rimming your martini glass with holiday sprinkles.
To do this, put a small amount of frosting onto a shallow plate and another plate with the sprinkles of your choice.
Dip the rim of the glass into the simple syrup, allowing any excess to drip off, then gently press the rim into the crushed sugar cookies to coat it evenly. Set the glass aside to let the rim dry and set.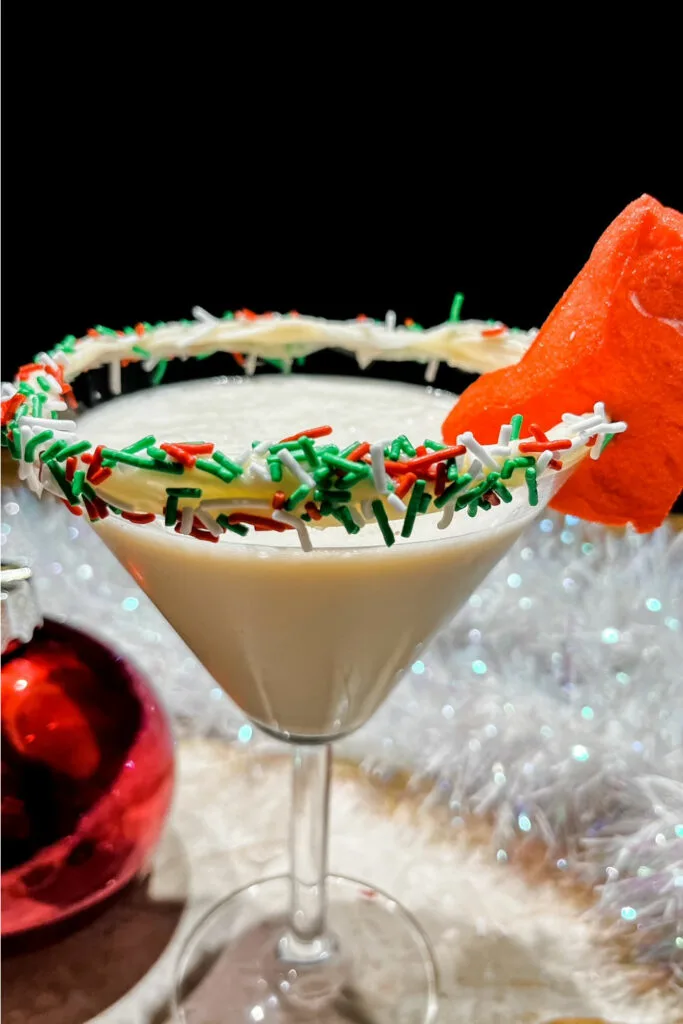 Step 2: Mix the Ingredients
In a cocktail shaker filled with ice, combine the vanilla vodka, amaretto liqueur, Baileys, powdered sugar and heavy cream.
Shake vigorously for about 15-20 seconds until the mixture is well chilled.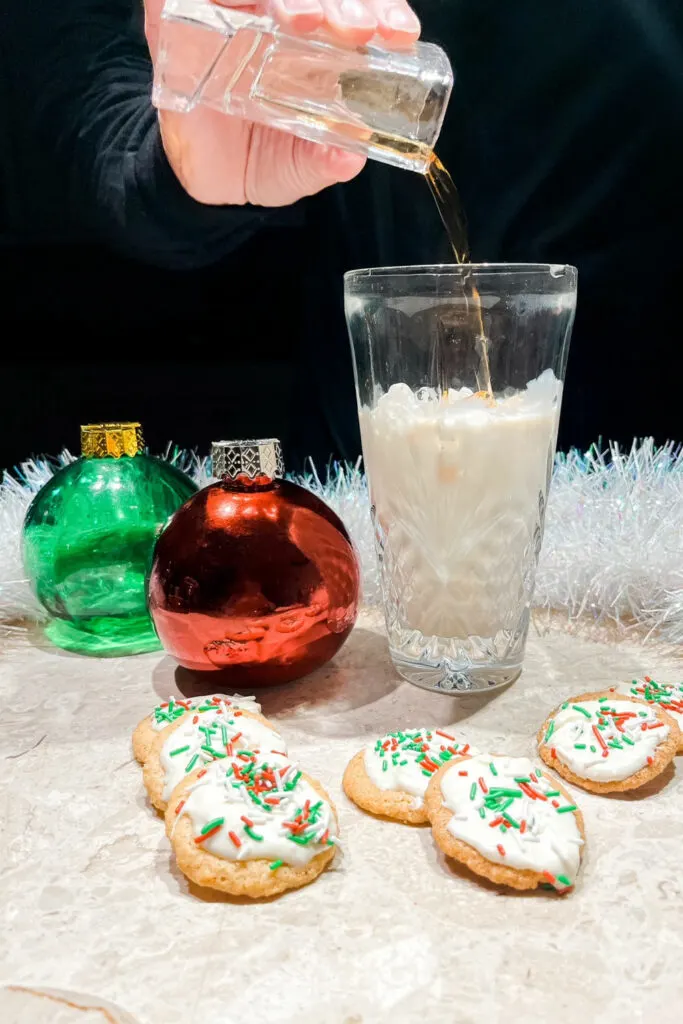 Step 3: Strain and Serve
Once your martini mixture is well chilled, strain it into the prepared sugar cookie-rimmed martini glass.
You can use a fine-mesh strainer to ensure no ice shards end up in your martini.
Step 4: Garnish and Enjoy
To take your Sugar Cookie Martini to the next level, add a dollop of whipped cream on top and sprinkle it with your favorite holiday-themed sprinkles.
If you're feeling extra festive, you can also garnish with a mini sugar cookie.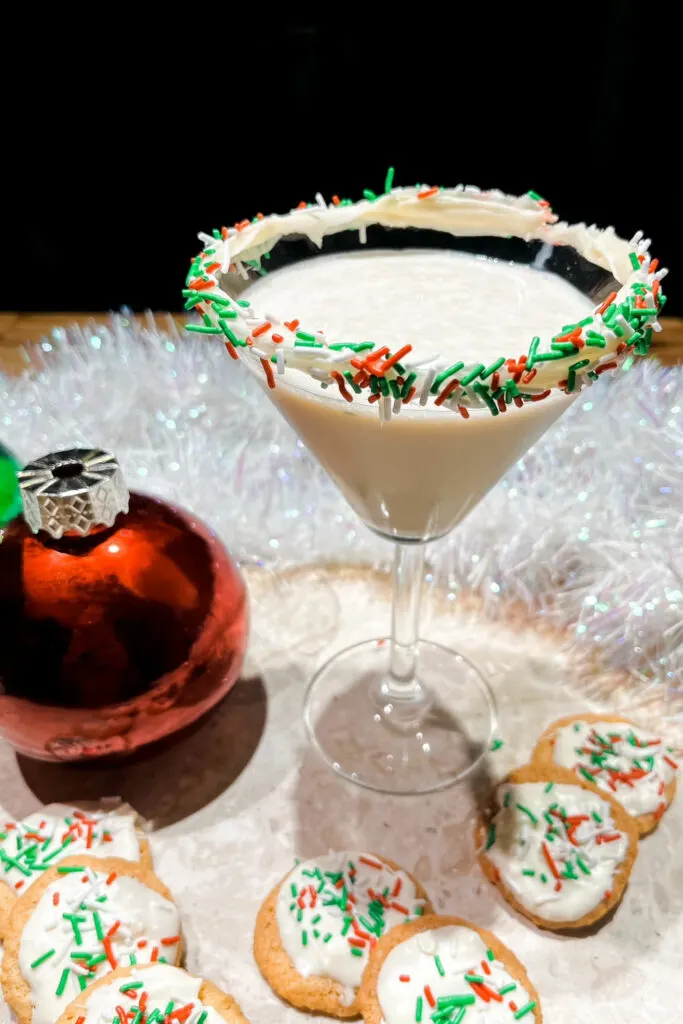 More Fun Christmas Cocktails
Candy Cane Martini – This classic cocktail is packed with delicious peppermint flavor!
Peppermint Martini With Baileys – This delicious cocktail is easy to make and so decadent!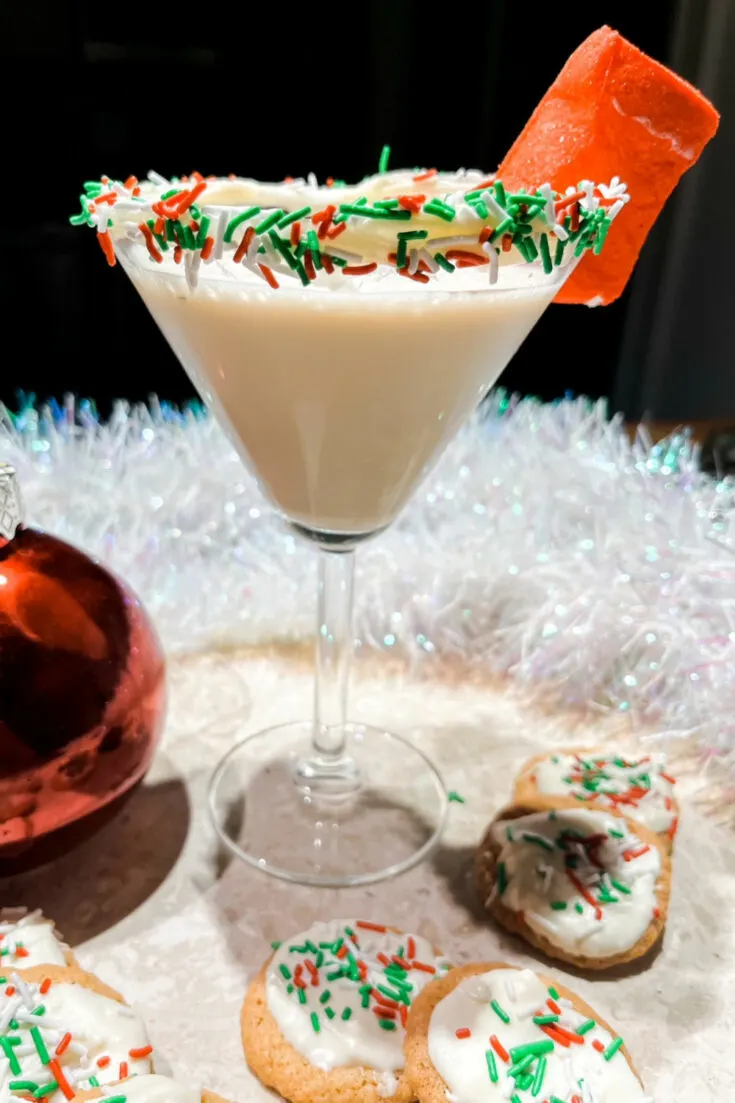 Yield:

1
Sugar Cookie Martini
This rich and creamy cocktail tastes just like a delicious Christmas cookie!
Ingredients
2 oz Baileys Irish Cream
3 oz Half and Half Cream
1 oz Vanilla Vodka
3/4 oz Amaretto
Holiday sprinkles
White frosting
1 teaspoon powered sugar
Instructions
To rim your glass, dip the rim into the frosting and then gently roll it in the holiday sprinkles. Set aside.
Next, add all the ingredients into a cocktail shaker with ice. Shake for 15-20 seconds.
Strain into your martini glass
Garnish with a cookie or holiday candy if desired.