This classic Peppermint Bark Martini is delicious and perfect for the holidays.
Made with white chocolate and of course, peppermint, it is the perfect addition to your holiday cocktail menu.
This post contains affiliate links. Please read my Disclosure for more information
MORE CHRISTMAS COCKTAILS
Peppermint Martini With Baileys
Gingerbread Mojito – The Perfect Holiday Cocktail
The Perfect Peppermint Bark Martini
Decadent and easy to make, this delicious Peppermint Bark Martini is sure to get you in the mood for the holidays!
It is perfect for sipping by the Christmas tree or at a fancy holiday party where spirits are merry and bright.
Few flavors are more festive than the sweet scent of peppermint which is why this delicious cocktail is always a hit!
This Christmas drink is the perfect way to celebrate the season with family and friends.
Made with just a few simple ingredients, this Peppermint Bark martini is both easy to make and delicious.
Whether you're looking for a festive cocktail to serve at your holiday party or want some extra special to add to your holiday drinks menu, this is the drink for you!
Peppermint Bark Martini Ingredients
Who doesn't love a few pieces of peppermint bark during the holidays? The delicious mix of chocolate and candy cane is so festive and fun.
With this creamy martini, we have taken our favorite holiday treat and turned it into a cocktail.
It is the perfect way to enjoy the festive season.
This delightful cocktail is made with creamy Baileys Irish Cream and white chocolate syrup.
Crushed canes canes on the rim give this drink an extra special look.
Want to pair this drink with something else? Make sure to check out my Peppermint Bark Mimosa and these creamy Peppermint Bark pudding shots too!
Let's get into the recipe for this easy-to-make drink.
For full step-by-step instructions, scroll down to our recipe card at the bottom of the page.
I made this delicious cocktail with white chocolate syrup which you can get at most coffee shops and grocery stores.
You can also use white chocolate liqueur if you prefer.
To make this drink you need:
White Chocolate Syrup
Baileys Irish Cream
Half and Half or thick cream
Peppermint Schnapps
Ice
For the rim of the glass (optional):
Vanilla frosting
Crushed candy cane or peppermint candy pieces
How To Make A Peppermint Bark Martini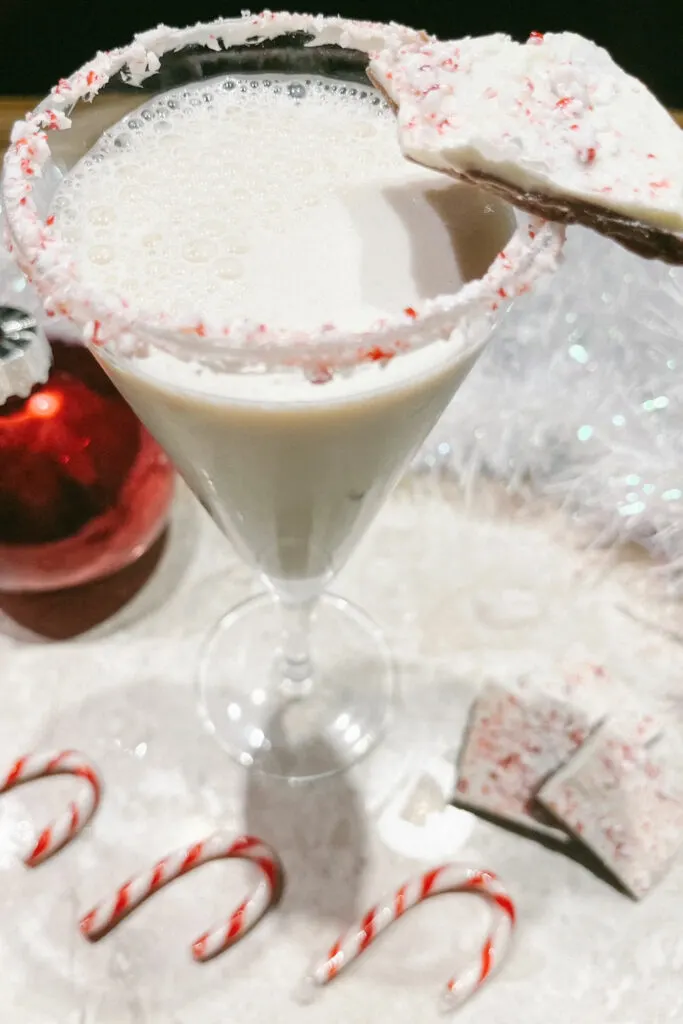 This Christmas cocktail is so easy to make! You can have it ready in minutes.
Plus – simply double the recipe to make it for a crowd!
Step 1: Prepare Your Glass
Before you get started on your cocktail, you need to create that beautiful candy cane rim on your glass.
First you will need some crushed candy canes.
You can buy these from bulk stores already crushed but it is super easy to put a few whole candy canes in a plastic bag and then bash them with a hammer.
Next you will want to grab some white frosting (the canned kind is fine) and gently roll your glass in it so the whole rim is covered.
Then, dip the glass in the candy cane pieces and set aside.
I normally do this step about 10 minutes before I want to serve my drink so that the frosting has time to set.
Now it is time to make your drink!
Step 2: Mix The Ingredients
Add all the ingredients into a cocktail shaker with ice.
Shake well for 15 seconds.
Step 3: Pour and garnish
Pour into the glass.
How To Garnish Your Peppermint Bark Martini
With the cute candy cane rim, you don't need to do anything else if you don't want.
However, if you would like to go a step further, a piece of peppermint bark balanced on the rim of the glass looks (and tastes!) great.
You could also hang a candy cane from the rim of the glass too.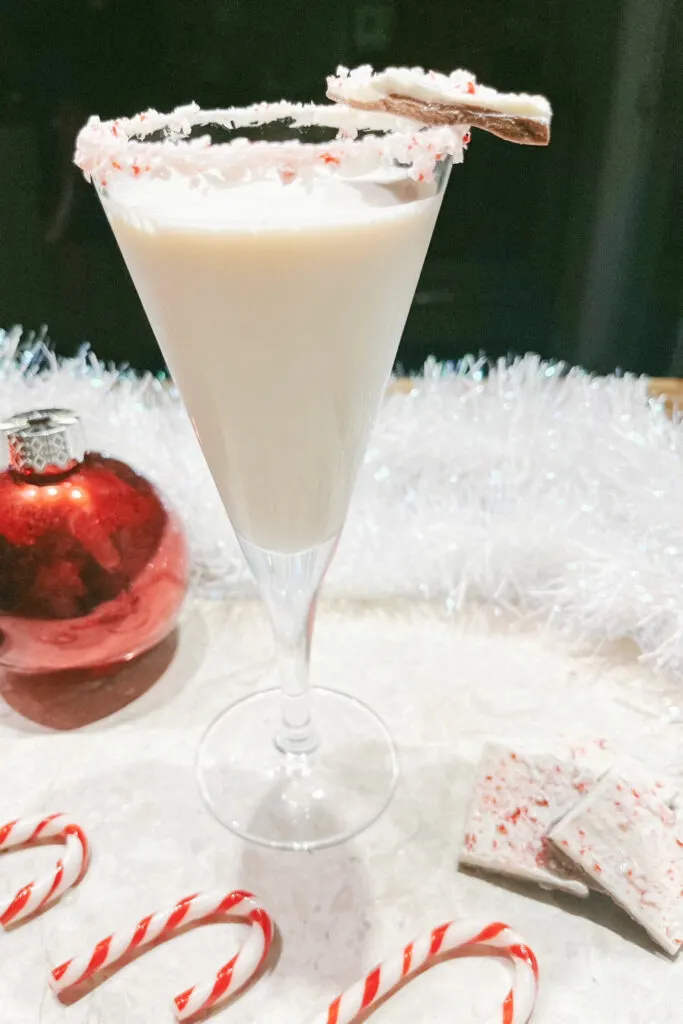 More Fun Christmas Cocktails
Candy cane martini – This classic cocktail is packed with delicious peppermint flavor!
Peppermint Martini With Baileys – This delicious cocktail is easy to make and so decadent!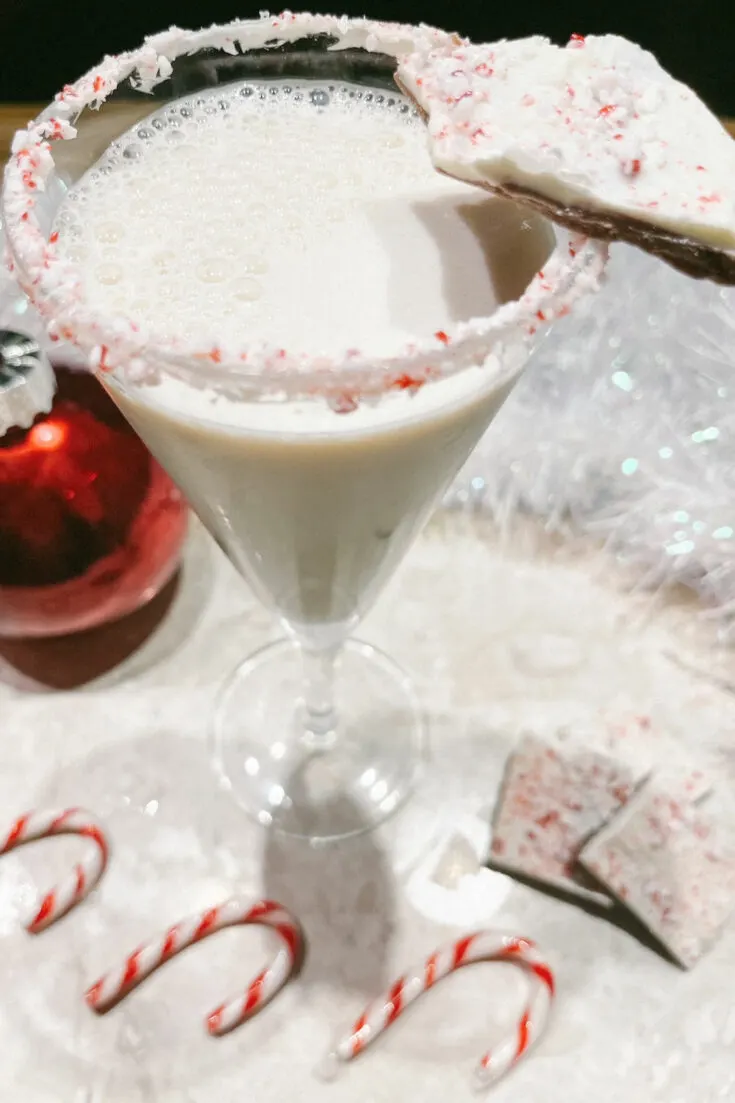 Yield:

1
Peppermint Bark Martini
This Peppermint Bark Martini is quick and easy to make! Plus it looks super impressive for your next holiday party!
Ingredients
2 oz Baileys Irish Cream
1/2 oz White Chocolate Syrup
1 oz Peppermint Schnapps
3 oz Half and Half or 10% cream
Candy Canes, crushed
White frosting
1 candy cane or a piece of peppermint bark for garnish
Instructions
To make the rim: dip your glass in frosting and then in the crushed candy canes. Set aside
Next add your your ingredients to a cocktail shaker with ice
Strain into your martini glass
Garnish with a candy cane or piece of peppermint bark
Notes
You can use peppermint syrup instead of peppermint schnapps if you prefer
You can rim your glass with holiday sprinkles if you prefer