In the mood for a taste of the tropics? This Malibu rum punch recipe will have you dreaming of a tropical beach in no time.
It's a twist on the classic Malibu rum and pineapple juice cocktail and it tastes amazing.
If you are looking for an easy Caribbean rum punch recipe that is something a bit different, you are about to meet your new favorite.
The nice thing about this drink is that you can barely taste the alcohol so it is perfect for a summer afternoon or a fun evening party when you don't want anything too strong or heavy.
The mix of pineapple and orange juices blend perfectly with the coconut rum to create a tasty cocktail that you will love.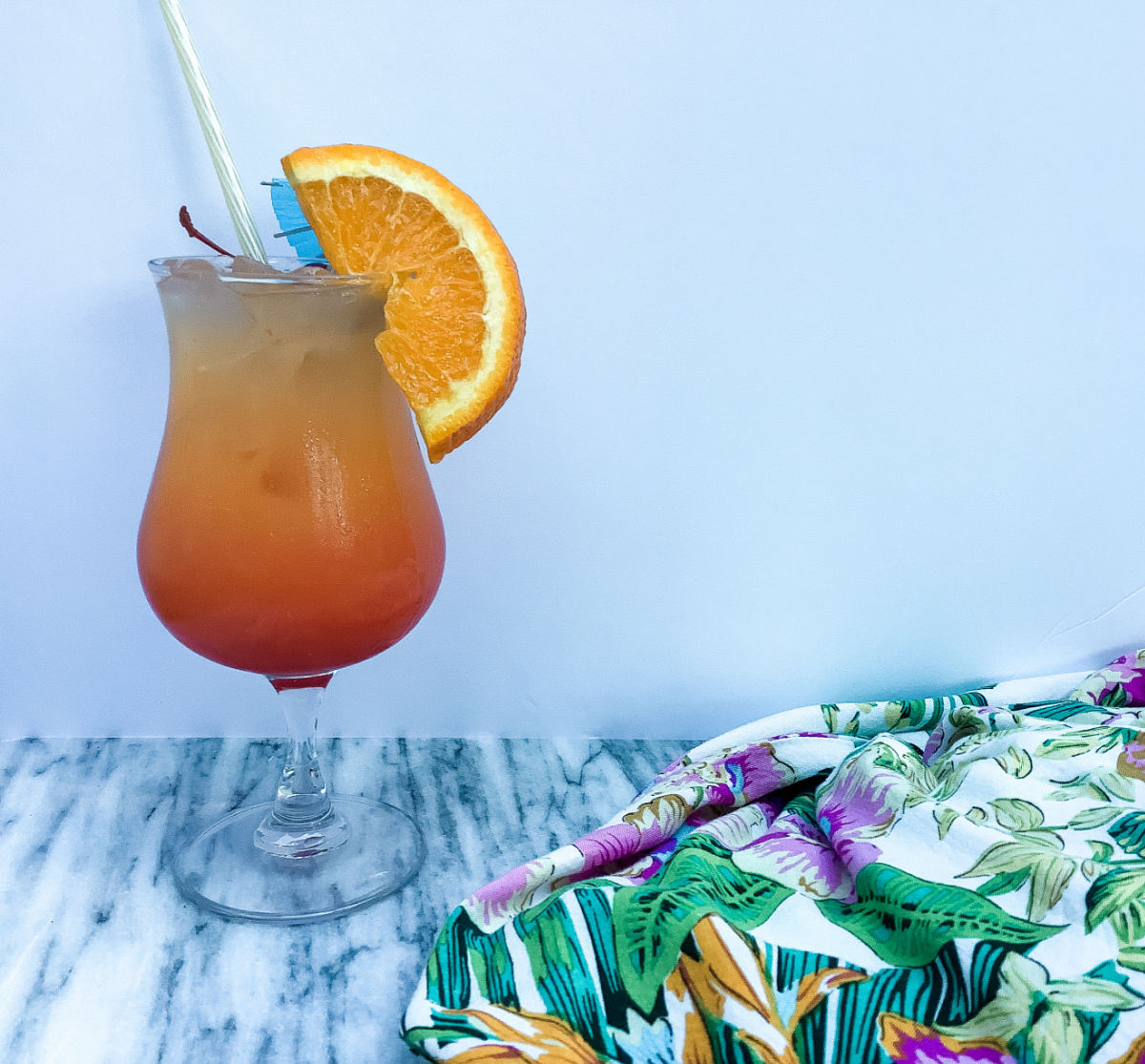 This post contains affiliate links. Please read my Disclosure for more information.
RELATED POSTS
What You Need For This Coconut Rum Punch Recipe

You really only need 5 ingredients for this punch, with some optional maraschino cherries and a slice of orange for a garnish on the side.
Tastes of the tropics are brought out with the blend of pineapple and orange juices along with the coconut rum (I recommend using Malibu but you can experiment with other kinds of rum).
The beautiful layered effect is created with the grenadine which makes this drink look much like a Vodka Sunrise.
Ginger ale is the last ingredient and adds a nice flavour to stop the punch being cloyingly sweet.
Ingredients For a Coconut Rum Punch
Pineapple Juice
Orange Juice
Coconut Rum
Grenadine
Ginger Ale
Slice of orange for garnish
The nice thing about this rum cocktail is that you don't need any special equipment or tools. All you really need is a cocktail jigger to measure out your ingredients and you are done!
I made my cocktail in a whiskey tumbler but you can also use a hurricane glass or a high ball glass too.
How To Make A Coconut Rum Punch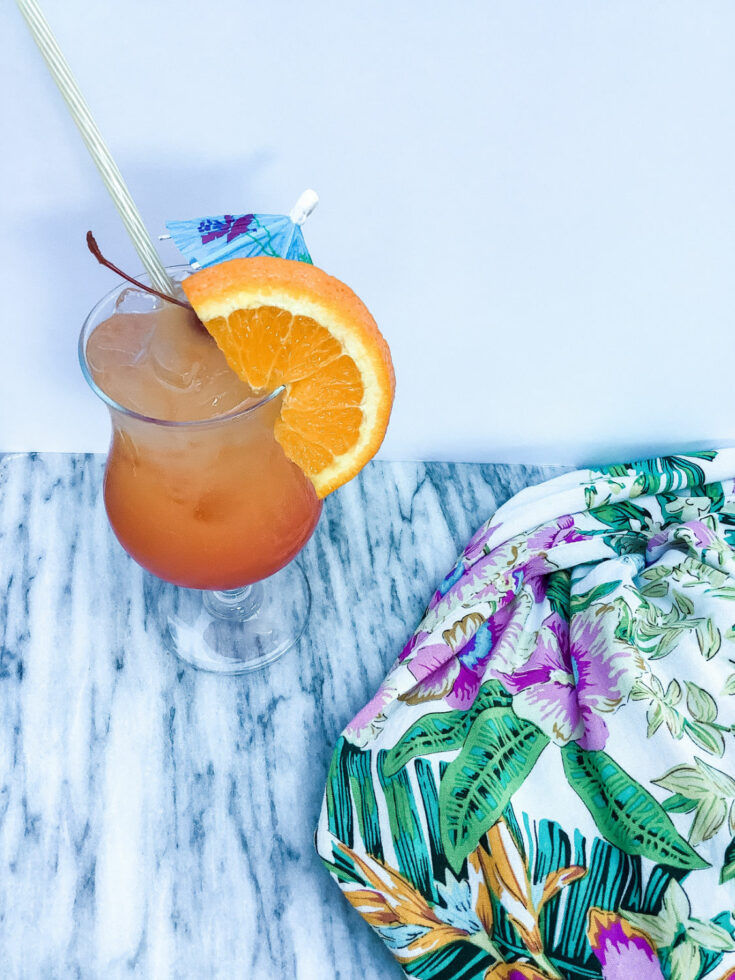 Add ice to your glass and pour the Malibu rum in first
Add Orange Juice to your drink
Pour over the pineapple juice
Top with ginger ale
Finally add in the grenadine to create a layered effect.
Top with maraschino cherries and a slice of orange
Tips for making a great coconut punch
Don't stir the drink before serving in order to preserve the beautiful colors. Before drinking, I do recommend that you stir the liquids up otherwise all the alcohol will be at the bottom of your glass.
Yield:

1 cocktail
Malibu Rum Punch Recipe
Tropical juices make this Caribbean coconut punch recipe a classic.
The grenadine is great for some extra colour and sweetness. This will also create a nice layering effect like my Vodka Sunrise Recipe.
You can easily skip the grenadine if desired and the cocktail will still taste amazing.
This recipe is easy on the rum but you can easily add more to taste. The basic recipe is around 1 part rum to 5 parts juice.
Ingredients
2 oz Orange Juice
4 oz Pineapple Juice (Fresh if possible)
2 oz Malibu Rum
1/2 oz of grenadine or a substitute*
1-2 oz of Ginger ale to taste
Crushed Ice
Slice of orange and 2 maraschino cherries
Instructions
Add Ice to the glass and pour over the Malibu rum
Add Orange Juice
Pour over the pineapple juice
Top with ginger ale
Finally add in the grenadine to create a layered effect.
Top with maraschino cherries and a slice of orange
Notes
If you cannot find grenadine or want to substitute it, you can find some great options in this post.
Malibu Punch Cocktail – FAQs
Does Malibu Rum Punch need to be refrigerated?
While you don't have to refrigerate this coconut rum punch recipe if you use shelf stable juices, it tastes way better cold!
Malibu rum does not need to be kept in the fridge after opening on its own.
What Can I Use If I don't Have Coconut Rum?
If you don't have coconut rum on hand, you can still make an amazing Malibu Rum Punch.
Just add a teaspoon of coconut extract into your favorite brand of plain rum (or vodka).
Can I Make Coconut Rum At Home?
You can infuse plain rum with coconut to create your own version of coconut rum, here's how:
You will need a fresh coconut with the meat cut into chunks.
Add the coconut and your plain rum into a mason jar with a good seal.
Shake well then leave in the fridge or at least 2 weeks to allow the coconut flavors to infuse into the rum.
If you like infused drinks, make sure to check out our Homemade Peppermint Vodka.
Tips For Making A Coconut Rum Pitcher
If you want to make this recipe in a jug, you can make it ahead by doubling or tripling the ingredients and leaving the grenadine out. Add it in once you have poured the rest of the drink into glasses and are ready to serve.
Malibu Rum Punch- Final Thoughts
Coconut rum punch is a delicious and refreshing drink that can be enjoyed any time of the year. This easy to make cocktail is made with simple ingredients and can be made in just minutes.
Coconut rum is an excellent choice for this drink because it has a strong flavor that balances well with the sweetness of the pineapple juice and orange juice.
This drink is perfect for a summer cocktail party or as a refreshing drink on a hot day.
More Summery Cocktails
Watermelon Shot Recipe (Refreshing and Easy)