This deliciously fruity Blueberry Whiskey Smash Cocktail is a refreshing drink that packs a punch.
This post contains affiliate links. Please read our Disclosure for more information
MORE FUN WHISKEY COCKTAILS
The Ultimate Maple Whiskey Sour Cocktail
Whiskey Fizz Cocktail Recipe With Cranberry
What is a Whiskey Blueberry Smash Cocktail?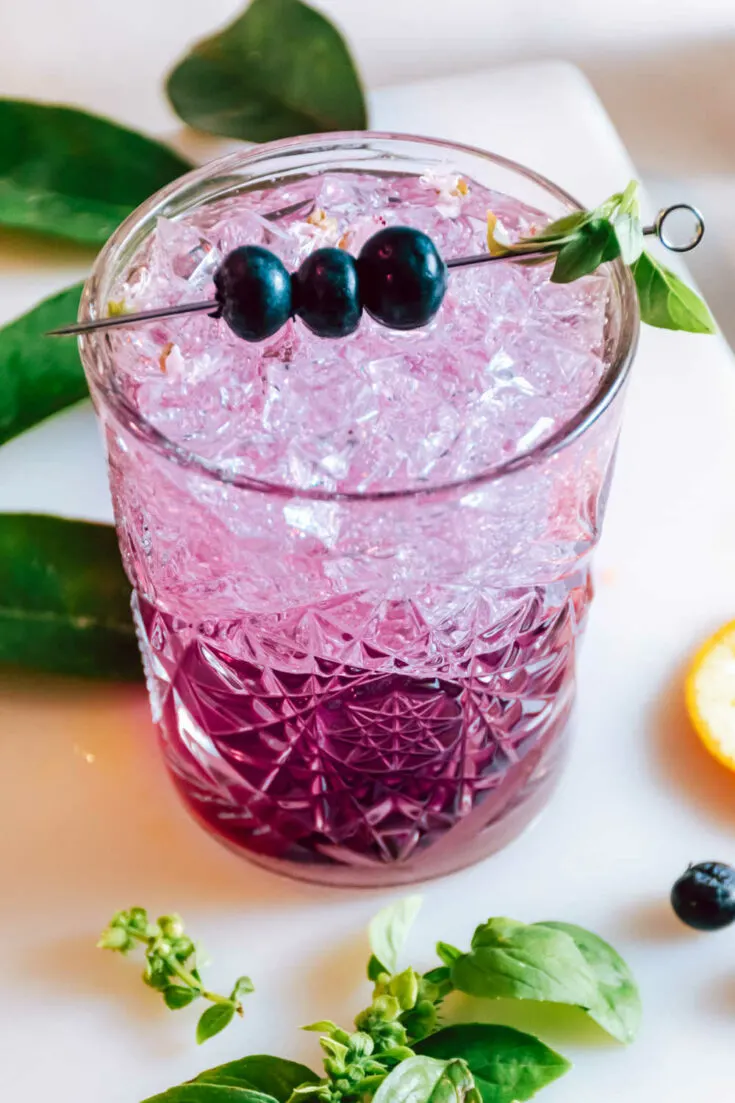 Looking for a delicious and boozy way to celebrate?
Look no further than this Whiskey Blueberry Smash Cocktail!
This drink is perfect for gatherings with friends or relaxing on a hot summer night. The recipe is simple, but the end result is sure to impress.
A Whiskey Blueberry Smash Cocktail is a refreshing drink that packs a punch. It is the perfect mix of fruit and liquor and makes a great drink for those summer evenings on the deck.
Why You'll Love This Whiskey Blueberry Smash Cocktail
This blueberry smash cocktail is the perfect balance of sweet, tart and herbaceous.
The blueberries add sweetness, the orange juice gives a tart kick, while the basil elevates both. And of course, the whiskey makes it nice and boozy.
This cocktail is:
Perfect for summer
Great for people who love whiskey
Fun for a crowd
Easy to make
How to Make a Whiskey Blueberry Smash
Up your mixologist game with this tasty treat. This drink will make you feel like a professional bartending and is sure to impress your guests.
The great thing is that even the most novice of bartenders can make a delicious and boozy Whiskey Blueberry Smash Cocktail in just a few minutes.
Plus, it's easy to customize to your taste by adding more or less whiskey, jam, or orange juice.
You may actually find that this drink reminds you of a mojito as you need to muddle the ingredients before you strain them into your glass.
What's In A Whiskey Blueberry Smash?
Don't be scared off by the number of ingredients in this cocktail. It is surprisingly easy to make and is sure to become a fast favorite on your cocktail menu.
You'll need:
1Blueberry Jam or fresh blueberries

Whiskey

Orange juice

Basil Leaves

Club Soda

Ice
Optional: Agave Nectar or Simple Syrup if you prefer a sweeter drink
What whiskey should I use in the Blueberry Smash cocktail?
A lot of people know this cocktail as a Blueberry Bourbon smash and the truth is, Bourbon is a great choice for this drink.
Any whiskey or Bourbon with honey undertones will meld with the blueberries and create a really flavorful drink.
My preferred whiskey for this cocktail is Barenjager Honey and Bourbon but you might not be able to find it everywhere. (I have only been able to get it in the USA).
What Tools Do I Need To Make This Cocktail?
You don't need much to make the whiskey smash.
A cocktail shaker, strainer and a muddler will make life a lot easier but if you don't have them, you can use a mason jar and the wrong side of a wooden spoon to muddle your ingredients.
Blueberry Smash Recipe
Step 1 – Prep the ingredients
Tear or gently bruise the basil leaves
Step 2 – Muddle everything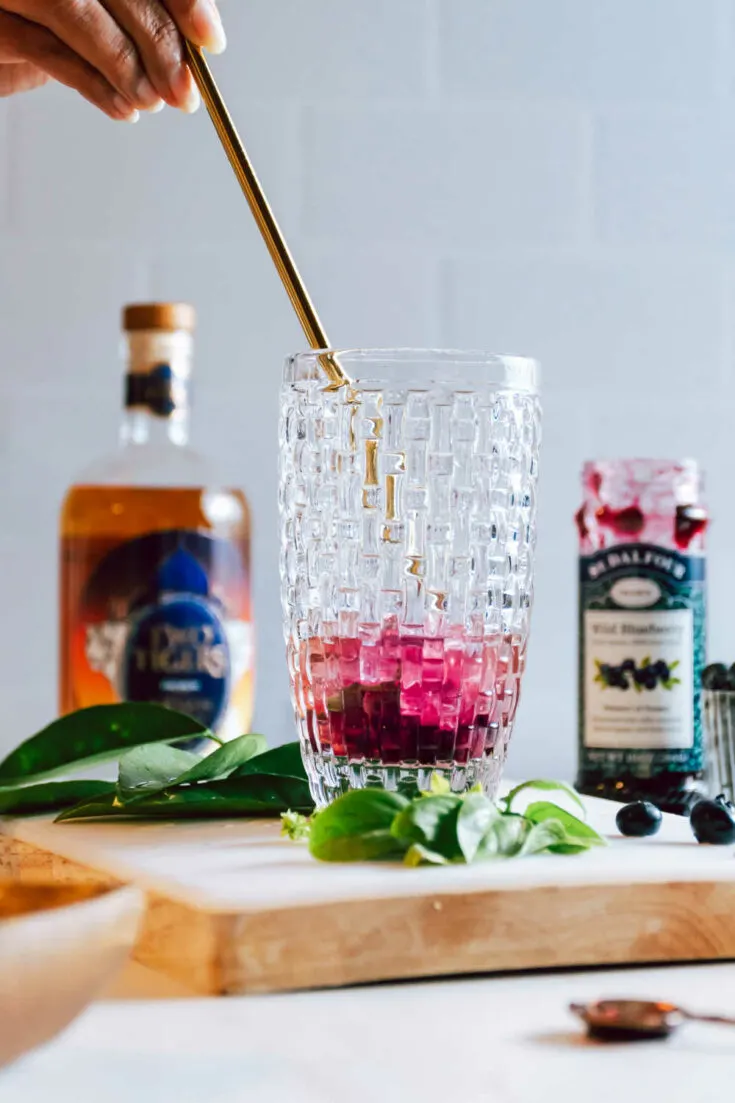 In a glass or cocktail shaker, add the following:
Bruised Basil leaves

Blueberry Jam or blueberries

Orange Juice

Whiskey
Muddle all the ingredients and add ice
Step 3- Strain into glass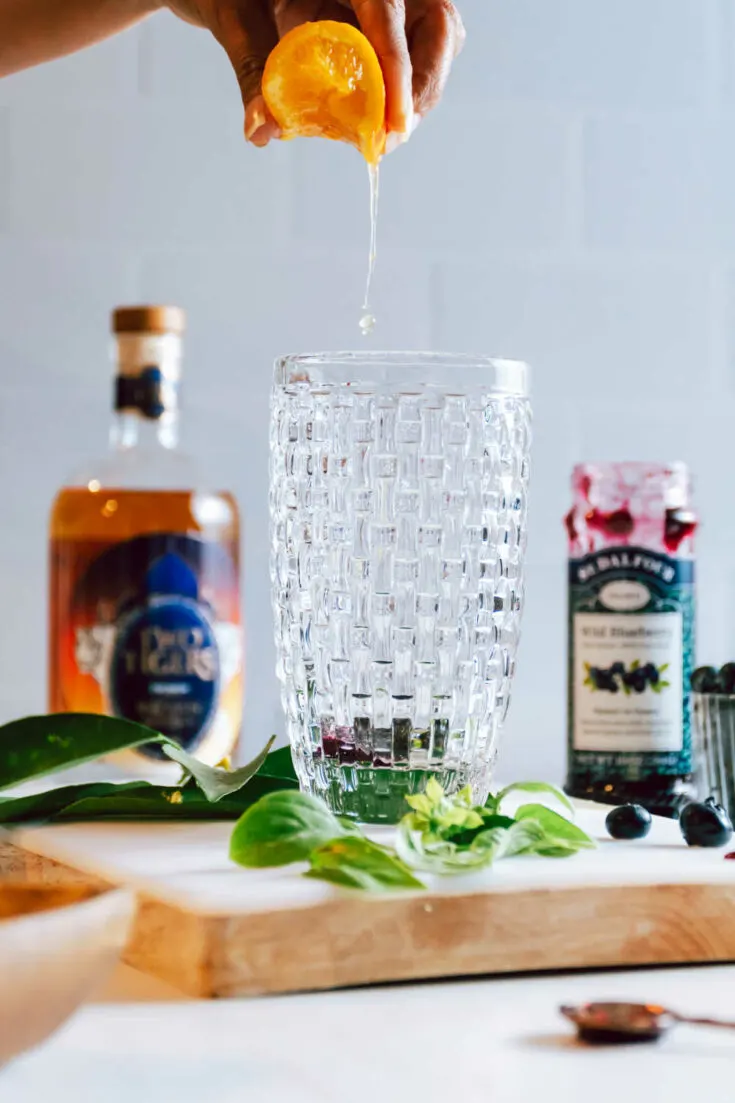 Shake and strain into a rocks glass with fresh ice
Step 4 – Finish the drink off
Top with Club Soda
Stir one more time, add straw and enjoy
Whiskey Blueberry Smash – FAQs
Do I have to add club soda?
You don't have to add the club soda although it does lighten up this cocktail. In a pinch, you can use ginger beer or lemon lime soda.
Why are you having me stir instead of shake the Whiskey, can I not shake this cocktail?
Whiskey also doesn't need to be shaken in order for the ingredients to mix together.
Whiskey is a spirit that is made from grain and malt. It is typically distilled twice to make it a high-proof spirit. When shaking whiskey, you are adding air to it which can cause it to go bad. Gently stir any cocktail that has recipe.
I don't have fresh basil, can I use another herb?
Yes, feel free to use any other herb you have on hand. Mint or sage pairs well with this drink as well.
Dry herbs will overpower the drink so I recommend only using fresh herbs or omitting them completely.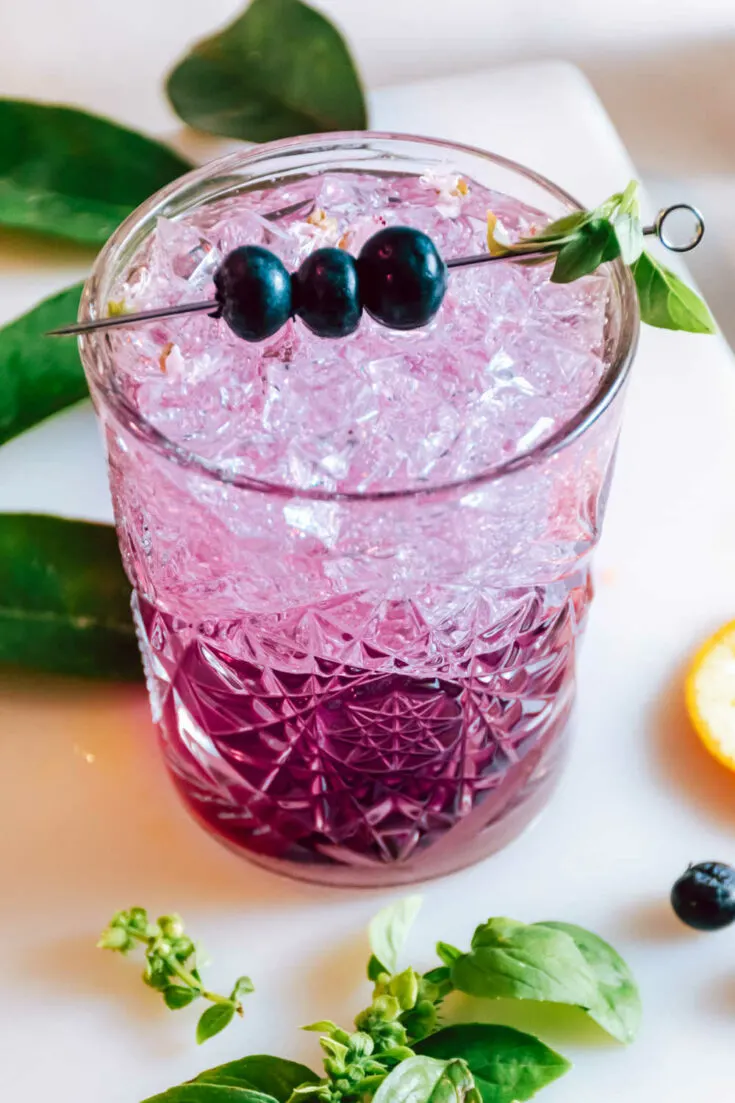 Yield:

1
Whiskey Blueberry Smash
This fruity and smooth whiskey cocktail is sometimes called a Bourbon smash. It is easy to make and delicious to drink!
Ingredients
1 heaping tablespoon Blueberry Jam or 1/4 cup of fresh blueberries
2 ounces Whiskey
⅛ ounce (squeeze) of orange juice
6 fresh Basil Leaves
4 ounces Club Soda
½ cup of ice
Instructions
Tear or gently bruise the basil leaves
Muddle everything except the club soda and ice
Add ice and shake in a cocktail shaker
Strain into a glass
Enjoy!
Notes
You can use either blueberry jam or fresh blueberries
Any whiskey goes great with this cocktail but a honey bourbon is the preferred option
More Fun and Fruity Cocktails
Tequila And Peach Schnapps Cocktail
Strawberry Prosecco Cocktail (Rossini Cocktail)