Love Cadbury Creme Eggs? Love cocktails? Why not combine the two for a delicious and indulgent treat?
This Cadbury Creme Egg Cocktail recipe is perfect for Easter (or any time, really).
Easter is coming up and that means one thing – Cadbury Creme Eggs!
Instead of just eating them, why not put them into a delicious cocktail?
This recipe is easy to make and will be sure to please everyone at your Easter gathering.
Not only does it taste delicious, it looks amazing – in fact it looks exactly like a Cadbury Creme egg!
Read on for all the details on how to make this delicious Easter cocktail.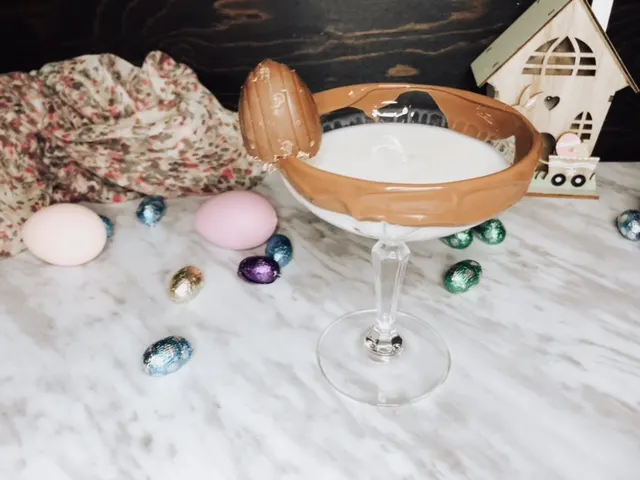 This post may contain affiliate links. Please read my Disclosure for more information
MORE EASTER COCKTAILS
The Cutest Cottontail Cocktail For Easter – The Cottontail Martini
Unicorn Cocktail – Pink Gin Cocktail Recipe
Why you'll love this Cadbury Creme Egg Cocktail Recipe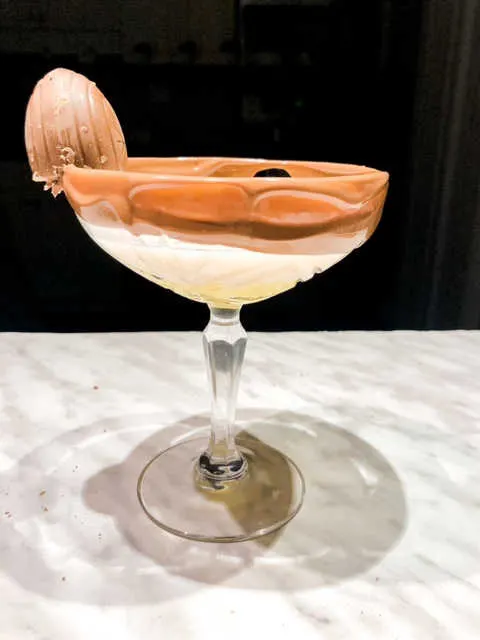 As Easter weekend quickly approaches, many people are starting to think about what recipes they will be preparing.
If you are looking for something a little bit different this year, why not try out this Cadbury Creme Egg Cocktail Recipe?
This sweet and creamy drink is perfect for any occasion!
If you love Cadbury Creme Eggs, then you will be familiar with the sweet and creamy filling that is actually fondant.
In this recipe, we have create a delicious cocktail that is chocolately and decadent without being sickly sweet.
This Cadbury Creme Egg Martini is:
Sweet and luxurious
Perfect for Easter
Great for any occasion
Great for people who love creamy cocktails
Impressive
What is in the Cadbury Creme Egg Cocktail?
First of all, let's be clear that this Cadbury Creme Egg drink is a cocktail that contains alcohol so while it might taste like candy, it is most definitely for the majority age crowd only.
My version of the Chocolate Egg cocktail contains the following:
White Chocolate Liqueur
Vanilla Vodka
Sweetened Condensed Milk
Melted chocolate
Yellow food coloring
And of course, a Cadbury Creme Egg
If you don't have vanilla vodka, you can use plain vodka instead or even use some clear vanilla syrup
White chocolate liqueur is really preferable as you need something creamy but in a pinch, you could use Rumchata instead.
What tools do I need to make the Cadbury Creme Cocktail?
You really don't need much in order to make this cocktail which makes it perfect for any party or large gathering when you want to whip them up in minutes.
The only tool you'll need to make this cocktail:
Don't have the tools you need?
If you don't have a cocktail shaker, a large mason jar works just as well in a pinch.
Use the mason jar lid or a plate to strain the drink if you don't own a strainer.
How To Make The Cadbury Creme Egg Martini
Step 1: Make the chocolate rim
First you will want to create a rim on your glass.
To do this, simply melt the chocolate in a double boiler over the stove and then slowly dip your glass in the melted chocolate.
Place in the fridge to set while you prepare the next ingredients.
Step 2: Mix the "yoke" of your egg
In a small bowl, mix up one tablespoon of sweetened condensed milk with a few drops of yellow food coloring.
Once your chocolate rim is set, place the yoke at the bottom of your martini glass.
Step 3: Mix the white ingredients
In a cocktail shaker, mix the white chocolate liqueur and the vodka together with ice.
Strain it into your martini glass
Step 4: Garnish with a Cadbury Creme Egg
To make my egg stay on the glass, I gently cut a ridge into it so it would balance onto the rim.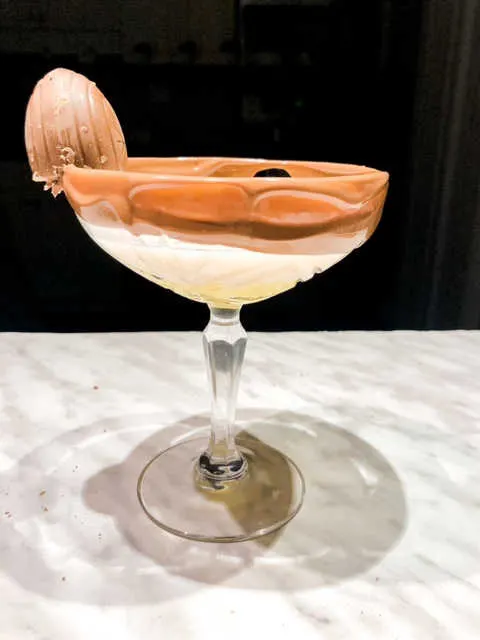 Yield:

1
Cadbury Creme Egg Martini
The Cadbury Creme Egg Martini is perfect for your Easter gathering. Not only is it decadent and delicious but it also looks super impressive and is surprisingly easy to make.
Ingredients
1.5 oz Vanilla Vodka
2 oz White Chocolate Liqueur
1 Tablespoon sweetened condensed milk
4 drops yellow food coloring
1 Cadbury Creme Egg
Melted milk chocolate for the rim
Instructions
To make the rim, melt your chocolate and then slowly dip your glass in it and aside to set
In a small bowl mix the condensed milk and food coloring. Add to the bottom of your martini glass
Mix the liqueur and vodka in a cocktail shaker with ice. Mix for 15 seconds
Strain into your martini glass and garnish with half a Cadbury Creme Egg
Notes
You can use plain vodka with vanilla syrup if you do not have vanilla vodka
To attach the Creme egg to the glass, slice a ridge in it with a sharp knife
Want More Creamy Cocktail Recipes?
Try these:
Millionaire's Coffee {The Ultimate Coffee Cocktail}
Peppermint Martini With Baileys (Candy Cane Cocktail)
Gingerbread White Russian {with drunk gingerbread man garnish!}