It is that time of year again. St Patrick Day is just around the corner and this means all things Irish are in season. Why not try an Irish Flag Shot at your next party?
The color green, shamrocks, lively music, and most importantly- drink! One common drink on St Patrick's day is a shot with an Irish flag design.
This post will teach you how to make your own Irish Flag shot to celebrate the holiday with friends and family.
The Irish Flag Shot is a simple drink recipe that has only three ingredients.
It's also one of the most visually stunning drinks you'll find! The colors are so vivid and make for an excellent addition to any St Patrick Day party.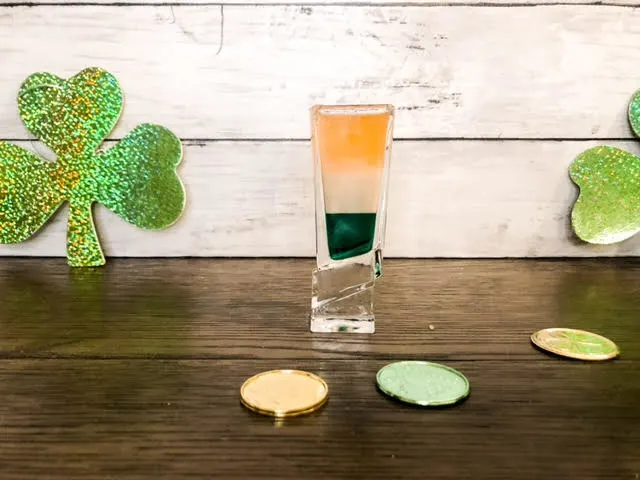 This post contains affiliate links. Please read my Disclosure for more information.
RELATED POSTS
Why you'll love this Irish Flag Shot
There's no mistaking the Irish flag shot – it's a bright green and orange layered drink that will make your taste buds jump for joy.
This traditional cocktail is perfect for St. Patrick's Day, or any time you're in the mood for something festive and fun.
So cheers to shamrocks, luck of the Irish, and delicious drinks!
This St Patrick's Day Shot recipe is:
Quick and Easy to make
Perfect for St. Patrick's Day
Beautiful to look at
Tastes good
Will make you the hit of any St. Patrick's Day Party
Irish Flag Shot Ingredients
It's all about the layering. A layered shot is a drink that has two or more layers of liquor.
The layering process begins by pouring the first ingredient into the shot glass then carefully layer another spirit on top with no spillage between them so they can't mix together.
Repeat this process until you have reached your desired height. I use a bartender spoon to help with this part of the pouring process but you can use a teaspoon and some even use the side of a butter knife.
Here are the Irish Flag Shot Ingredients you will need.
Green Creme De Menthe
Bailey's Irish Creme
Grand Marnier
The great thing about this shot is all you need is shot glasses.
How To Make An Irish Flag Shot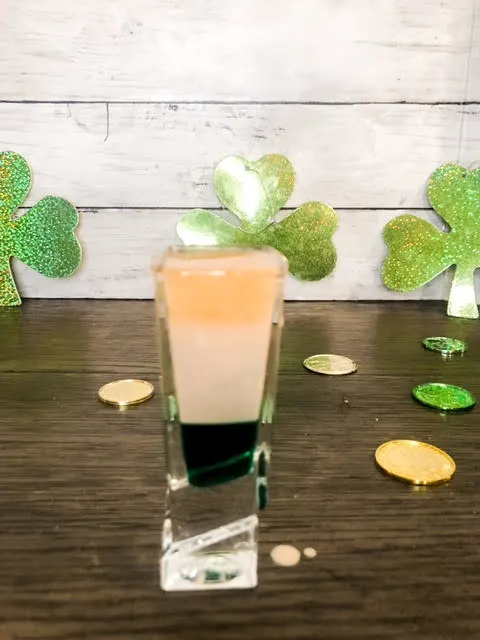 Step 1:Pour the Creme De Menthe
Your first layer is the Creme de Menthe
Step 2: Second layer
Slowly pour the Baileys into the shot glass using a bartender spoon or a teaspoon to guide and aid in the pouring of this level.
Step 3: Third and last layer
Slowly pour the Grand Marnier again using a bartender spoon to assist.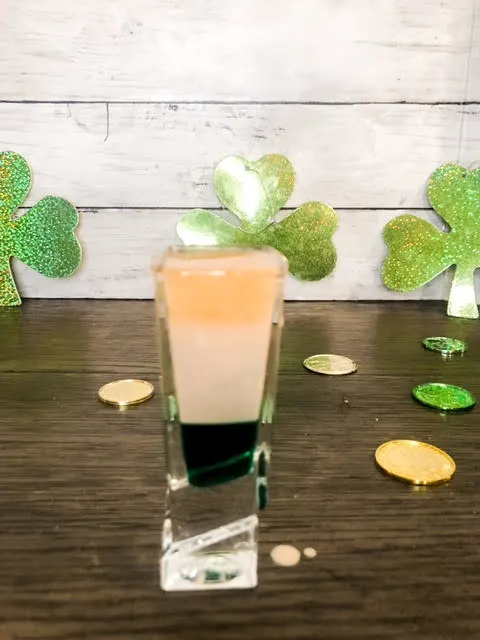 Yield:

1
Irish Flag Shot Recipe
Additional Time:
1 minute
This Irish Flag Shot is fun and easy to make. It also looks great at any St. Patrick's Day Party.
Ingredients
1.0 oz. Creme de Menthe
1.0 oz. Bailey's Irish Creme
1.0 oz. Grand Marnier
Instructions
Slow pour the Creme de Menthe into the shot glass as your first layer
Gently add the Bailey's using a bartender spoon or teaspoon to help guide and assist in the pouring. This is your second layer.
Third layer is the Grand Marnier. Using the same bartender spoon or teaspoon, slowly and gently add to the shot glass.
Want More St. Patrick's Day Recipes?
Try these:
The Shamrock Cocktail (The Perfect St Patrick's Day Cocktail)