Everyone knows that Easter is a time for family, friends and chocolate bunnies. But what about the drinks? That's where the Cottontail cocktail comes in!
This tasty coconut martini recipe has become one of my favorite Easter cocktails over the past few years.
If you are hosting an Easter brunch this year or just want to celebrate the holiday in style, then make sure to check out this delicious and decadent cocktail that you will love all year round.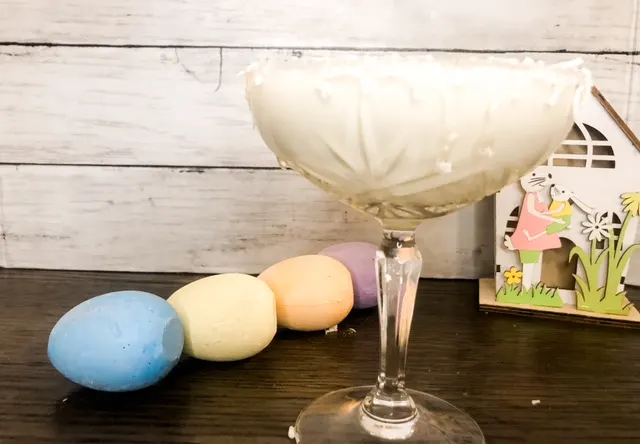 This post may contain affiliate links. Please read my Disclosure for more information.
More Spring Cocktails
Strawberry Prosecco Cocktail (Rossini Cocktail)
Unicorn Cocktail – Pink Gin Cocktail Recipe
Cottontail Martini Recipe
This drink is perfect for Easter celebrations! It's light, refreshing and easy to make. Plus, it's so cute with the fluffy rim around the edge of the glass.
This easy to make cottontail martini is:
Fun and festive
Perfect for Easter brunch
Impressive
Just what you need to sip on during the annual Easter egg hunt
Although I call this a martini, it actually doesn't contain any vodka although you can use vanilla vodka if you have it on hand.
For my cottontail cocktail, I used Vanilla liqueur instead to give it a flavor reminiscent of chocolate and all things Easter.
What is in the Cottontail Cocktail?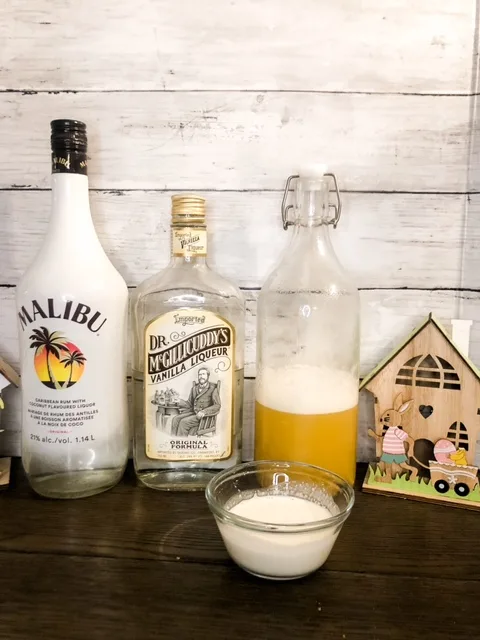 The Cottontail Martini is one of the most popular Easter cocktails.
It's a sweet, fruity drink that will perk you up and give you enough energy to last through your family dinner.
Here are the ingredients you will need:
Malibu Rum
Vanilla liqueur (or vanilla vodka)
Pineapple Juice
Half and half cream
If you want to make the cute cottontail rim on your martin glass, you will also need the following:
What tools do I need to make the Candy Cane Martini Recipe?
You really don't need much in order to make this cocktail which makes it perfect for any party or large gathering when you want to whip them up in minutes.
The only tool you'll need to make this cocktail:
Don't have the tools you need?
If you don't have a cocktail shaker, a large mason jar works just as well in a pinch.
Use the mason jar lid or a plate to strain the drink if you don't own a strainer.
How To Make The Coconut Rim
To rim your martini glass with coconut, dip the edge of the glass in honey.
Then dip it in a saucer or bowl containing shredded coconut (find it in the baking section of your grocery store).
Set it aside for a few minutes before pouring the drink into the glass.
How To Make The Cottontail Cocktail
Step 1:Combine the ingredients
Place the vodka, vanilla liqueur, cream and pineapple juice in a cocktail shaker with ice. Shake for 15 seconds.
Step 3: Strain
Strain the drink into a martini glass
Step 4: Serve Immediately
If you have already rimmed the glass with coconut, there is really no need for a garnish.
Yield:

1
Cottontail Cocktail For Easter
This delicious and creamy Easter cocktail is always at a hit at my annual Easter get together.
With simple ingredients and an eye-catching coconut rim, this is one rum martini that you will make all year round.
Ingredients
2 oz Vanilla Vodka or Vanilla Liqueur
2 oz Coconut Rum
2 oz Half and half cream or milk
1/2 oz pineapple juice
Honey and shaved coconut for the rim
Instructions
To add the coconut rim to your glass, dip the rim in honey. Then dip it in a saucer or shallow bowl of shredded coconut. Set aside to dry before continuing.
Next mix the vodka or vanilla liqueur, rum, half and half and pineapple juice in a cocktail shaker with ice.
Shake for 15 seconds then strain into your martini glass
Serve immediately.
Notes
You can use whipped or vanilla vodka in place of the Vanilla liqueur.
Cottontail Cocktail – Final Thoughts
If you are looking for a fun and cute Easter cocktail to serve at brunch or your Easter family dinner, you really can't go wrong with the Cottontail martini.
It is fun and creative and is sure to be a hit with everyone at your event.
Want More Rum Cocktail Recipes?
Malibu Rum And Blue Curacao Cocktail (Rainbow Dream)