Looking for a unique Easter cocktail recipe? The chocolate Easter Bunny Cocktail is perfect for those looking for something different this holiday season.
This Baileys Easter egg cocktail is super easy to make with only two ingredients and is sure to be the talk of your next Easter gathering.
If you want a cute Easter egg shot to serve to your guests, then you will love the Easter bunny cocktail shot.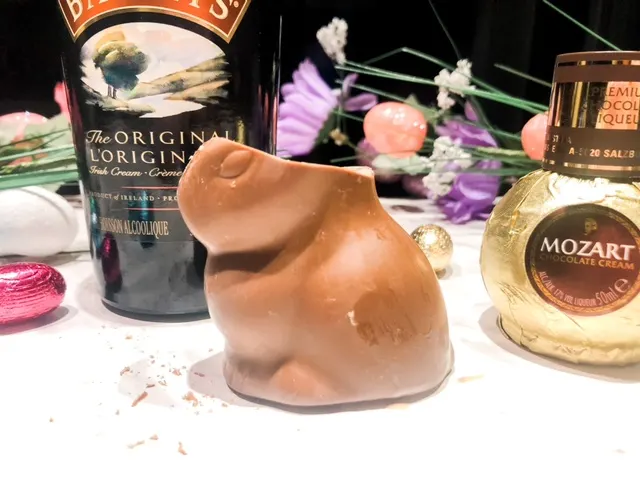 This post contains affiliate links. Please read my Disclosure for more information.
MORE EASTER COCKTAIL RECIPES
Cadbury Creme Egg Cocktail Recipe
The Cutest Cottontail Cocktail For Easter – The Cottontail Martini
Why you'll love the Chocolate Easter Bunny Cocktail
This Bailey's Easter Bunny Cocktail recipe is a sweet treat that will allow the adults to get in on the Easter fun.
If you remember nibbling off the ear from your Easter bunny as a child, then this fun Baileys Easter egg shot will be just the thing for you!
Like the Cadbury Creme Egg Cocktail, this is a decadent treat that is simple to make and impressive to serve.
This Easter Bunny Shot is:
Creamy and delicious
Perfect for Easter
Great for any occasion
Easy to make
Impressive
What is in the Chocolate Easter Bunny Cocktail?
While this is a fun Easter drink, it bears mentioning that it does contain alcohol so it is an adults only drink.
(If you want to give the kids something similar, you can pour chocolate milk in a chocolate Easter egg with some vanilla syrup.
In our Easter egg cocktail, you need the following:
One chocolate bunny or Easter egg (the hollow kind)
Bailey's Irish Cream or similar
Mozart White Chocolate Liqueur
As for tools, you don't need anything expect for two shot glasses for measuring your ingredients before pouring into a chocolate bunny.
The Chocolate Easter Bunny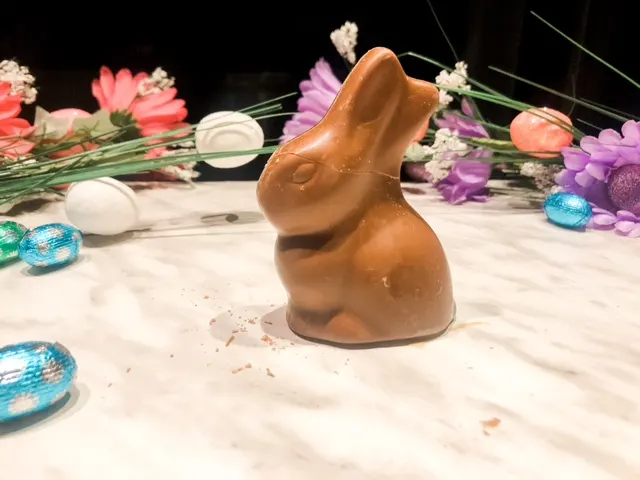 As a child, I always loved Easter morning.
The anticipation of what you might find in your Easter baskets is still one of the greatest joys for me now I have kids of my own.
And nothing compared to that big chocolate bunny!
You can make this Baileys Easter egg shot with either a hollow chocolate Easter egg or a chocolate Easter bunny like the ones from Lindt that I used.
What Chocolate Liqueur can you use?
During the holidays I found mini bottles of Mozart chocolate liqueurs at the liquor store and I thought this was the perfect opportunity to try them.
For this cocktail I used the white chocolate version. It is a deliciously creamy white chocolate liqueur that goes well on its own but is perfect for fun Easter cocktails.
This White chocolate liqueur has a light texture and elegantly incorporated notes of vanilla and caramel in rich cocoa butter and cream which goes great with the Bailey's Irish cream.
I used the milk chocolate liqueur from Mozart in my Cadbury Creme Egg Cocktail Recipe
What Can You Use Instead Of Chocolate Liqueur?
If you don't have any chocolate liqueur and still want to make a fun Easter bunny cocktail, you can use Bailey's and white chocolate syrup.
As the syrup is non-alcoholic, you can even buy it on Amazon.
How To Make The Chocolate Easter Bunny Cocktail
Step 1: Cut the head off your bunny
Sounds cruel but you need to take a knife to your chocolate bunny to create your shot glass.
All you need is a steady hand and a sharp knife.
Step 2: Measure your shots
Pour each liqueur into a different shot glass
Step 3: Make your cocktail
Pour each shot into your chocolate bunny. Garnish if you wish and serve immediately.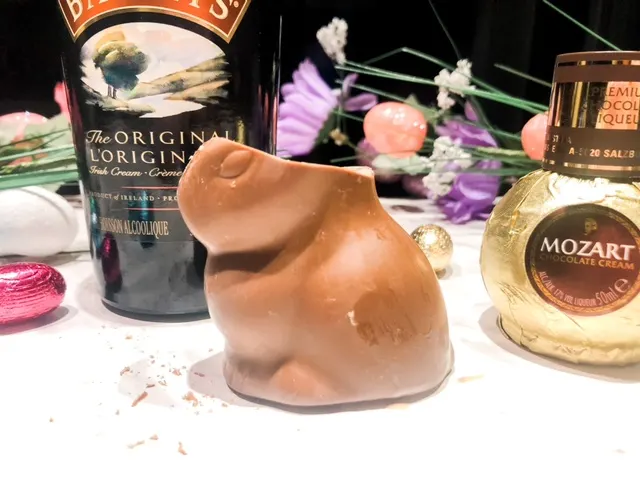 Yield:

1
Chocolate Easter Bunny Cocktail
If you love unique cocktails and shots, you will love this Baileys Easter egg cocktail recipe that only has two simple ingredients.
Ingredients
1 oz Baileys Irish Cream
1 oz White chocolate liqueur
1 hollow chocolate bunny or Easter egg
Instructions
Prep your chocolate bunny by unwrapping it and cutting the head off it with a sharp knife
Measure out your shots into two different glasses
Pour both ingredients into your chocolate bunny at the same time
Garnish with an Easter cocktail pick and serve immediately
Notes
If you don't have white chocolate liqueur, you can also use dark or milk chocolate liqueur.
You can also use chocolate syrup in a pinch
Want More Baileys Cocktail Recipes?
Peppermint Martini With Baileys (Candy Cane Cocktail)