Join us in raising a glass to the holiday season with our Peppermint Snowflake Martini.
This delightful concoction combines the refreshing essence of peppermint with the elegance of a classic martini.
It is the ideal drink to savor by the fire, share with friends and family, or even leave out for Santa Claus himself.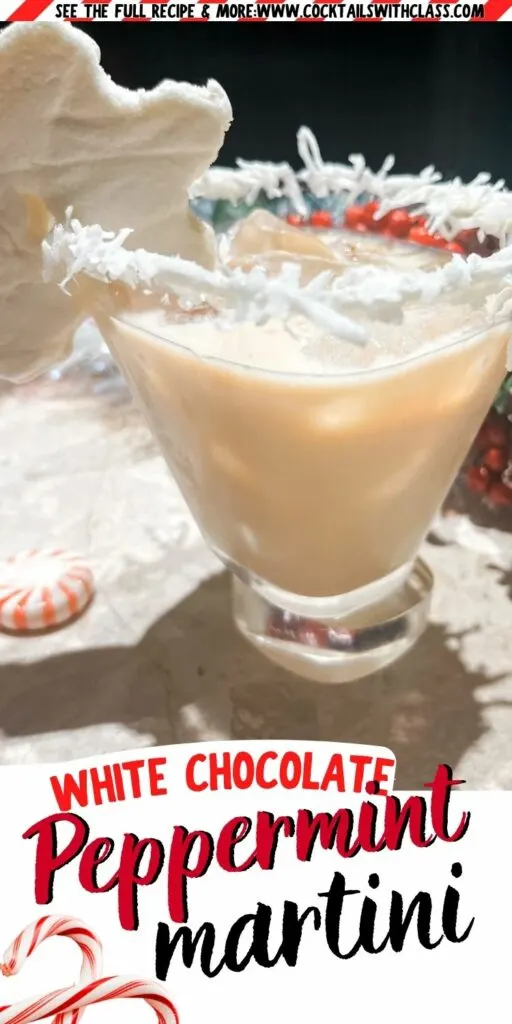 This post contains affiliate links. Please read my Disclosure for more information
MORE CHRISTMAS COCKTAILS
Peppermint Martini With Baileys
Gingerbread Mojito – The Perfect Holiday Cocktail
The Perfect Peppermint Snowwflake Martini
Indulge in the enchantment of the season with our White Chocolate Snowflake Martini.
This winter wonderland in a glass combines the rich allure of white chocolate with a touch of holiday magic
With its refreshing peppermint twist and elegant presentation, the Peppermint Snowflake Martini is sure to become a beloved addition to your holiday traditions.
Whether you're sipping it by the fire or sharing it with friends and family, this cocktail captures the spirit of the season in every delightful sip.
White Chocolate Snowflake Cocktail
Our Peppermint Snowflake Martini is a whimsical and flavorful concoction that will instantly transport you to a winter wonderland.
With its blend of cool peppermint and the classic martini sophistication, this drink is perfect for spreading cheer at your holiday gatherings.
If you love this creamy, peppermint cocktail, make sure to check out our Peppermint Bark Martini too!
For full step-by-step instructions, scroll down to our recipe card at the bottom of the page.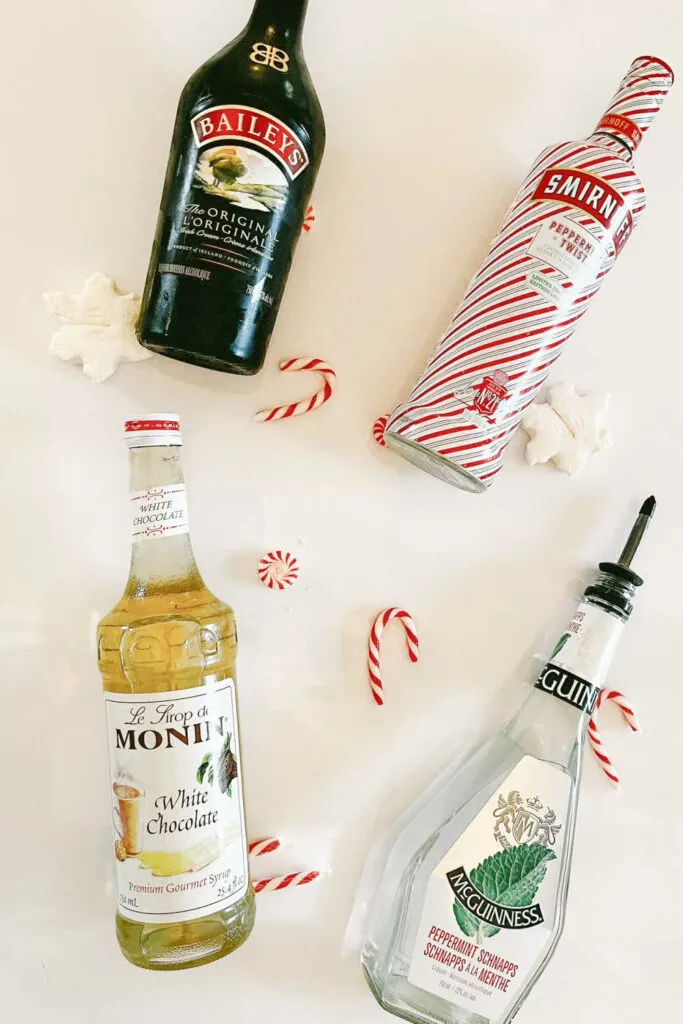 I made this delicious cocktail with white chocolate syrup which you can get at most coffee shops and grocery stores.
To make this drink you need:
Peppermint Schnapps
Peppermint Vodka
Baileys Irish Cream
Half and Half or heavy cream
White Chocolate Syrup
Shredded Coconut
White Frosting
Ice
How To Make A Peppermint Snowflake Martini
This Christmas cocktail is so easy to make!
You can have it ready in minutes.
Plus – simply double the recipe to make it for a crowd!
Rim Your Glass
Before you get started on your cocktail, you need to create that beautiful coconut on your glass.
Grab some white frosting (the canned kind is fine) and gently roll your glass in it so the whole rim is covered.
Then, dip the glass in the shredded coconut and set aside.
I normally do this step about 10 minutes before I want to serve my drink so that the frosting has time to set.
Now it is time to make your drink!
Step 1: Chill Your Glass
Begin by chilling your martini glass in the freezer for about 10-15 minutes.
A cold glass helps keep your martini frosty.
Step 2: Stir It Up
In a cocktail shaker filled with ice, combine the peppermint schnapps, Baileys, half and Half and white chocolate syrup.
Secure the shaker's lid and shake vigorously for about 10-15 seconds, allowing the mixture to become thoroughly chilled.
Pour Your Drink
Remove the martini glass from the freezer and strain the martini into the glass, creating a beautifully frosted appearance.
Garnish your White Chocolate Snowflake Martini
You can with a sprinkle of crushed candy canes or crushed peppermint candies on top.
I found cute Snowflake marshmallow that I used for my cocktail.
You also use peppermint Peeps marshmallows.
If you're feeling extra festive, add a small candy cane or a peppermint candy stir stick for that extra touch of holiday charm.
Serve your martini immediately, and enjoy the enchanting blend of peppermint and the smooth sophistication of a classic martini.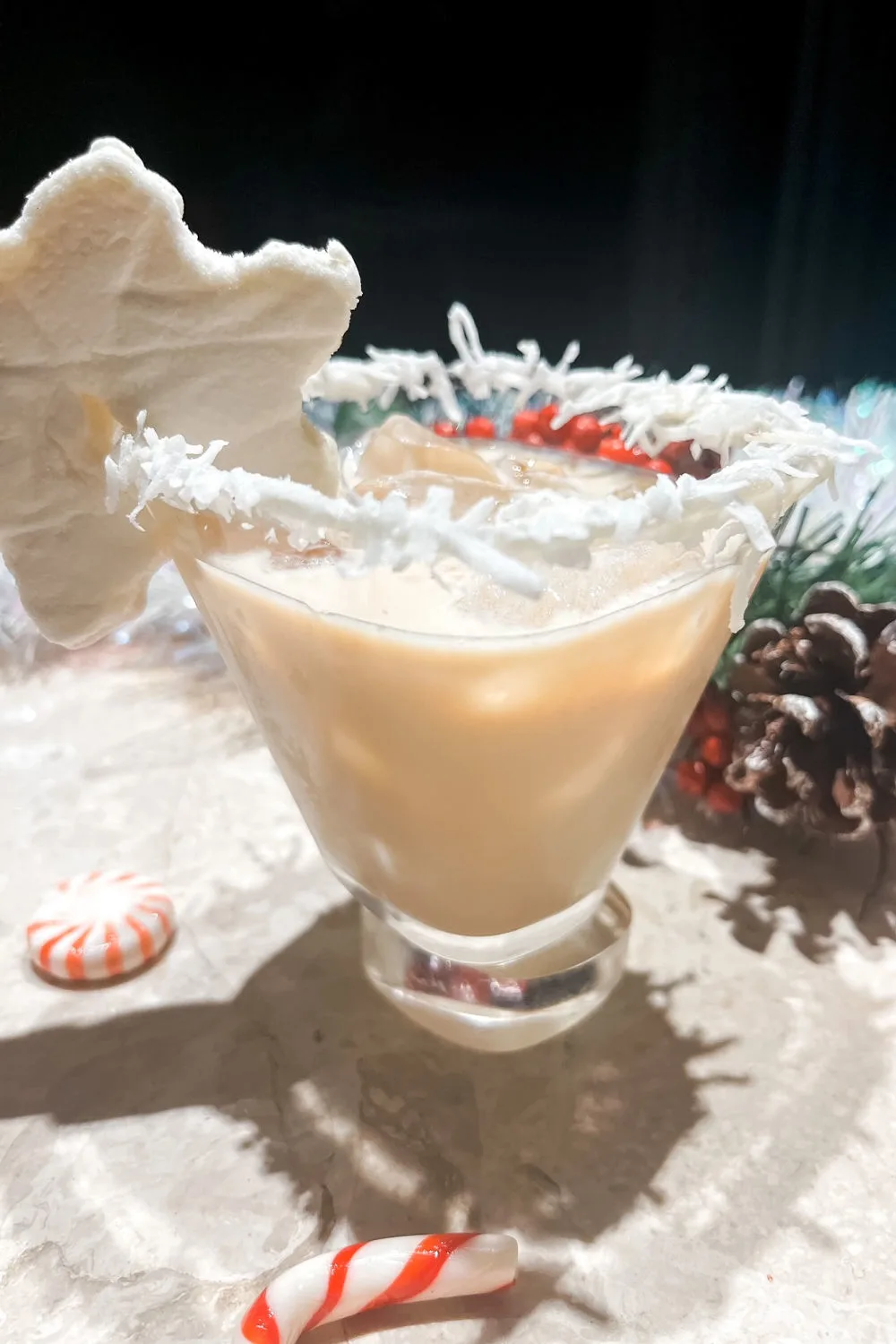 Yield:

1
Peppermint Snowflake Martini
This White chocolate martini is quick and easy to make!
There is no more festive way to celebrate winter than with this delicious drink!
Ingredients
2 oz peppermint Schnapps
2 oz Baileys Irish Cream
1/2 oz White Chocolate Syrup
3/4 oz Peppermint Schnapps
White frosting
1 oz Peppermint Vodka
Shredded Coconut
White Frosting
Marshmallow or candy cane for garnish
Instructions
To make the rim: dip your glass in frosting and then in the coconut. Set aside
Next add your your ingredients to a cocktail shaker with ice
Strain into your martini glass
Garnish with a snowflake marshmallow or candy cane
Notes
You can use peppermint syrup instead of peppermint schnapps if you prefer
You can rim your glass with holiday sprinkles if you prefer
More Fun Christmas Cocktails
Candy Cane martini – This classic cocktail is packed with delicious peppermint flavor!
Peppermint Martini With Baileys – This delicious cocktail is easy to make and so decadent!