One of the most popular new trends in bars are vodka test tube shots.
These are shots that come in a test tube, and are served with different flavors to mix together for an extra kick.
They are the perfect drink to serve at your next party and are really popular for Halloween.
They're the perfect drink for any party! This blog post will discuss how to make your own at home in just seconds.
This post contains affiliate links. Please read my Disclosure for more information.
RELATED POSTS
What Are Vodka Test Tube Shots?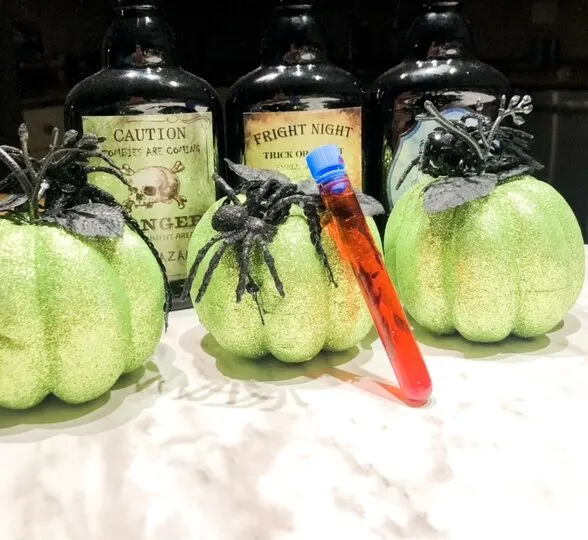 Test tube shots are vodka shots that come in a test tube, with flavors to mix together.
You might not have seen a test tube since your last science class in high school but they make the perfect receptacle for shooters and shots at a party.
The topper on each test tube also makes them the perfect drink to prepare in advance and take with you as a party favor when you are invited to a fabulous Halloween party.
If you love these test tube shots, make sure to check out my recipe for Halloween Test Tube Shots that only contain 2 ingredients.
Why you'll love these easy Test Tube Shots
These easy to make, impressive drinks are:
Tart and refreshing
Perfect for Halloween
Great for a mad scientist themed party
Easy to make
Impressive
What are in these Vodka test tube shots?
Well obviously, you need to grab a bottle of your favorite vodka to make these test tube shots. In addition you need the following:
Lemon lime soda
Kahlua or Tia Maria
If you want to dress your test tubes up for Halloween, then you can use some red gel food coloring to smear "blood" in the inside of your test tube before preparing your drink.
What tools do I need to make Test Tube Shots?
You really don't need much in order to make these shots. First, you will need to get some test tubes if you don't already have them.
I got mine from Amazon and they are great because they come with a stand which makes them much easier to work with.
Next, you need either bottle pourers or a funnel so that you don't make a huge mess when you make these shots.
How To Make Vodka Test Tube Shooters
Step 1:Prepare your test tubes
Use a Kebab skewer to smear red food coloring in your test tubes if desired.
Step 2: Add the alcohol to your mixing bottle
Add your vodka, lemon lime soda and Kahlua to your mixing bottle.
Step 3: Mix the alcohols
Gently swill the bottle around to mix the ingredients. Put a bottle pourer on your mixing bottle or grab your a funnel.
Step 4:
Slowly and carefully fill each test tube with your drink.
Serve immediately.
Vodka Test Tube Shots – Final Thoughts
The Halloween season is a time for spooky fun, and test tube shots are the perfect addition to any party.
Yield:

5 Test Tubes +
Vodka Test Tube shots
If you love vodka shots and are looking for something crazy to serve at your next party, consider these vodka test tube shots.
Easy to make and easy to drink, they make the perfect shooter for any gathering.
Ingredients
4 oz Vodka
2 oz Lemon Lime Soda
2 oz Kahlua or Tia Maria
Instructions
Combine the ingredients in a large bottle or jug
Gently mix by swilling the bottle around, do not shake
Slowly pour the mixture into each test tube using a funnel or bottle pourer
Notes
Dress up your test tubes for Halloween by wiping red gel food coloring in the insides of your test tubes before pouring the drink in.
More Fun Halloween Shots