The zombie brain hemorrhage shot is perfect if you want to give your Halloween party a little bit of a spooky twist this year.
Or maybe you're just trying to find a fun new drink recipe, or you've always wanted to try out the zombie-themed anything.
Well, we have the solution for you: Zombie Brain Shots!
These tasty treats are perfect for any occasion and can be whipped up in no time at all. What's more is that they taste great too!
This post may contain affiliate links. Please read my Disclosure for more information.
RELATED POSTS
What Is The Zombie Brain Hemorrhage Shot?
Prepare to be creeped out and wowed by the Zombie Brain Hemorrhage.
Also know as the Zombie brain shot, this is a crazy looking drink that is actually surprisingly easy to make.
This is one drink that will make you die laughing.
It has a delightfully macabre appearance and the taste of it will amazes even your most skeptical friends, not only does this cocktail satisfy but it will leave them begging for more!
Plus with 4 ingredients, making these shots can be done in seconds flat so they're perfect to hand out at gatherings or as samples while bartending.
If you are wondering how this shot got its name, one look at a photo of the finished drink should make everything clear!
Why The Zombie Brain Shot Is Perfect For Halloween
If you are a Walking Dead fan, I probably don't need to tell you how popular Zombies are right now.
Even if Shaun of the Dead is more your speed, then you will enjoy this creepy looking shot that is sure to wow your guests.
This shot is:
Perfect for Halloween
Simple to make
Impressive
Actually better tasting that it looks
Great for a crowd
Why Is It Called A Zombie Brain Shot?
The Brain part of this shot happens when the Baileys Irish Cream reacts with the Peach Schnapps.
Just with with other "Brain Shot", the Baileys curdles when it hits the other alcohol and creates a floating brain look inside the schnapps.
The effect is interesting to say the least and while not very pretty, it does make this cocktail perfect for Halloween.
The key to making the Zombie brain shot work is to drink it right away and to slowly pour each ingredient as you make the drink.
Zombie Brain Hemorrhage Shot Ingredients
This Zombie brain hemorrhage shot recipe is a must-have for any Halloween party.
The drink tastes like a mix of peach and Baileys, but it also has a slightly minty taste.
To make the Zombie Brain Shot you need:
Peach Schnapps
Baileys (or similar Irish Cream)
Grenadine
Creme de Menthe
The measurements for this drink are pretty fluid because the drink is all about the Zombie brain look.
You essentially want 1 part of each of the ingredients minus the Peach schnapps.
This means that you use an equal part of each ingredient.
I free pour this drink as a little bit extra of any ingredient will not make or break it.
You may be familiar with the other "brain hemorrhage shot recipes such as the Alien Brain Hemorrhage Shot Recipe.
The Zombie version is a bit different because of the Creme de Menthe which is an alcoholic mint liqueur.
If you don't have any on hand, you can use green food coloring in a pinch as a substitute with a drop or two of peppermint essence.
The fact that, aside from the grenadine, this recipe is 100% alcohol will make you start feeling like a zombie if you drink too many.
You can use a regular shot glass for this drink although I find that a taller rather than wide one will make the zombie brain look better (or worse, depends on how you look at it!).
More Brain Shot Recipes
Alien Brain Hemorrhage Shot Recipe
How To Make A Zombie Brain Shot
As I mentioned, this is a really easy shot to make. You don't need any special tools like a cocktail shaker or strainer.
To make the ghoulish brain affect, pour each ingredient in very slowly and carefully so that they layer perfectly.
First add peach schnapps to your shot glass until it's about a little more than half full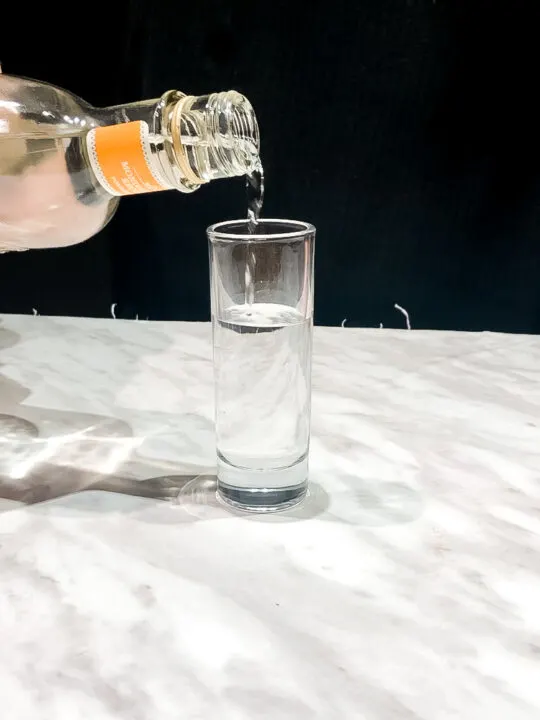 Now add the Creme de Menthe into the Peach Schnapps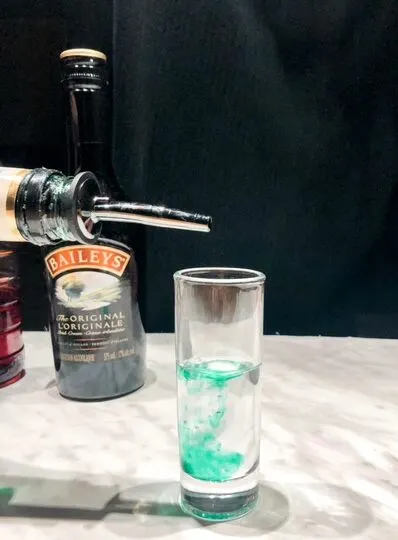 Next drop Baileys into center of the drink to give you the Zombie's "Brain"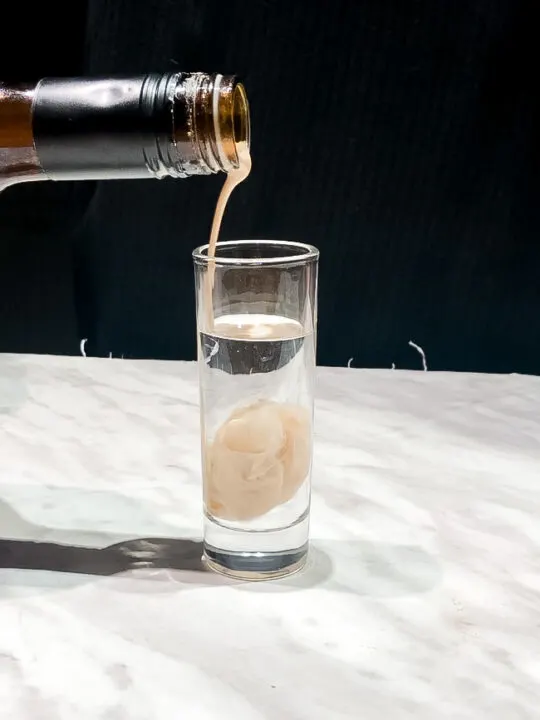 Finally add the grenadine for the look of blood.
What Does The Zombie Brain Shot Taste?
You might be wondering how this shot tastes, but trust me when I say that you will experience all flavors as it slides down your throat.
The truth is, this Zombie shot tastes as crazy as it looks with an odd mix of flavors that somehow works.
The peach schnapps compliments the mint and Irish cream for an interesting taste that really packs a punch, alcohol-wise.
Final Thoughts
If you're looking for the perfect Halloween party drink or to impress your friends at game night (or both), this Zombie brain shot recipe is for you!
The perfect drink for those who love everything zombie, this creepy shot will have your taste buds tingling and blood pumping!
Yield:

1
Zombie Brain Hemorrhage Recipe
Make your next Halloween party a zombiefest with these totally cool zombie brain shots!
They're an awesome way to get spooky and they taste great too.
Ingredients
Peach Schnapps
Baileys or similar Irish cream
Creme de Menthe
Grenadine
Instructions
Fill your shot glass with Peach schnapps until it is just over half full
Add 1 part Baileys to create the "Brain effect"
Add in one part Creme de Menthe
Finish with one part Grenadine for the "blood"
Love Creepy Halloween Shots?
Check out these recipes:
40 + Spooky Halloween Cocktails
Creepy Purple Cocktail Potion For Halloween
The Red Spectre – Spooky Halloween Gin Cocktail