Get your pirate on with this swashbuckling drink – The Dark and Stormy Cocktail
Cocktails have always been a way to wind down after a long day or to celebrate a special occasion, and the Dark and Stormy is no different.
Lately, cocktail bars have been mixing things up and creating new and exciting drinks that are sure to get your night started. One of our favorite cocktails is called the dark and stormy.
This drink will get you in the mood for all kinds of shenanigans:
Like any great pirate style drink, the legend of the dark and stormy cocktail is from Bermuda which is considered the shipwrecked capital of the world.
This brings up thoughts of swashbucklers, pirate hunters and treasure.
This post contains affiliate links. Please read my Disclosure for more information.
RELATED POSTS
Why you'll love Dark and Stormy
This Dark and Stormy recipe is:
Refreshing
Easy to make
Enjoyable
Tasty
Fun at any party
What is in a Dark and Stormy?
This unique drink combines dark rum, ginger beer, and lime juice for a delightful flavor experience.
If you are familiar with the Moscow Mule, then the Dark and Stormy is a rum variation of that classic cocktail.
The perfect drink for a night out, this cocktail is sure to please. Made with a light but flavorful ginger flavor, this mixture is balanced by the rich and warming rum.
The lime juice brightens up the drink and provides a sour note that pairs perfectly with the ginger beer.
Whether you're looking for something refreshing or invigorating, the Dark and Stormy cocktail is sure to hit the spot.
What tools do I need to make a Dark and Stormy?
You really don't need much in order to make a classic dark and stormy cocktail. You don't need a cocktail shaker or a strainer which makes a change from most mixed drinks.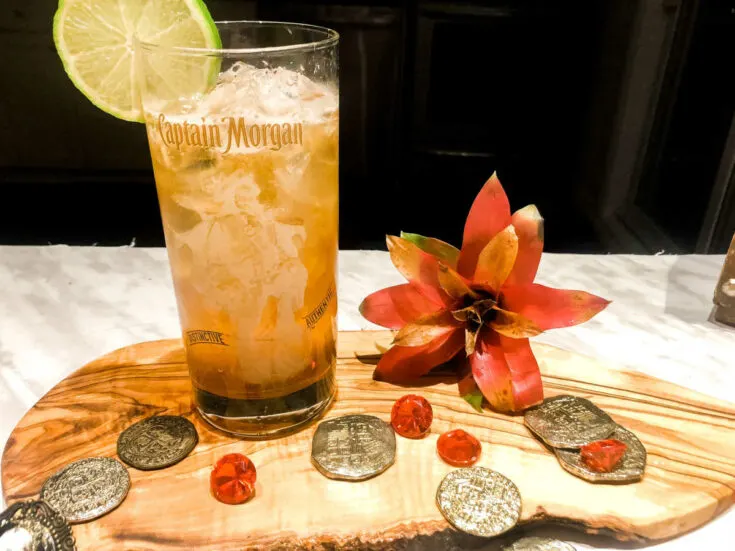 How To Make A Dark and Stormy Cocktail
Step 1: Add the Rum
In a glass filled with ice, add your dark rum.
Step 2: Top with Ginger beer
Slowly add Ginger beer.
Step 3: Add Lime
Squeeze 1/2 a lime into the glass
Step 4: Garnish
Add a slice of lime for garnish if desired
Yield:

1
Dark and Stormy Cocktail
Additional Time:
1 minute
The Dark and Stormy is a delicious and refreshing cocktail that is perfect for any occasion.
It is easy to make and can be enjoyed by everyone.
So next time you are looking for a tasty drink to enjoy, be sure to give the Dark and Stormy a try!
Ingredients
* 2 0z of Dark Rum - I suggest Captain Morgan's Dark Rum
* 8 oz Ginger beer
* 1/2 a lime, freshly squeezed
Instructions
Add the Dark Rum - In a tall glass filled with ice. add the dark rum
Top with ginger beer - Slowly add the Ginger beer. A slow pour will help mix the cocktail
Add lime juice - Squeeze 1/2 a lime into the drink. Give the drink a quick stir.
Garnish - Garnish with a slice of lime.
Want More Great Rum recipes?
Try these:
How To Make The Perfect Rum and Coke (Cuba Libre)
Easy Coconut Rum and Tequila Margarita